In this post, I will three problems Samsung Galaxy S6 owners encountered after updating their devices. The device was released with Android Lollipop already installed so all updates that were rolled out by Samsung or carriers were minor intended to fix some problems and patch vulnerabilities.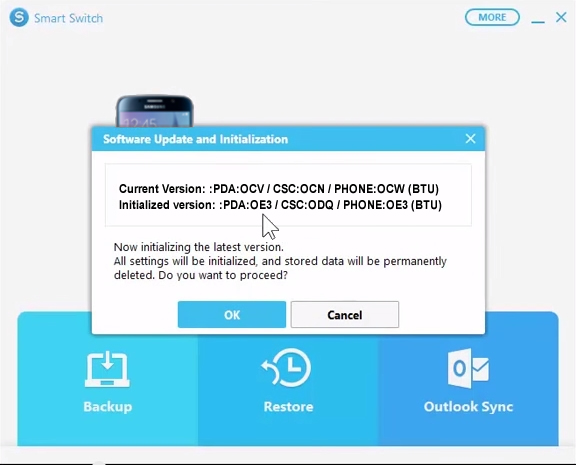 But instead of helping, many Galaxy S6 owners complained that their phones started acting weird immediately after an update. Some said core services were interrupted and of those is the Wi-Fi calling feature that Sprint offers. This is the first problem I will address here followed by failed firmware update and the last is the question how to get rid of the "Software Update" notification.
Before we troubleshoot these problems, if you have other issues with your phone right now, visit our Samsung Galaxy S6 Troubleshooting page. It contains a list of problems we already addressed before. Find issues that are related to yours and try the solutions we provided. If they didn't work, then contact us through our Android Questionnaire form. Make sure you provide more details in the description field to help us diagnose your problem accurately.
Wi-Fi Calling stopped working on Galaxy S6
Problem: Wi-Fi calling worked great when i first bought my S6 for about a month. Now it want connect. Address is correct. Tried everything I could but still want connect. Hope you can come up with something. I read where a lot of people are having the same problem.
Solution: Yes, many have encountered this problem not just under Sprint but T-Mobile as well. The first thing you have to do is you're currently bugged by this issue is to make sure everything is setup properly and if it still won't work, then follow these steps…
Turn off the device.
Press and hold the following three buttons at the same time: Volume Up key, Home key, and Power key.
When the phone vibrates, release the Power key but continue to press and hold the Volume Up key and the Home key.
When the Android System Recovery screen appears, release the Volume Up and Home keys.
Press the Volume Down key to highlight 'wipe cache partition.'
Press the Power key to select.
When the wipe cache partition is complete, 'Reboot system now' is highlighted.
Press the Power key to restart the device.
You should be able to make calls over Wi-Fi after the reboot, if not, then call your provider as they will be able to fix this.
Galaxy S6 can't do firmware update
Problem: I can't do a system update on my phone. It always says network or server problem. My last update was 6/29. I've turned off the phone and it still doesn't work. Do you know what I might be able to do before I have to go to the Sprint store. Thanks.
Workaround: Failed OTA update happens all the time there can be a lot of reasons why. Instead of dealing with it directly, why not try another option to update your phone?
Unlike the previous Galaxy models, the S6 and Edge won't work with Kies, instead, Samsung introduced a new tool that will help you backup, restore, update and sync your device; it's Smart Switch. For me, this tool is a lot better than Kies. Just follow these steps and you should be able to update your phone easily…
Prepare your phone for the update. It means, charge it to at least 50% and copy or backup files you don't want to lose.
Install Smart Switch to your computer. Download a copy of the problem from Samsung website; there are two versions, one for Windows and the other for Mac.
Connect your phone to your computer. Smart Switch will download all necessary drivers for your phone to work perfectly with you machine. Once detected, you will have three main options: Backup, Restore, and Outlook Sync.
Backup your phone. It's still necessary to backup your phone to make sure you haven't missed a thing during your first backup.
Update your phone. Now, if there's an available update for your phone, there will be an "Update" button in line with the picture of your device on the Smart Switch interface. To begin the update, click on it.
The new window will tell you more information about the firmware on your phone and the new update. Once you've finished reviewing it, click the "Update" button.
The next window will tell what not to do during the update to make sure the process won't be interrupted. You may click the "OK" button to begin the update.
Wait for your phone to finish the update. During the process, do not interact with your device, and depending on your phone, it may take up to 45 minutes to finish the update but it sure is worth the wait.
Once finished, you will be prompted the update is done and you may now disconnect your phone from your computer.
The device will reboot longer than usual but wait for it and avoid turning it off prematurely.
Well, that's pretty much it!
How to get rid of "Software Update" notification
Question: Whenever I open my home page on top of the page is a white box asking me to do a software update. No option not to do the update, the only option offered is to click on ""when"" it should be performed. When I first got this phone, I performed the update. It locked up my phone/contacts and I took it to a tech to fix. He had to do a factory default reboot and I lost everything. My phone is for a business so I have lots of contacts. So I thought the issue was resolved, but now a few months later, the same dialogue box is popping up several times a day. I simply click on the multi media box and hit ""close all"" which closes the box, for awhile. But I would really like it if it didn't come back. I'm afraid to perform the update again as I think it is a bug, not a bug fixer. Any suggestions for making that dialogue box go away to never return? Thank you for your services. — Pat
Answer: For average users, the answer is no. You cannot get rid of the update notification and unless you download and install it to your phone, it will keep bugging you day after day. However, for those who are willing to take the risk and root their phones, all you need to do is rename or delete some files and you won't be notified when there's a new update available for your device. I hope this answers the question.
But reading between the lines, Pat is just afraid that she'll undergo the same experience as before. There's always a possibility the update process will fail and may result to a lot of problems. There's nothing we can do about that. What we can do is make sure all our data are safe so that if the update process failed, then we always have an option to reset the phone without compromising our data. Among the things you can do are…
Export your contacts and copy the file to your computer. Alternatively, you can sync them to your Google account so that you can download them after the update in case your phone will be wiped out again.
Copy your files, pictures, videos, recording, ringtones, etc. to your computer. Just connect your phone and you can simply drag and drop those files.
Use Smart Switch to thoroughly make a backup of your phone that you can restore later just in case. You may follow the procedure I drafted in the previous problem as you can also safely pull the update down to your phone using Smart Switch.
I hope I have answered your question.
Connect with us
We are always open to your problems, questions and suggestions, so feel free to contact us by filling up this form. We support every Android device available and we are serious in what we do. This is a free service we offer and we won't charge you a penny for it. But please note that we receive hundreds of emails every day and it's impossible for us to respond to every single one of them. But rest assured we read every message we receive. For those whom we've helped, please spread the word by sharing our posts to your friends or by simply liking our Facebook and Google+ page or follow us on Twitter.