Keeping up with software updates for your PlayStation 5 is always a good idea because they frequently include new features, bug fixes, and improvements. Every time there is a new software update, you should make it a priority to download it.
PlayStation 5 (PS5) is a home console that was created by Sony Interactive Entertainment. Announced as the PlayStation 4's replacement. It has an optical disc drive that plays Ultra HD Blu-ray discs for the disc version of the unit while for the Digital Edition the disc drive is not included but making it a more affordable option for people who prefer to download games digitally. The primary hardware components of the PlayStation 5 are a solid-state drive designed for high-speed data streaming to significantly improve storage performance, an AMD GPU capable of displaying content in 4K resolution at up to 120 frames per second, hardware-accelerated ray tracing for realistic lighting and reflections, and the Tempest Engine for hardware-accelerated 3D audio effects.
PS5 Console Technical Specifications:
CPU: x86-64-AMD Ryzen™ "Zen 2" 8 Cores / 16 Threads, Variable frequency, up to 3.5 GHz
GPU: AMD Radeon™ RDNA 2-based graphics engine, Ray Tracing Acceleration, Variable frequency, up to 2.23 GHz (10.3 TFLOPS)
System Memory: GDDR6 16GB, 448GB/s Bandwidth
SSD: 825GB, 5.5GB/s Read Bandwidth (Raw)
PS5 Game Disc: Ultra HD Blu-ray™, up to 100GB/disc
Video Out: Support of 4K 120Hz TVs, 8K TVs, VRR (specified by HDMI ver.2.1)
Audio: "Tempest" 3D AudioTech
How to install the system software for your PlayStation 5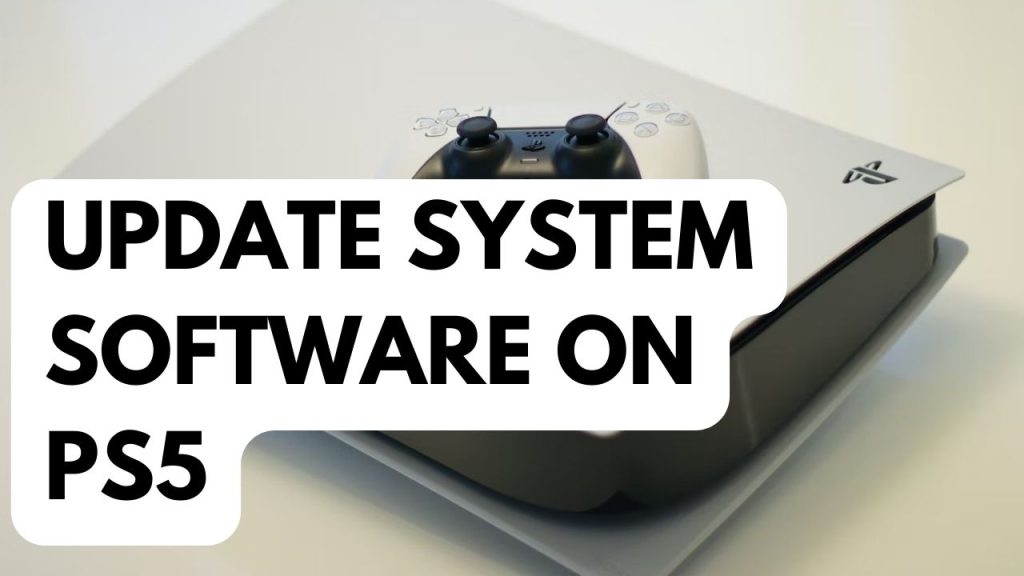 As we have noted, it's crucial to make sure your PlayStation 5 is running the most recent software update because doing so will improve performance.
Getting the most recent watch software update has the following benefits, among others:
Software update resolves certain bugs you might be experiencing.
New update will most likely come with several additional features.
Software updates improves the security patch level of your Ps5 system software and update improves system performance.
Getting the latest version of update is an easy process. You just need to make sure that you are connected to a Wi-Fi network or via the ethernet cable and make sure you have a good connection.
Automatically Update PS5 Console
Step 1: On your PS5 go to Settings menu.
Step 2: Select System .
Step 3: Choose System Software .
Step 4: Select Console Information.
Step 5: Download update if there is a new update available.
Update Your PS5 From the Home Screen
Step 1: On your DualSense controller, press the PS button.
Step 2: Go to Downloads/Uploads by scrolling to the right.
Step 3: All of your downloads will appear in a list when you do this. Choose your system update from this list, then update your console by following the on-screen instructions.
Manually Update PS5 console
Step 1: Create a "PS5" folder on a FAT32-formatted USB drive using a PC or a Mac computer. Create a new folder inside called "UPDATE."
Step 2: Save the update file in the "UPDATE" folder after downloading it. Save file as: "PS5UPDATE.PUP"
Step 3: Connect your USB drive that contains the update file to your console.
Step 4: Press and hold the power button while the PS5 console is in Safe Mode, then let go after the second beep.
Step 5: Choose the Update Software option under Safe Mode option 3.
Step 6: Select Update from USB Storage Device then OK to install updates.
After you update system software it will improve the system performance of your PS5.
Frequently Asked Questions
How much will the PlayStation 5 cost?

Since its release in November 2020, Sony's PS 5 has sold more than 20 million units and is still one of the most sought-after goods in the video gaming market. The normal PS5 costs $500 in the US, while the digital version without a disc drive is $400.

Why is PlayStation 5 still sold out?

Sony is sadly dealing with three significant problems. The health crisis in the world is first. Global shortages of chips were brought on by the global pandemic. The PS5 can't produce as many semiconductor chips as needed to fulfill demand, so many chip producers haven't been able to meet that need.

Are PlayStation 5 being sold in stores?

Despite the fact that PS5 inventory is still scarce, retailers have been steadily increasing their stock throughout the 2022 holiday shopping season. Particularly, PS5 bundles including Call of Duty Modern Warfare or God of War Ragnarok have frequently been in and out of stock at merchants like Amazon, GameStop, and Sony's own PlayStation Direct store. Periodic restocks of the PS5 have also been provided by Walmart and Best Buy.

All of these merchants have membership programs, and members frequently receive invitations to buy PS5 consoles when they go on sale online, early access, or replenishment alerts through email. The retailer most likely to provide in-store pickup for PS5 systems is GameStop.

Does PlayStation 5 have Roblox?

Right now, neither the PS5 nor the PS4 are compatible with Roblox. On Sony's PlayStation gaming platforms, Roblox is not presently available for purchase or download.

How many PlayStation 5 games are there?

There are 538 games on this list as of right now. PlayStation VR2 and backwards compatible games are excluded