Slow charging seems to be one of the most common problems reported by #Samsung Galaxy S6 Edge Plus (#GalaxyS6EdgePlus) owners. In fact, we already received hundreds of complaints about this specific problem since it was released last year and we already published some posts that addressed it.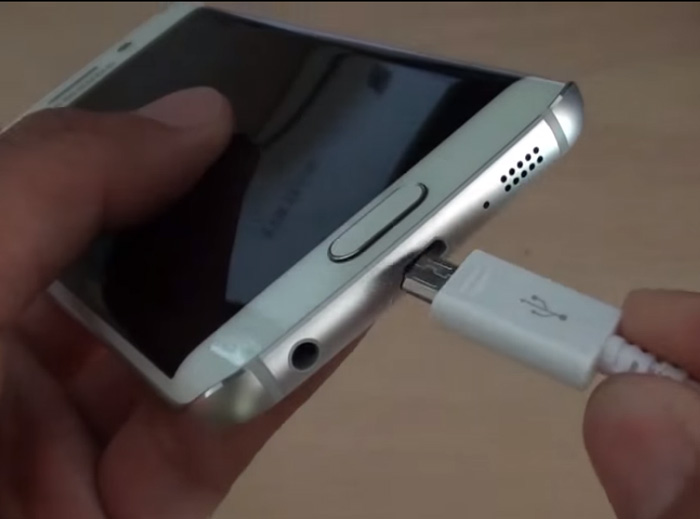 With Galaxy S6 and S6 Edge already started receiving the Marshmallow update, soon enough S6 Edge Plus owners will receive notifications about the update. The question is, will the new firmware fix charging issues?
One of the selling points of this phone is the fast charging feature and owners actually expected it that's why there are so many owners who are worried when the device charges at a normal pace. But just to make things a little clearer here, just because the device isn't fast-charging doesn't mean it's already a slow charging issue. The normal charging pace may take a couple of hours to fully-charge the battery but if you're experiencing a slow charging issue, it will take several hours to reach a certain percentage and the battery isn't fully-charged.
Read on to learn how to troubleshoot slow charging problem with the Samsung Galaxy S6 Edge Plus but please bear in mind that the purpose of this post is to learn what the problem is. There's no guarantee that you can fix your problem alone especially if it's a hardware or accessory issue.
For those who have other issues, visit our troubleshooting page for it contains all the problems we already addressed. Find ones that are relevant or similar to yours and use the solutions we provided. You may also contact us directly by completing this questionnaire.
Slow Charging Problems
"Hi having problem with my Galaxy S6 Edge Plus as I plug it in to charge over night but it only seems to get to 60/70 % and no further and also not get fast charge service anymore either I am using the factory charger and have only had the phone since end of September so not that long?"
"While I am on video chat my phone will not charge. I have it plugged into my charger but the battery percentage just keeps dropping."
"Fast charging is not working while it is plugged into the adaptive fast charger came with the phone."
Possible Causes
Just because it's a charging issue doesn't mean it's a charger or battery problem. The operating system as well as the apps can also be factors why the device is slow charging or not charging at all. The key to determining what the culprit is to do thorough troubleshooting and based on the complaints we received, here are the possible causes of this problem:
An heavy app or game is running in the background
A lot of apps and services are running in the background
Recent firmware update triggered slow charging
Damaged charger or broken USB cable
Damaged USB port
Step-by-step Troubleshooting
With your files and data in mind, we need to follow a safe procedure and make reset the last resort. Again, the problem may be a firmware issue and that's the reason why we should consider factory reset but only after ruling out every possibility.
Step 1: For issue that might have been caused by third-party apps
Slow charging can be caused by third-party apps. For instance, if you're not aware that a heavy app or a game is running in the background, it may be sucking up the juice faster than usual not to mention that it will cause general performance issues such as slowing down, freezing, lagging and random reboots.
Hit the Recent apps key and try to swipe off all apps you can see on the list. Should the problem persist, try to boot your device in safe mode to temporarily disable all third-party apps and services. Here's how you do it…
Press and hold the Volume Down and Power keys for 20 to 30 seconds.
Once you see the Samsung logo, release the Power key immediately but continue pressing the Volume Down key.
Your phone should continue booting up and you will be prompted to unlock your phone as usual.
You will know if the phone successfully booted in safe mode if the text "Safe mode" is displayed at the lower-left corner of the screen.
By doing so, you have already isolated the problem. If it still occurs in that state, it means none of your downloaded apps and associated services are causing the problem. So, you have to proceed ruling out the possibility that one of the pre-installed apps causes it or it's a firmware problem after all.
However, if the problem didn't occur in safe mode and you don't know which app is causing it, just try to backup all your data and files and do the master reset (step-by-step instructions is in the last step below).
Step 2: If slow charging occurred after a firmware update
In preparation for the Marshmallow, Samsung and service providers rolled out minor updates to patch things up. If the slow charging issue occurred after one of those updates, then there's a chance that it was caused by some corrupt caches or data. In this step, you will transition from suspecting it's the apps that caused the issue to the firmware. That said, you should delete the system cache first.
By booting in recovery mode, you will have access to low-level procedures that will help you fix problems with your phone. In this case, you need to choose 'wipe cache partition' and reboot your device after. Here's the step by step guide on how to do it:
Turn off the device.
Press and hold the following three buttons at the same time: Volume Up key, Home key, and Power key.
When the phone vibrates, release the Power key but continue to press and hold the Volume Up key and the Home key.
When the Android System Recovery screen appears, release the Volume Up and Home keys.
Press the Volume Down key to highlight 'wipe cache partition.'
Press the Power key to select.
When the wipe cache partition is complete, 'Reboot system now' is highlighted.
Press the Power key to restart the device.
Step 3: Physically inspect the power adapter and USB cable
I understand it will a hassle to backup your data and immediately proceed with the reset so let's make that our last resort.
In this step, you need to physically check the power adapter or charger for any form of misalignment in its pins. Just check the port and you'll see immediately if there are irregularities.
Assuming the charger looks good, there's no way you can verify if it's still giving out the correct current so to rule this possibility out, simply use a different charger. You can borrow from other S6 Edge Plus owners or invest in a new one.
If the phone charges normally with other chargers, then it means the original one is already damaged and it needs replacement. However, should the problem remain, try to inspect the USB cord for some breakage or debris that partially block the pins from making good contact with the phone's and charger's receptors.
You may use a brush to clean both ends to see if that makes a difference. If not, then the problem must be with the phone.
Step 4: Check the USB port for some debris, dirt or lint
It is always important that the pins in the utility port are clean. You may use a Q tip to clean it out or toothpick to get rid of the debris if there's any. If the port looks clean and no pins are misaligned, then there's a chance the cable doesn't fit well in it. Loose contact may also cause slow, interrupted or not charging issues. You can determine this by inserting the cable to the port and slightly pushing it up and down, right and left just to see if there's some kind of a play. If there is, then try a new cable, otherwise, there's a chance the problem is on the inside.
Step 5: Turn off the device and plug it in
Now, this step is more of a probing procedure than anything else to confirm if there really is a problem inside the phone. If the device is powered off, all apps and components won't use battery and the charger should be able to charge quickly especially that fast charging is enabled.
If the device charges slowly even if it's turned off, then it's confirmed there's a problem with it. It's either the battery or one of the chips. You need to have a technician check it for you.
Step 6: If all else fails and before sending the device for repair, do the master reset
It must be the final troubleshooting step for this kind of problem. It will rule out all other possibilities and wipe out your personal information just before you send the device in for repair.
Assuming the problem was caused by some apps, reset will uninstall them and so the problem will be fixed. If it was a firmware issue that wasn't fixed by wiping the cache partition, then it could that some data got corrupted and doing the master reset will reformat both the data and cache partitions, of course, it will fix the issue. Here's how you do it…
Backup all your data or files.
Remove Google account.
Disengage screen locks.
Turn off your Samsung Galaxy S6 Edge.
Press and hold the Volume Up, Home and Power keys together.
When the device powers on and displays 'Power on logo', release all keys and the Android icon will appear on the screen.
Wait until the Android Recovery Screen appears after about 30 seconds.
Using the Volume Down key, highlight the option, 'wipe data/factory reset' and press the Power key to select it.
Press the Vol Down button again until the option 'Yes — delete all user data' is highlighted and then press the Power key to select it.
After the reset is complete, highlight 'Reboot system now' and hit the Power key to restart the phone.
After the reset and the problem remained, send the phone for repair.
Related Problems
Q: "I have to plug in and unplug my charger about 15 to 20 times before it fast charges, and when I plug in the charger the estimate time is always like 3 hours or more until I get it to fast charge. But it works well when I finally get it. After a few tries. (Fast charging)"
A: Just make sure the screen is off and the phone doesn't heat up for the fast charging to work. Better yet, turn the phone off while charging.
Q: "The battery is draining fast and it's getting really warm even hot sometimes and the fast charger says it's fully charged but by it's 60%."
A: Try wiping the cache partition to rectify the incorrect battery percentage reading and then try to turn off the phone and plug it until fully-charged. If it won't work, then do the master reset.
Q: "The battery in the phone died and the phone was plugged in to charge, after 2 hours of charging the phone only display the word Samsung with some blue dots going on and off. When you press the power button nothing happens."
A: System crash. That's all there is to it. Just press and hold the Volume Down and Power keys for 10 to 15 seconds and the phone should reboot normally and the problem fixed.
Connect with us
We are always open to your problems, questions and suggestions, so feel free to contact us by filling up this form. This is a free service we offer and we won't charge you a penny for it. But please note that we receive hundreds of emails every day and it's impossible for us to respond to every single one of them. But rest assured we read every message we receive. For those whom we've helped, please spread the word by sharing our posts to your friends or by simply liking our Facebook and Google+ page or follow us on Twitter.