The holidays are quickly on their way, with great technology deals trailing close behind. This year we have seen a countless amount of sweet gadgets, and in just a few weeks, those gadgets will be getting huge sticker price cuts! Between Black Friday and Cyber Monday, the amount of money you could save is unbelievable. With all of that said, we have put together a list of 10 smartphones that are important to keep an eye on this coming Black Friday.
1. LG G3
First up on our list is LG's new phone, the G3. It is a beautiful smartphone. Though it has a plastic backing, it is still a slick looking phone, despite a lot of the aluminum we have seen lately. One of the best parts about this phone is the screen. The display comes in at a whopping 5.5-inches, with a beautiful resolution of 2560 x 1440 and 534ppi. This screen is one of the best, no doubt. Videos play clearly, and HD movies look fantastic. One of the best things I enjoy about the screen is the lack of color saturation–everything looks pretty accurate.
When it comes the innards of this beast, you get nothing but the best. Packed with a Qualcomm Snapdragon 801 clocked at 2.5GHz, 2GB of RAM and an Adreno 33o GPU, this smartphone is as slick as they come. When scrolling through a gallery of photos, that's about the only thing you'll find lag in. With everything else–movies, games, videos, Internet browsing–things are extremely slick. This guy does not have a problem keeping up.
Keep an eye out for Black Friday deals on all of the carrier websites–AT&T, Verizon, Sprint–but keep a closer eye on Amazon, as they always have some sweet deals on the latest smartphones when it comes time for the deal season!
2. Samsung Galaxy S5
Next up on our list is Samsung's flagship device, the Galaxy S5. This guy comes close to quality with the G3, only it is packed with a whole lot more bloatware, which shouldn't be a big problem for those of you the root and flash custom ROMs. There is a great chance you will be seeing all sorts of deals for the Galaxy S5, as its successor is on the way in just a couple of months here.
The Galaxy S5 is packing quite a load. Similar to the G3, it has a Snapdragon 801 processor, clocked at 2.5GHz, 2GB of RAM and a Adreno 330 GPU. You'll find little to no lag in this device. Another great selling point is its screen. It's a bit weaker than the G3, but it's still rocking a Super AMOLED 108p screen with 432ppi. Looks almost just as nice as the G3, though you can notice some differences, such as the color saturation in the Super AMOLED display.
Another popular selling point with the Galaxy S5 is ts camera, and boy is it packing heat! Outfitted with a 16-megapixel sensor, the Galaxy S5 takes astonishing images. And much like most of Samsung's flagship devices, this bad boy is outfitted with all of the camera features you could want.
I would keep an eye out for this guy on Amazon, TechBargains, and of course, AT&T, Verizon, T-Mobile, and Sprint!
3. Samsung Galaxy Note 3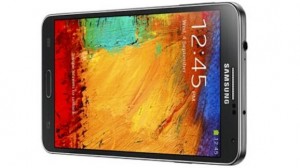 And here is one of our personal favorites, the Galaxy Note 3! Depending on where you get it from, it is not nearly as powerful as the previous two, but it is still rocking a quad-core 2.3GHz Krait processor, 3GB of RAM, and an Adreno 330 GPU. Again, while not nearly as powerful as our other contenders, the Note 3 still packs some heat.
One of our favorite parts of this device is its screen. As they always say, the bigger, the better. Packing a 5.7-inch Super AMOLED PenTile display, you'll have no trouble kicking on a high definition movie or video. This guy will even play some of the most graphic intensive games without breaking into a sweat.
Samsung is also known for its great cameras. While it is a smaller performer than the 16-megapixel sensor on the S5, the Note 3's 13-megapixel sensor still gets the job done. You can get some really nice pictures off of this guy. And as usual, you get Samsung's full camera package, so be looking out for all of the camera features, too!
Another great point on this device is the 3200 mAh battery. If you're interested in this hot seller, there are going to be some awesome black friday deals coming up for you, particularly over at Amazon, TechBargains, AT&T, T-Mobile, and Verizon. If you're looking to get it in-store, Best Buy and Target always have great deals going on!
4. LG G2
Yes, we just listed the G3 on here, but some times you just cannot afford the best of the best, even on a sale. Either way, the G2 still isn't a bad contender. Some may say its old technology now, but its still worth taking a look at, especially at the low prices you can get it at! This guy is rocking a 5.2-inch Full HD IPS LCD screen. At 1980 x 1080 and 424ppi, you will not be disappointed in the definition this little performer will give off!
It is packing a Snapdragon 800, clocked at 2.26GHz, 2GB of RAM, and an Adreno 330 GPU. It runs like a champ! And to compliment all of that, it has a 3000 mAh battery. The only downside is that it is not removable. Either way, it'll run just about anything you put at it. However, I did notice a little lag in certain everyday tasks when I used it, but maybe that will change in the next Android OS update.
If you're interested in this little performer, I would keep an eye out on Amazon, Best Buy, and all the carriers–AT&T, Verizon, T-Mobile, and Sprint. Of course, if you are looking to buy this guy at full price, I wouldn't doubt that you could get it half off this Black Friday through Woot and other flash sale websites.
5. Samsung Galaxy S4
Again, the Galaxy S4 is not a newer phone, but it is one you'll be able to find a deal on very easily. So, what do you have to look forward to with this smartphone? Well, you get a 5-inch AMOLED display, full of deep and vibrant colours. It is, of course, not nearly as good as the G2, G3 or the Note 3, but you will still get some great quality movies and video out of it. I found reading at night to be great thanks to the AMOLED displays deep black colors. However, many prefer more "real" colors than the AMOLED's vibrant ones, so just be aware of that.
The Galaxy S4 packs a punch with its Snapdragon 600 processor, clocking in at 1.9GHz. It also has 2GB of RAM and an Adreno 320 GPU. Don't overlook this guy, as it will also run just about everything you throw at it. One of the best points about the Galaxy S4 is its 2600 mAh battery and battery saving features. It will definitely get you through the day, even with active use. Definitely not power use, but actively, it'll get you home.
As usual, Samsung has its great camera package. Strapped on the back of this guy is a 13-megapixel sensor. It takes great quality images, and is complimented by Samsung's fully featured camera app. This Galaxy S4 certainly won't let you down.
So, where can you find it this Black Friday? Amazon, AT&T, Verizon, and T-Mobile are great places to start. However, I would also keep an eye on Techbargains and DealNews to search for any of those last-minute deals.
6. Moto X
Next up–the Moto X! It has been out for two years now, but it just got a second revision this year, making it even better than the first. It is a beautiful smartphone! For the display, you're looking at 5.2-inches of high definition movie loving! Of course, it is the AMOLED display with a pixel density of 424ppi. With the AMOLED display, you get the deeper and more vibrant colors. Either way, it makes watching movies and videos a pleasant experience.
As for the processing power, you are looking at Snapdragon 801 processor, coming in at 2.5GHz. With that, you get 2GB of RAM and the Adreno 330 GPU–the full package. With all of that, you have a great smartphone in the performance realm. It makes playing movies and games a breeze.
You probably won't see a deal for this guy anytime soon, but if you do, it'll probably be directly from Motorola. That said, keep an eye on www.motomaker.com for some great Black Friday deals!
7. Moto G
As for the Moto G, it's a nice running budget phone. However, it still packs a decent punch. Packed into this guy is a quad core Snapdragon 400 processor clocked in at 1.2GHz. To compliment it, we have an Adreno 305 GPU and 1GB of RAM. Put all that together and you get a very good contender, for a budget phone. Do not expect leaps and bounds from this guy like you would the flagship hardware, but I would not underestimate it either. It will handle every general task you throw at it like a breeze, however, it could really use that extra gig of RAM–you can really notice a difference.
On the other hand, it has a great display. You get a 4.5-inch LCD HD display, coming in with a pixel density of 326ppi. It is a nice screen, but with the smaller display and drop in resolution, it would not be my go-to device for catching up on Netflix or your YouTube lineup. However, it is not that bad either!
Either way, the Moto G is still a budget phone, so if you are looking for a drastic deal, it is just not going to happen. However, you will still get something, as Motorola (www.motomaker.com) is more than likely to cut the sticker price for this coming Black Friday! I would also keep an eye out on all the carriers as well, as they are likely to follow suit–AT&T, Verizon, and T-Mobile, specifically.
8. Amazon Fire Phone
And here we come to Amazon's newly released, Fire Phone. There has been a lot of flack around this phone, mostly because of the pricing it started out at. However, for those looking for a steal, this Amazon Fire Phone is still a great buy. Under the hood we have a quad core Krait 400 clocking in at 2.2GHz, 2GB of RAM, and an Adreno 330 GPU. It seems like quite a bit for a mid-range smartphone, but the Fire Phone runs like a champion. It plays movies, video, and games smoothly. You will not miss a beat with this little performer.
As for the display, you have your standard 4.7-inch IPS LCD display, with a resolution of 720 x 1080 and a pixel density of 312ppi. Obviously not the best in the display department, but things still look generally nice. A higher pixel density would have helped the Fire Phone a lot, but again, it does not look bad.
Probably the highlight of the Fire Phone is its 13-megapixel sensor. You can take some quick and nice shots with this beast. This is not really a Black Friday deal, but since the smartphone ran for $199 on-contract, it is worth throwing this in and saying that there has been a reduction across the board. If you are looking to get that special someone the Fire Phone this holiday season, you can now pick the Fire Phone up at the low price of $0.99 on-contract through any carrier–AT&T, Verizon, T-Mobile, Sprint, and Amazon!
9. Samsung Galaxy Note 4
The Samsung Galaxy Note 4 is a real beast. Sporting a quad core Krait 450, clocked in at 2.7GHz, the Galaxy Note 4 does not miss a beat. To compliment this hardware, we have 3GB of RAM and an Adreno 420 GPU. Obviously this is a lot of power for a smartphone, but it fits the Note 4 perfectly. It will handle just about anything–from something as little as movies to as big as a 50-slide presentation in front of an executive board.
As for the display, it has a massive 5.7-inch display, with a resolution of 1440 x 2560. It has a beautiful pixel density of 517ppi, which compliments the smartphone immensely. As with most Samsung phones, you get the Super AMOLED screen, so a lot of the colors are very deep and vibrant, which is perfect if you are a big entertainment buff.
Another great highlight of this smartphone is its camera. The Galaxy Note 4 is touting a whopping 16-megapixel sensor. As you might expect with a sensor that big, you get some very high quality photos. No need to see a professional photographer anymore! As usual, you get the fully-featured camera app to go with it, so you have a lot of options available to you.
You will be able to find this smartphone on sale this coming Black Friday and Cyber Monday on Amazon. It is not likely that the carriers will have their own sale on this beast until we get closer to Christmas or a little while after Christmas, if last year is anything to go by.
10. Nexus 6
Unfortunately, we probably will not see the Nexus 6 on sale at all this year. After all, it is not on sale until the end of November. That said, Google probably will not be presenting any special offers. However, the smartphone is a great holiday gift. The Nexus line has always been far above expected quality and will not let you down. So, if you are willing to pay full price for this beast, keep an eye on Google Play Store this month, and you might just be lucky enough to snag one for that special someone for Christmas.
For a quick rundown, it has a quad core Snapdragon 805, clocked in at a speedy 2.7GHz. With it, you get 3GB of RAM and an Adreno 450 GPU. That's not the only thing that should impress you, as it is equipped with a 13-megapixel sensor and a 5.96-inch AMOLED display. With a 1440 x 2560 resolution and a pixel density of 493ppi, you will only be getting quality out of this beast.
Conclusion
There are going to be some sweet deals come this Black Friday and Cyber Monday, so I would be on the lookout for smartphones we have not listed, such as the Galaxy Edge. As you know, just about everything you can think of goes on sale about this time of year, so keep your eyes pealed for more. Make sure to stay tuned on The Droid Guy, as we will be cooking up some more sweet deal articles for our readers!