With the Fourth of July weekend regrettably behind us, it's time we evaluate our losses and… allocate a bit of extra cash for more shopping. Worry not, you won't end up on the street, living in a cardboard box while obsessively building mighty new "Minecraft" castles.
That's because we only have extreme bargains to recommend after scouring the discounted depths of Amazon, with a bunch of low to mid-end and mid to high-end Android smartphones leading our deal list for the week, joined by respectable tablets, fancy smartwatches and a slew of perhaps modest yet oh-so-convenient mobile accessories. Here goes:
Handhelds on the cheap
Do we even need to highlight the limited and time-sensitive nature of this promo? Well, to better understand just how much you're saving, let us mention the non-LTE original E still costs $84 in a US GSM configuration, and $92 global GSM.
Of course, there's a lot more separating the two Es than merely 4G connectivity. The 2015 edition is larger, punchier, offers twice the internal storage space, an improved rear camera and VGA front snapper. Also, a considerably heftier battery. Overall, if the Independence Day celebrations left you with a Benjamin in the bank, the wisest way to spend it is the advanced Moto E… if you can get it.
We'll be honest, for a second there (or a million), we lost all hope the otherwise venerable Mate 2 would ever be brought (relatively) up to date software-wise. But credit where credit is due – Huawei delivered on their ancient promises. Big-time!
Now, with Android 5.1 Lollipop on board, the big-battery 6.1 incher is maybe more enticing than it ever was. Especially at $40 off its list price, 720p screen resolution, quad-core Snapdragon 400 chip, 2 GB RAM and all.
To make it clear off the bat, this isn't the G4 Stylus, aka G Stylo. It's a 2014 precursor, with decidedly 2014 mid-range material, including Android 4.4, 1 GB RAM and 8 gig ROM. Alas, the 5.5-inch 960 x 540 panel is quite crappy, but on the plus side, the 13 MP LED flash cam and 3,000 mAh cell… aren't. And neither is the pen support.
5.1-upgradeable and due for a hardware renovation before long, the X+1 has plenty of juice left in the tank, but it might be discontinued any day now. Perhaps not altogether canned, but if it becomes really hard to score, its tariff could jump back up to over $400. The clock's ticking, y'all.
Hisense? What the fudge is that? Actually, it's a decent Asian brand, with a history of nearly half a decade in the electronics industry, although obviously, not a stellar background in the Android niche.
For a little over a Benjamin and a half, the Chinese OEM offers an uber-stylish, 0.31-inches thick 6-inch phablet capable of sharp 720p images, crisp sound, 3,000 mAh endurance and 8 megapixel stills.
This week's best tablet deals
Not exactly a first-class iPad mini 3 rival, Sammy's newest 8-inch budget soldier at least mimics the 4:3 display aspect ratio and squeezes it into a slender 7.4 mm frame. Plasticky but fairly fashionable. Meanwhile, under the hood, you get quad-core power, 1.5 GB RAM and 4,200 mAh battery juice, which isn't half bad at $30 off the $230 list tag.
Essentially the same average slate, only bigger. And $65 pricier, which is $35 off. Oh, and the screen-to-body ratio hits a sweet 72 percent, albeit at the expense of clarity. Come on, Samsung, 132 ppi?!?
An oldie but goldie, the 8.4-inch Tab Pro is stuck on KitKat. Otherwise, it's so much better than the Tab A 8.0 that the very comparison feels ridiculous. 359 vs 160 ppi panel, 2.3 GHz Snapdragon 800 vs… 400, we presume, 2 vs 1.5 GB memory, 8 vs 5 MP cam, 4,800 vs 4,200 mAh pacemaker. Shall we go on? Probably not.
It's pre-owned, which is never ideal, but boy, are those specifications impressive for sub-$200! 1,920 x 1,200 IPS panel, Intel Atom inside, 8 MP rear camera with f2.2 lens, 2 GB RAM, 7-hour battery. Too bad Lollipop seems but a sweet, distant dream.
Discounted Android-compatible wearable devices
Reduced at all major US retailers, the OG 360, like the Moto X2, is waiting on a sequel. Prettier, more powerful and, hopefully, longer-lasting. Also, a lot costlier. Hence, this remains a smart buy, at least until we can thoroughly gauge the value and performance gap.
It's a good time to be in the market for upgraded versions of the smartwatch classics, including the Pebble Time and Time Steel. But it can be thoughtful to turn to the actual classics too, particularly if they stand the test of time as robustly as this black matte, full-week, metallic, waterproof, iOS and Android-supporting wrist-clock.
The savings are by no means massive (a humble 15 bucks), yet the resulting deal is virtually unrefusable for fitness nuts who don't need a fancy screen, complex smartphone notification pushing and the works to reliably monitor the things that count: steps, general distance covered, calories burned, active minutes, sleep duration and quality.
Accessories steals
It's no secret the GS6 can crack under the "right" amount of pressure, so in the spirit of safe before sorry precautions, a "heavy duty" cover feels obligatory for folks who tend to frequently drop their precious gadgets. At the price of a couple of Happy Meals, the "dual layer" case on hand provides "maximum drop and scratch protection", with rubberized edges and flawless shock absorption.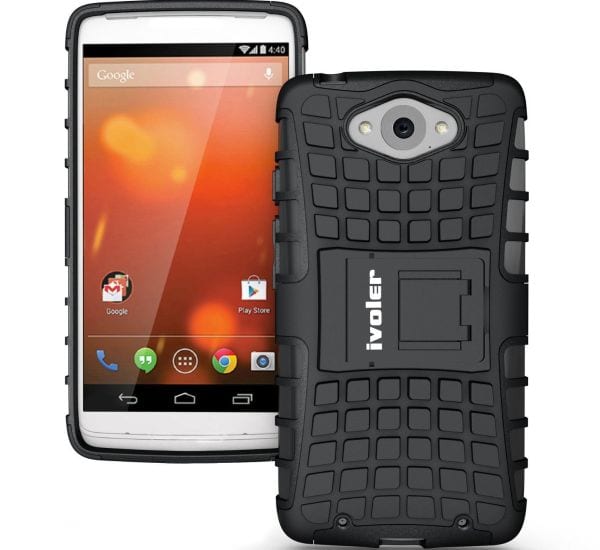 It's basically the same thing, only it fits the Turbo best and vows to shield its already muscular exterior and gigantic 3,900 mAh battery from harder contacts against tougher surfaces, scratches, crashes and… bullets? Probably not, but close enough.
You had to be very thrifty during the recent extended national holiday period to save money for a pair of high-end wireless headphones. Or take advantage of Sony's promotion, and cough up $40 less than usual for Electronic Bass Boost circuitry, 40mm drivers, ergonomic, stylish design, and up to 20-hour endurance.
A couple of front speakers, subwoofer, microphone, 8 to 10 hours battery life between charges, NFC capability up to 30 feet distance, and universal Android compatibility. In other words, the basics at a more than reasonable price. Definitely not an audiophile's wet dream, though.