After a short vacation and well-deserved break from the crazy world of gadget promotions, we're back with a bang and ready to end your discount withdrawal. No more headaches, dizziness and general state of anguish. It's time for the latest weekly fix of Android-powered and Android-compatible gear deal roundup.
To ensure your addiction doesn't spin out of control all of a sudden, the assortment of bargains is as diverse as it is rich today. This way, everybody can find something to tickle their fancy, but unless you suffer from multiple personality disorder, you'll likely settle for a couple of purchases, tops. Let the games begin… again:
This week's best Android smartphone deals
450 bucks is this Snapdragon 810 juggernaut's list price, so you're not looking at a "deal" per se. Still, the Axon Pro is basically the textbook definition of a steal, offering the kind of first-class specifications other OEMs charge north of $600 for sans contractual obligations.
Specifically, Quad HD 5.5-inch display resolution, 4 GB RAM (!!!), 32 GB internal storage, a snazzy rear-facing 13 MP + 2 MP dual camera arrangement, 8 MP selfie shooter, Android 5.1.1 Lollipop software and 3,000 mAh battery with fast charging technology.
Speaking of devices not technically discounted but available for irresistible fees nonetheless, the just-unveiled G3 is a dream come true. It's handsome, withstands water interaction, promises to last 24 hours between charges and all while packing 64-bit quad-core Snapdragon 410 punch.
Not to forget the dual-LED flash 13 MP main photographic unit or secondary 5 MP selfie virtuoso. The icing on the cake? Why, vanilla Lollipop experience, of course.
As a rule of thumb, it's always wise to buy aging gadgets just before or after the rollout of sequels. Last year's Moto G is no exception, although a further $20 or so trim would be more than welcome. Ultimately, the $30 gap feels a little small when the OG G only sports 8 and 2 MP cams, plus a skinny 2,070 mAh cell.
The S6 Edge Plus is nigh (really, really nigh), so naturally, the "standard" Edge is in the middle of a price reduction process. Don't wait too long, though, given the "successor" will actually cater to a somewhat different target audience, with a considerably larger screen in tow.
Does bigger + cheaper = better? Then you can't possibly do better than BLU's quad-core, 720p, 8 MP snapshot-producing KitKat 6 incher. Such a shame you'll probably need a man purse to carry the 206-gram "brick" around.
Best affordable tablets to purchase right now
It's sleek, relatively powerful, courtesy of a quad-core Intel Atom chip and 1 gig of RAM, and the 1,280 x 800 7-inch IPS panel isn't horrible at sub-$100 either. Clearly aimed at cash-strapped fashionistas, the ultra-portable slate feels like a digital hoarder's wet dream as well, with a 16 GB ROM and 500 GB gratis Asus WebStorage space.
Nobody knows if a new Nexus tab is in the pipeline this year (probably not), but even if it is, HTC's high-end 2014 installment will definitely remain a must-buy for months to come. At a little over $350, it offers a whole lot, including a sharp 4:3 display going up against Apple's best Retinas, Tegra K1 power and silky smooth Lollipop UI.
Between premium Tab S releases and mid-tier A and Es, we bet you can't put your finger on the approximate time of Tab 4 7.0's commercial debut. Let us help you – spring of 2014. Oh, now you remember? Hopefully, you'll keep the slashed tag in mind and realize the KitKat software, quad-core SoC, 1,280 x 800 screen and 1.5 GB RAM aren't half bad.
Smartwatches and fitness trackers on the cheap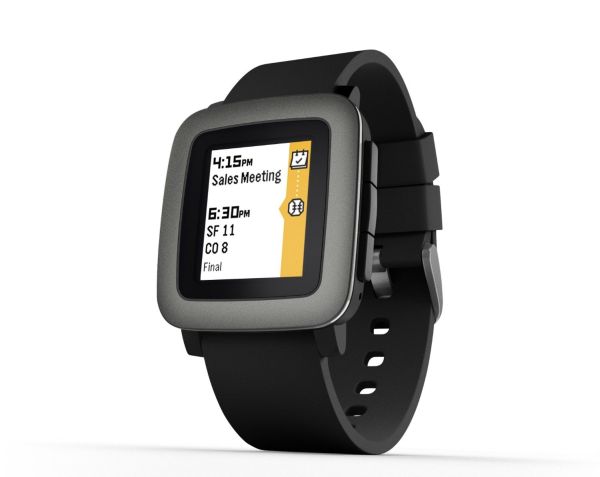 The Kickstarter exclusivity period has wrapped up, Amazon's $20 premium is no more, and limited quantities are also a thing of the past. Time to show Cupertino how it's done! It being a robust, colorful and durable wearable device with the bare necessities of a smartwatch brought to your wrist.
Now this is a tough choice to make. Color e-paper display, thinner but plasticky chassis, more advanced UI and higher price or affordability, metallic exterior, bulk and rudimentary software? How about you wait for the Time Steel and save some extra cash in the meantime?
Not digging Time Steel's style? The Watch Urbane is a very trendy option, with a perfectly round and aluminum unibody, plus overall impressive hardware. Battery life unfortunately remains a major concern, especially with the standalone Wi-Fi enabled.
It's not easy to recommend a basic activity tracker that lacks anything resembling the most primitive screen and yet costs as much as a previous-generation premium Pebble timepiece. But the Up3 obviously hides a number of aces up its sleeve, starting with a leading-edge "smart coach" system delivering personalized insights, recommendations, alerts and notifications.
Mobile accessories deals for the week
It extends, it adjusts, it's remote operable, fairly elegant… for an otherwise tacky type of accessory and, above all, it's cheap. If you must feed your narcissism, at least do it in style and don't spend a fortune for a rod.
Once again, we feel comfortable recommending an economical cart filler that also looks cool and, unlike vulgar selfie sticks, works towards a noble purpose – watching videos or viewing photos as seamlessly and effortlessly as possible.
If you like to entertain, and guests always end up fighting for the limited power outlets at your place, this wall charger will make sure the number of sockets available at any given time stops being a problem. Even better, it facilitates up to 10 amps charging across its six hubs with overcharge protection.
The GS4 is nearly decrepit and should no longer feature on your wish lists, no matter your budgets. Then again, if you own it and it still decently does the job, but can't hold a charge anymore, less than 10 bucks will provide a breath of fresh air for a once celebrated veteran.
Petite, stylish in a very subdued way, surprisingly powerful and universally compatible, the 8.3-ounce Magicbox is the ultimate travel partner for audiophiles also in love with Android.
We will receive sales commission if you purchase items using our links.
Learn More
.