The Steam Cloud enables clients and games to use cloud storage provided by Steam to automatically upload to Steam's servers. Many various sorts of data, such as game settings, recent save game progress, profile metrics, and other user-specific information, can be stored in games via the Steam Cloud. If you want to enable steam cloud synchronization on your Steam Deck then this article can help you enable it.
Steam Deck is a handheld device produced by Valve. PC games can be played on Steam Deck. You can access all of your bought titles by entering into your Steam account, where your Steam Deck's library will be shown. You can also look up a game's compatibility rating to get a better idea of its suitability. If you're looking for the compatibility of a specific game, you can dynamically filter any view in your libraries' libraries based on its compatibility rating. Whether you use trackpads or thumbsticks, the full-size controls are perfectly placed for extended play sessions on the tablet.
Steam Deck Technical Specifications
Processor:
AMD APU
CPU: Zen 2 4c/8t, 2.4-3.5GHz (up to 448 GFlops FP32)
GPU: 8 RDNA 2 CUs, 1.0-1.6GHz (up to 1.6 TFlops FP32)
APU power: 4-15W
RAM: 16 GB LPDDR5 on-board RAM (5500 MT/s quad 32-bit channels)
Storage:
64 GB eMMC (PCIe Gen 2 x1)
256 GB NVMe SSD (PCIe Gen 3 x4 or PCIe Gen 3 x2*)
512 GB high-speed NVMe SSD (PCIe Gen 3 x4 or PCIe Gen 3 x2*)
Resolution: 1280 x 800px (16:10 aspect ratio)
Display size: 7″ diagonal
Brightness: 400 nits typical
Refresh rate: 60Hz
Touch enabled: Yes
Sensors: Ambient light sensor
Bluetooth: Bluetooth 5.0 (support for controllers, accessories and audio)
Wi-Fi: Dual-band Wi-Fi radio, 2.4GHz and 5GHz, 2 x 2 MIMO, IEEE 802.11a/b/g/n/ac
Channels: Stereo with embedded DSP for an immersive listening experience
Microphones: Dual microphone array
Headphone / mic jack: 3.5mm stereo headphone / headset jack
Digital: Multichannel audio via DisplayPort over USB-C, standard USB-C, or Bluetooth 5.0
Input: 45W USB Type-C PD3.0 power supply
Battery: 40Whr batteries. 2 – 8 hours of gameplay
microSD: UHS-I supports SD, SDXC and SDHC
External connectivity for controllers & displays: USB-C with DisplayPort 1.4 Alt-mode support; up to 8K @60Hz or 4K @120Hz, USB 3.2 Gen 2
Enable Steam Cloud Synchronization on Steam Deck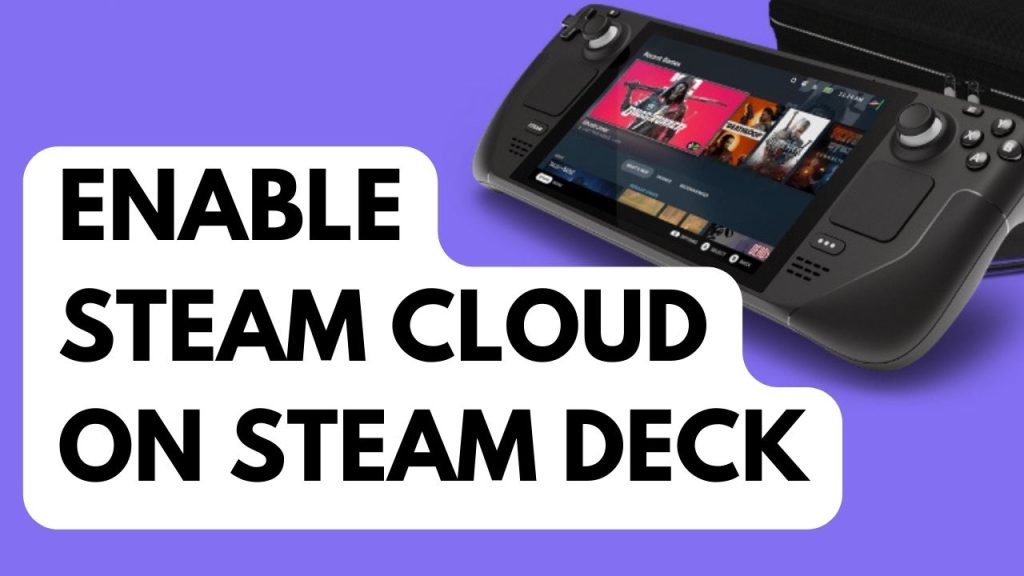 If you've ever tried to install a previous game that you've already installed on your Steam account and the game saves weren't downloaded automatically after installation of the game, steam cloud sync is disabled. It is highly recommended to enable dynamic cloud sync to avoid data loss. You can turn on steam cloud sync in the settings for either a specific game or your whole library of games.
Enabling Dynamic Cloud Sync on Steam Deck
Step 1: Press the Steam Button.
Step 2: On the Steam Menu, go to Settings.
Step 3: Select Cloud.
Step 4: Enable Steam cloud saves.
This will enable cloud saves on your Steam Deck.
Frequently Asked Questions
Is the Steam Deck worth it?

Yes, the Steam Deck is a fantastic piece of hardware that is finally hitting its stride almost six months after it was first introduced. Despite being a Linux-based device, the handheld is surprisingly powerful for its size and cost and performs incredibly well when playing numerous top-notch Windows games.

Is Steam Deck underpowered?

The Steam Deck still feels underpowered and has barely enough power to run games at respectable frame rates, while having significantly more power than the Nintendo Switch.

Is Steam Deck better than switch?

The Steam Deck clearly outperforms the Switch in terms of graphical performance because to its more modern and potent technology. The visual output of the Steam Deck is comparable to that of a PS4, and it can run more games at 60 frames per second than the Switch.

Can you play any game on Steam Deck?

Yes. Not all of them work right now, but the majority do. However, Valve stated that it is anticipated that all games will function when the Steam Deck is released on the market in December 2021.

Which Steam Deck model is best?

The most functional and affordable option is the $529 256GB model for the majority of consumers. Choose the $649 512GB Deck if your budget allows because it is unquestionably the best. Avoid the $399 64GB variant as well, as it has slower run and boot times, unless you're on a tight budget.