The Galaxy Tab S8 was launched on February 9, together with the company's flagship smartphones, and started shipping on March 22.
It has a stunning 11-inch TFT LCD display with 120Hz refresh rate.
Performance-wise, the table is one of the most powerful devices available in the market with 8GB RAM and runs on Qualcomm SM8450 Snapdragon 8.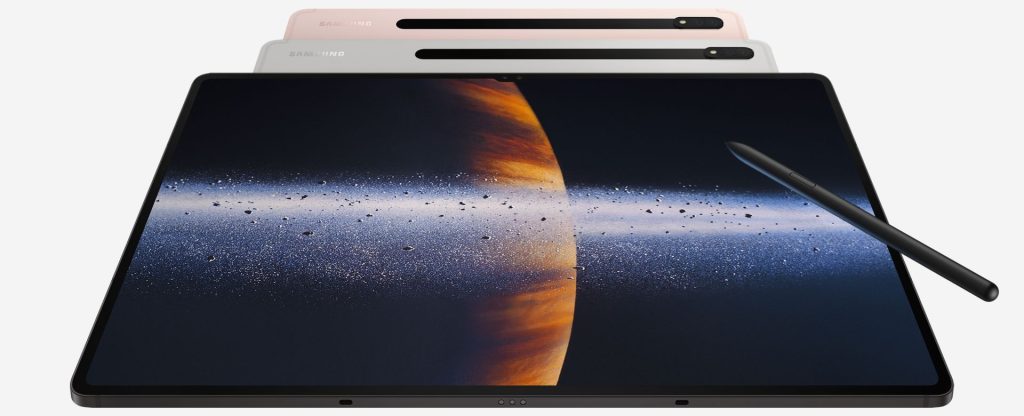 Features
Excellent display
Snappy performance
Thin and light designs
Useful integrations with other Samsung devices
Fast charging
Fingerprint (touch)
Wireless screen share
Dual camera
Multiple speakers
Specs
11in, 120Hz, TFT LCD display
128/256GB storage
Qualcomm SM8450 Snapdragon 8 Gen 1 (4 nm)
Octa-core (1×3.00 GHz Cortex-X2 & 3×2.50 GHz Cortex-A710 & 4×1.80 GHz Cortex-A510)
8/12GB RAM
8000mAh battery
13 MP, f/2.0, 26mm (wide), 1/3.4″, 1.0µm, AF
6 MP, f/2.2, (ultrawide)
12 MP, f/2.4, 120˚ (ultrawide) front camera
Android 12 with One UI 4.1
Should you buy a Galaxy Tab S8?
Tablets can be very useful for work as they can be turned into powerful portable computers. The fact that you can connect Bluetooth keyboard and mouse to them makes them even more useful regardless of whether you're in your office, home or on-the-go.
The Galaxy Tab S8 can also be used for mobile gaming if you're looking for a device that's powerful and have a bigger screen than your smartphones.
It runs on Qualcomm's latest Snapdragon 8 Gen 1 making it power-efficient without compromising its performance. It can be a perfect device for streaming, screen recording and whatnot.
Galaxy Tab S8 Overview
Samsung announced the Galaxy Tab S8 on February 9th during its annual Galaxy Unpacked event, together with its big brothers Tab S8+ and Tab S8 Ultra. Apparently, the Tab S8 packs a more powerful hardware specifications, which are, actually impressive compared to its competitors.
Being the base model, it's expected to have lower hardware specifications. With that being said, it's the only unit among the three that has the TFT LCD screen and not the Super AMOLED display.
It's also the smallest of the three measured at 11 inches compared to the Tab S8+ and Tab S8 Ultra that measured at 12.4 inches and 14.6 inches, respectively.
Galaxy Tab S8 Price and Availability
The Galaxy Tab S8 was announced on February 9th together with the flagship phones but sold a month later than the latter, to give the phones more opportunity to sell more units.
But as of this writing, the Tab S8 and other variants are already available in all markets around the globe, although the prices may vary from market to market.
In the US, the Galaxy Tab S8 is priced at $699.99 while the Tab S8 Plus is at the $899.99 price range. The Tab S8 Ultra is the most expensive at $1,229.
Galaxy Tab S8 Reviews
The Galaxy Tab S8 has received quite good reviews from tech enthusiasts and users alike. Tom's Guide gave it 4 stars out of 5 saying that it is a "speedy, long-lasting Android 12 slate that's beautiful to look at and comfortable to hold."
The Verge gave it 7 out of 10 stars citing it's price and having no charger and cellular options as among the things that prevent it from getting higher scores.
While it supports fast charging, you still won't be able to enjoy that without using the power brick designed to optimize those features. Needless to say, you will really need to buy a charger, which apparently adds up to the price.
PC Mag, on the other hand, gave it 3.5 out of 5 stars because it has fewer creative apps than the iPad and than many Android apps don't play well with the tablet.
Galaxy Tab S8 Issues
Battery issues
The Tab S8 has a huge battery but it doesn't mean it can't have battery-related issues. Depending on your usage habit, you might notice the device to run out of juice fast.
To address that, make sure no big apps are running in the background and that the tablet doesn't heat up so much.
After a few hours of use and you notice that it's become warmer, try rebooting it to refresh the memory and rebuild the cache. That will usually fix battery problems with your tablet.
Performance issues
Performance related problems are also among the most common issues you might encounter every now and then. And while they're common, they're not actually that serious.
In fact, issues like that can be easily fixed by simply doing the forced restart and making sure you still have enough storage space left.
We also suggest to you take time in checking for available updates and make sure your tablet runs the latest Android version.
If all else fails, do the factory reset and that will bring the performance back to normal.
Design
Just like Samsung's smartphones, its tablets have a little to none design upgrades. So if you're one of the people to own the Tab S6 and upgraded to Tab S8, you will still get the feeling that you're using your old device.
But if it's the first time for you to own a Galaxy Tab S series, then you will surely appreciate the design when you compare it with its competitors.
It is slim and light tablet to hold. In fact, you'll feel comfortable holding it on your hands even while you're standing up. The Pink Gold color scheme is kind of sleek and elegant.
Size
The Tab S8 has a dimension of 253.8 x 165.3 x 6.3 mm and weighs around 503 grams. You can still consider it as a big tablet but it's thin and lightweight compared to others.
It has a camera bump at the back but it doesn't really affect much of its size and design. It will, however, become bulky if you enclose it with a case that comes with a keyboard but that will also somewhat hide the stylus.
For a device that can be used for leisure and work, the Galaxy Tab S8 is already small and powerful enough.
Color options
The Galaxy Tab S8 is available in three colors, namely: Graphite, Silver and Pink Gold.
If you want a very low key tablet, we suggest you get the graphite unit. But if you want it to stand out, then you get the shiny silver color.
However, if it's elegance you're after, then the Pink Gold unit will make your tablet visible and appreciated.
Protection
Unlike the flagship smartphones, the Tab S8 doesn't come with IP67 or 68 certification. So it's not water-resistant and dust might be able to find its way into your tablet. That's why we suggest you get a case that you like and put it on your tablet for added protection.
It's display, however, is protected by Corning Gorilla Glass 5, which somewhat makes it scratch resistant at some point but it's still vulnerable.
Display
The Galaxy Tab S8 has an 11-inch TFT LCD display, which is still very good. The 1600 x 2560 pixels resolution is spread across that huge screen, and that gives you around 274 PPI density.
You cannot expect your tablet to have crisper images than your phone but that's not a problem.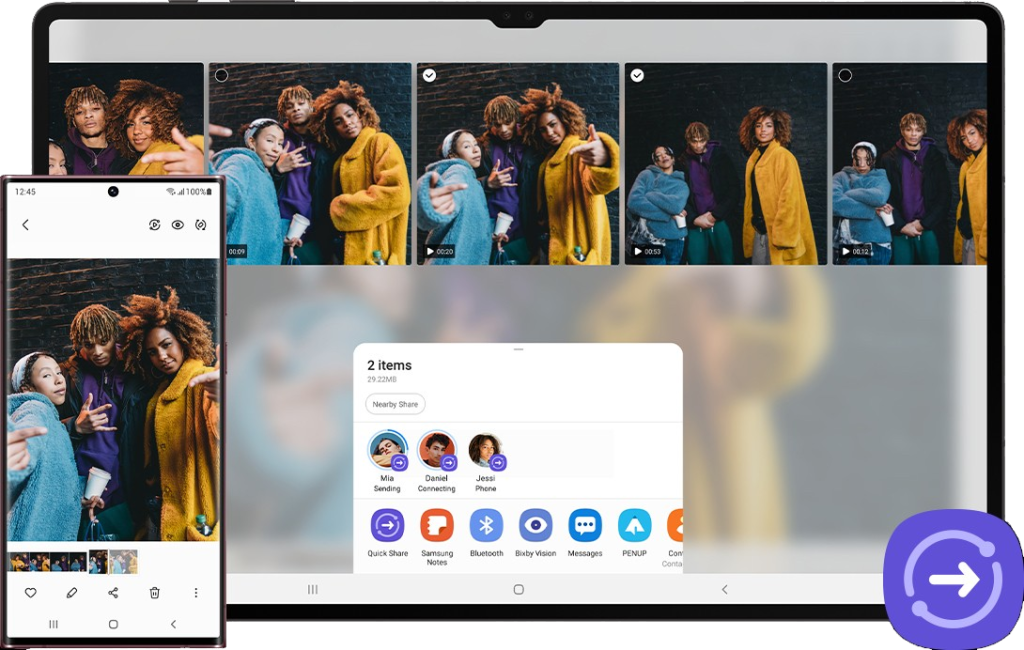 As mentioned above, the display is protected by Corning Gorilla Glass 5, which makes it virtually scratch-resistant even after years of normal use.
Platform & Memory
It's already a practice of Samsung to give its devices the latest technology available in the market so it's already expected that the Tab S series for 2022 will run on Qualcomm SM8450 Snapdragon 8 Gen 1 (4 nm) with Octa-core (1×3.00 GHz Cortex-X2 & 3×2.50 GHz Cortex-A710 & 4×1.80 GHz Cortex-A510) processor, making them powerful and power efficient.
It also runs on Google's latest Android 12 mobile operating system and Samsung's One UI 4.1.
For the Tab S8, you will have an option to choose between a unit with 128 GB and 256 GB of storage, and 8GB and 12GB of RAM. The price will, of course, vary depending on the storage and RAM capacities.
Cameras
The Samsung Galaxy Tab S8 has a dual back camera. It has a 13 MP, f/2.0, 26mm (wide), 1/3.4″, 1.0µm, AF and 6 MP, f/2.2, (ultrawide) sensors, which allows you to record 4K videos at 30 and 60 FPS and 1080p videos and 30 FPS.
The selfie camera, on the other hand, has a 12 MP, f/2.4, 120˚ (ultrawide) sensor that also allows you to record 4K videos at 30 and 60 FPS and 1080p videos and 30 FPS.
Battery life
Your Tab S8 has an 8000 mAh, non-removable Li-Po battery, which can last up to 2 days of normal use before you will be required to charge.
It's capable of fast charging for up to 45W and reach 100% in just 80 minutes. However, you need to use Samsung's charger that's also capable of giving out such a power.
Connectivity
The Galaxy Tab S8 doesn't have an option for cellular connectivity. So you can only get connection from Wi-Fi networks. Most of the time, tablet users use Wi-Fi instead of cellular data because it's more stable.

But with the rise of 5G connectivity, it's always to have another option, especially that you can use cellular while you're mobile. This is one of the downsides of getting the Tab S8 because you don't have this option.