Originally, we intended to take things very gradually when explaining Samsung's new high-end smartphone roster, first spelling out the differences between the just-announced Galaxy Note 5 and S6 Edge+, then pitting the latter against the "standard" S6 and S6 Edge, and finally comparing and contrasting the Note 5 and its faux leather-clad predecessor.
But we think we'll skip the GNote 5 vs GS6 Edge+ post, given the two are basically the same exact device, with S Pen functionality on the former and a dual edge display on the latter. That's it, and it's all you need to know before choosing one or the other.
Which brings us to the S6 Edge+ vs S6 Edge vs S6 "battle." At first glance, there's not much to talk about here either. The key distinction between the S6 and S6 Edge is given away in their names, and the Plus simply widens the screen real estate. Or does it?
Well, let's take a more thorough look at the three's designs, dimensions, specifications and features, and see if there's more than what meets the eye to the Galaxy S6 Edge+. It better be, considering the price premium.
Samsung Galaxy S6 vs S6 Edge vs Edge+ – pricing and availability
If you're looking to cut a lucrative deal, the non-edgy GS6 is definitely the way to go. It costs $570 factory unlocked in blue, $574 in white, $575 in black, or $585 in gold. With two-year carrier contracts, you can drop the tariff to $200 for Verizon, or $100 at Sprint.
Meanwhile, the S6 Edge isn't as prohibitive as back in the day, but it's still a far more extravagant buy than the S6, at $648 and up unlocked, $200 on-contract with Sprint, or $300 for Verizon.
Extravagant? Hah, you ain't seen nothing yet, as the S6 Edge+ starts at $768 outright, or $32 a month, through America's largest wireless service provider. The second largest, AT&T, charges $815 free of contractual obligations, or $300 with pacts.
Then you have Sprint, where the curved phablet is cheaper on full retail ($792), and pricier with lengthy agreements ($350), and finally, T-Mobile, which merely lets you pre-register for "the next big thing", but promises an uber-attractive Netflix promotion. When the Uncarrier kicks off sales, the S6 Edge+, along with a year of Netflix, will set you back $860 and up.
Design and build quality
"More elegant, understated, and finely crafted" than the S6 Edge. That's how Samsung describes the Edge+, but we call BS. It's exactly as elegant and "finely crafted" as the original, which is by no means an insult. On the contrary, we applaud Samsung for not trying to fix what was obviously not broken.
Kudos for keeping bulk in check too, with a skinny 6.9 mm metallic frame and 153 grams weight. The 5.7-inch S6 Edge+ is only 15 and 21 grams heavier respectively than the 5.1-inch S6 and S6 Edge, which sounds like a tough and rare engineering feat.
Alas, the glass rear, while beautiful and robust, is even more slippery when jumbo-sized, and so the first thing you may want to purchase after the S6 Edge+ is a good old fashioned protective cover. Unless you're into that painfully clunky physical keyboard case.
Display and cameras
Let's make it extremely easy for you. Like gigantic phones than don't fit into your pocket? Then pick the S6 Edge+. Favoring a compact form factor and sharper screen? The S6 and S6 Edge are smaller and better, with their Quad HD resolution capable of producing 577 ppi, compared to 518 on the Edge+. And yes, the Edge+ is Quad HD, aka 2K-gifted also.
Cameras? Don't worry about them, they're identical across the board. 16 megapixels around the back, with optical image stabilization, LED flash and autofocus, 5 MP for selfies, with auto HDR and 1,440p video recording support at 30fps.
Processor, RAM and battery life
All-in-one Exynos 7422 SoC? Samsung said nothing of such an upgrade for the S6 Edge+ or Note 5, so they're probably sticking to conventional 7420 solutions. Conventional but wickedly snappy, not to mention energy-efficient, thanks to 14 nm architecture.
Speaking of frugality and power-saving potential, all three phones need all the help they can get, considering they pack comparatively tiny cells with strenuous internals and super-sharp screens. Namely, 2,550 mAh inside the S6, 2,600 for the S6 Edge, and 3,000 mAh as far as the S6 Edge+ is concerned.
You're right to be worried of sub-24 hour endurance numbers, but on the bright side, you get fast charging from the entire lineup of Androids, and even fast wireless charging from the Edge+. Prepare to go from 0 to 100 in under 120 minutes, no cables required.
With 4 GB RAM in tow, up to 3 on the S6 and S6 Edge, the Galaxy S6 Edge+ is the ultimate multitasking champion, breezing through the most difficult and diverse tasks, including hardcore gaming, multimedia and photo editing.
Storage, software and others
No microSD expansion possibilities anywhere in sight. Such a bitter disappointment! Predictable but bitter. What wasn't quite easy to foretell, and makes little to no sense, is the absence of a 128GB internal storage configuration for the S6 Edge+. Some people just can't make do with 32 or 64 gigs of data depository. And no, the cloud ain't always an option.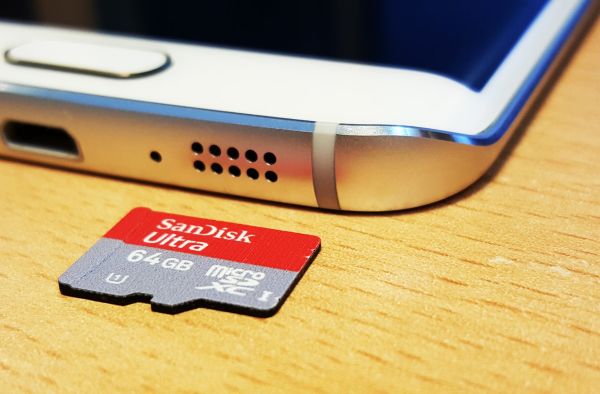 Moving on to software, the roots are all the same… if you got the Android 5.1 Lollipop update on the S6 and S6 Edge. Even so, the UIs aren't interchangeable, with TouchWiz adding a bit of extra edge functionality to the S6 Edge+. You'll also notice a few generic tweaks in notifications and icons, but nothing extreme.
What else? LTE Cat.9 connectivity? We've stopped caring a long time ago. No USB Type-C? We're a little disgruntled, but we expected that. Samsung Pay support? Finally, though it's probably set to work on all recent flagships, so it doesn't help the GS6 Edge+ stand out.
Fingerprint recognition technology? It's become a standard, boring feature. No IR blaster? Who watches TV nowadays anyway? Bottom line, it's hard to recommend the Galaxy S6 Edge+ as a triumph of innovation. It's way too familiar… and expensive.
Our advice? Swim against the tide and score an "aging" S6 or S6 Edge. They're practically as powerful and capable, plus cheaper.