While the Samsung Galaxy S6 Edge Plus (#Samsung #GalaxyS6EdgePlus) is relatively new, many owners have already been reporting issues they've encountered and among the most common problems are related to the capability of the phone to connect to the internet. So, in this post, I will tackle some of these issues including the greyed out Wi-Fi button, difficulty in connecting to a mobile data network, and connection dropouts.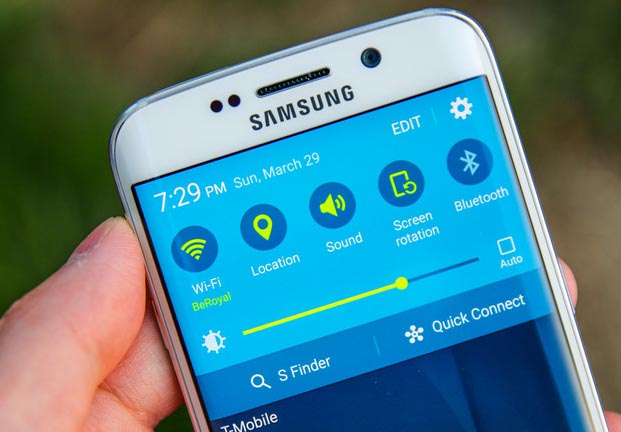 Continue reading to learn more about these problems and how to tackle them on your own in case they happen to you. If you are looking for a solution to a different problem however, visit our S6 Edge Plus troubleshooting page and find issues related to yours. Use the solutions we suggested and if they won't work, contact us by filling up this form with necessary information. In the description field, make sure to describe the problem accurately.
Here are the problems I addressed here…
---
Galaxy S6 Edge Plus Wi-Fi button greyed out
Problem: This just started today and it's a weird problem because yesterday I was hopping from one establishment to another and every time, I could connect to Wi-Fi networks but today, the Wi-Fi button (the one you toggle on and off) is greyed out and I can't do a thing about it. Already tried a reboot a hundred times to no avail. I don't know what to do. Help me please.
Troubleshooting: It's a glitch and there are two ways to go about this. The first one is done by booting the phone in safe mode to temporarily disable all third-party apps.
Press and hold the Volume Down and Power keys for 20 to 30 seconds.
Once you see the Samsung logo, release the Power key immediately but continue pressing the Volume Down key.
Your phone should continue booting up and you will be prompted to unlock your phone as usual.
You will know if the phone successfully booted in safe mode if the text "Safe mode" is displayed at the lower-left corner of the screen.
Once in safe mode, try to check if the Wi-Fi button can be toggled. If so, then you can fix this problem by toggling the switch on and off or making sure it's enabled and then, boot your phone normally. The Wi-Fi button should still be showing that it's on when in normal mode and it's a sign that the problem was already fixed since you can toggle it on or off now. However, if the button stayed greyed out or if it's still greyed out, you need to wipe the cache partition so the phone will be forced to create new caches and this is all you need to do to fix this problem.
Turn off the device.
Press and hold the following three buttons at the same time: Volume Up key, Home key, and Power key.
When the phone vibrates, release the Power key but continue to press and hold the Volume Up key and the Home key.
When the Android System Recovery screen appears, release the Volume Up and Home keys.
Press the Volume Down key to highlight 'wipe cache partition.'
Press the Power key to select.
When the wipe cache partition is complete, 'Reboot system now' is highlighted.
Press the Power key to restart the device.
New Galaxy S6 Edge Plus can't connect to internet with mobile data
Problem: I bought an international version of the Galaxy S6 Edge Plus and chose T-Mobile to be my provider. Already called twice to make my device work and I can now send and receive text messages and can make and receive calls. I thought everything is ok until I tried to browse; I can't get an internet connection. That's why I called again and I wasn't given a resolution just an assurance that they will look into the issue. It's very disappointing that they couldn't fix my problem. Can you suggest something?
Troubleshooting: In your case, the only problem I can see is with the APN. As you said, the phone is an international variant so it doesn't natively work on T-Mobile network. Thus, it needs to be configured to be able to connect to the mobile data network. I, too, am confused why the representative wasn't able to pinpoint what the issue is but all you need is the correct APN settings for your phone. You may try to Google it but the I suggest you call T-Mo again and ask for it. And you can ask the rep to walk you through in setting up a new APN on your phone. The process won't take even 5 minutes to complete. I believe that's the only thing left to do to make your phone as useful as it can be.
Galaxy S6 Edge Plus keeps disconnecting from Wi-Fi network
Problem: My phone is an S6 Edge+ I bought last month and so far, it's performance is superb but there's on very important function that keeps failing–Wi-Fi. It frequently disconnects leaving me without a connection until it reconnects. The thing is it does this to every network including mine at home. I was able to find one of your articles that deal with this problem and followed two of your suggestions like wiping the cache and performing the reset but both failed. I'm out of ideas. Please help me out. Thank you!
Troubleshooting: There's one feature that makes sure the phone is "connected" all the time but the irony is that it often loses the connection when the device tries to switch from one network to another. Therefore, it's better if the feature is turned off especially if you're not using mobile data. Just follow these steps and the problem will be fixed.
Go to Settings.
Tap Wi-Fi.
Tap More.
Tap Smart network switch.
Tap On to enable it.
Wi-Fi keeps dropping on Galaxy S6 Edge Plus
Problem: My new Galaxy S6 Edge+ seems to have a Wi-Fi bug as the connection keeps dropping and it happens regardless of what I'm doing. Today, it dropped while I was trying to find some apps to download and while I was using Facebook. The Wi-Fi connection may even drop when I'm using the browser while surfing online. My emails don't arrive in a timely manner; there are times when they are a few hours delayed. Haven't seen any related issues on your page so I'm contacting you now. What's the problem with my phone and how am I going to fix it?
Troubleshooting: Try to isolate the problem immediately; connect to other public networks to see if the connection drops as well. If so, then the problem is with your phone but we just can't point out what the cause is. That being said, I suggest you do the master reset to see if it can help.
Turn off your Samsung Galaxy S6 Edge.
Press and hold the Volume Up, Home and Power keys together.
When the device powers on and displays 'Power on logo', release all keys and the Android icon will appear on the screen.
Wait until the Android Recovery Screen appears after about 30 seconds.
Using the Volume Down key, highlight the option, 'wipe data/factory reset' and press the Power key to select it.
Press the Vol Down button again until the option 'Yes — delete all user data' is highlighted and then press the Power key to select it.
After the reset is complete, highlight 'Reboot system now' and hit the Power key to restart the phone.
If the problem persists after the reset, then call your provider or send the phone in to be repaired or replaced as it's a sign of a hardware problem.
However, if the connection stays stable with other networks, you need to troubleshoot your Wi-Fi network. Perhaps change the frequency or some settings in your router. If you don't know how to do it, then call your internet service provider.
Can't open new tabs on Galaxy S6 Edge Plus
Problem: Hi my phone won't let me view sites as says I have 50+ tabs open already but I always press the squares on bottom left of phone to close all tabs so I don't have any open but still wont let me view anymore. I have restarted phone but is still same.
Troubleshooting: What browser are you using, by the way? Try closing the tabs by tapping the X on the upper right corner of the tabbed window. It's one way of closing a tab and if you have 50+ tabs open (I have no idea how you've accumulated this much tabs), then you have to close one after another.
There's another way but it will delete all your bookmarked pages–clearing the cache and data to reset the browser to its default settings.
From any Home screen, tap Apps.
Tap Settings.
Scroll to 'APPLICATIONS,' then tap Application manager.
Swipe right to the ALL screen.
Scroll to and tap the browser you're having problems with.
Tap Clear cache.
Tap Clear data.
Connect with us
We are always open to your problems, questions and suggestions, so feel free to contact us by filling up this form. We support every Android device available and we are serious in what we do. This is a free service we offer and we won't charge you a penny for it. But please note that we receive hundreds of emails every day and it's impossible for us to respond to every single one of them. But rest assured we read every message we receive. For those whom we've helped, please spread the word by sharing our posts to your friends or by simply liking our Facebook and Google+ page or follow us on Twitter.