Unlike the first Samsung Galaxy to the S5, your Galaxy S6 Edge Plus (#GalaxyS6EdgePlus) battery is non-removable so if gets damaged early, there's no way to simply replace it. You have to either request for a unit replacement, or have a technician check and replace the battery for you. You don't want any of these two to happen and convert your phone to an expensive paperweight.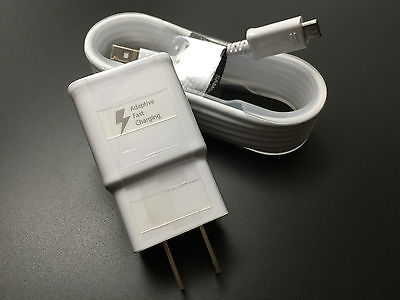 Taking care of the battery and knowing how to charge your phone is as important as not allowing your phone to be dropped, or get soaked in water.
Be careful when inserting the microUSB cable to the charging port
One of the easiest ways to brick your #S6EdgePlus+ is by damaging the charging port. Make sure that the tip of the charging USB cable is properly inserted into the port. If you feel some resistance when inserting the jack, you probably have the ends inverted so don't force it. We've have had cases in the past for older devices when children damage the charging port by simply forcing and/or moving the charging jack up and down when plugged in to the phone. It's definitely a good way to kiss your phone goodbye.
Keep in mind that Samsung reserves the right to waive any warranty the device may have if they discover that the phone was damaged due to customer misuse like the one mentioned above.
Unplug the phone from the charger after a full charge
When not in use, do not leave your phone plugged in to the charger for a long time. Doing this not only saves energy but also ensures battery longevity. The charger is not equipped with a power switch so the only way to stop energy from flowing back and forth between your mains and the device is by unplugging both the phone and the charger.
Maximizing Galaxy S6 Edge Plus battery power
Like all smartphones today, the main weakness of your powerful smartphone is its energy source. While your new device is packed with a much improved 3000 mAh Lithium-ion Polymer (Li-Po) battery, it does not mean you can leave the phone running for a full day. Although battery consumption rate depends on other factors like battery screen brightness, sync settings, etc, it still pays to know the basic things that you can do when it comes to effective battery management. Below are the options that you can do to conserve battery power:
Decrease screen brightness. With its Super AMOLED 1080×1920-pixels screen, we know how beautiful an S6 Edge Plus' display is. The color-rich screen however is the number one cause for quick battery drain issues for this type of smartphone. If left running in optimum settings, your phone's battery will be dead in as fast as a couple of hours under normal use.
Turn off auto-syncing apps. Make sure that your apps only sync in prescribed periods. Emails and other apps that require constant connection to cloud services or remote servers can greatly reduce battery power throughout the day. Shopping and social networking apps like Twitter, Facebook, Pinterest are known as great battery hogs so make sure you manage them well. We suggest that you simply turn off the Master Sync feature and use manual sync to get app updates from time to time.
Turn wireless radios. This includes both Wi-Fi and data connectivity. If you don't need any Internet connection, keep these two functions off.
Disable Bluetooth connection. Same with Wi-FI and mobile data connection. Leave it off to prevent compromising phone security and to conserve battery power.
Use power saving mode. If you have a long day ahead without the possibility of charging your phone along the way, using power saving mode might help.
Put the phone to sleep when not in use. Simply pressing the phone's Power switch when not in use is good practice and can significantly reduce battery consumption in the long run.
Samsung Galaxy S6 Edge Plus and Fast Charging
Your device is designed to handle standard and fast charging. The charger that comes with the phone in the box is a fast charger. This means that it can charge the battery quicker compared to the standard Samsung charger by increasing the charging power. Your phone supports the Samsung Adaptive fast charging feature and Qualcomm Quick Charge 2.0.
Samsung Galaxy S6 Edge Plus fast charging tips
To increase the rate of your phone's charging speed, a little help from you is needed. Below are some of the smart things to do achieve fast charging effectively:
Switch the phone or the screen off. Fast charging won't work if you are using the phone while it's charging, nor if the screen is ON.
Use a certified fast charger or the Samsung fast charger that comes with the phone. A Standard charger cannot amplify charging power so it may take a few hours to charge your battery compared to a fast charger.
Enable Airplane mode. This is a good trick to ensure that your phone is doing as little task as possible when charging. In airplane mode, the phone's wireless radios and other function are turned off. This means that you will be unable to receive calls and texts but will greatly quicken the charging process for you.
Turn off some features. IF you can't put your phone in Airplane mode for whatever reason, make sure that you disable other things like NFC, Wi-FI, or Bluetooth. Closing all actively running apps will also help.
That's all of it for now. We will be working on how wireless charging works on your new S6 Edge Plus in the next article so keep an eye for it.
If you have any questions or Android problems you want to share with us, please use the link below.
---
Engage with us
If you are one of the users who encounters a problem with your device, let us know. We offer solutions for Android-related problems for free so if you have an issue with your Android device, simply fill in the short questionnaire in this link and we will try to publish our answers in the next posts. We cannot guarantee a quick response so if your issue is time sensitive, please find another way to resolve your problem.
When describing your issue, please be as detailed as possible so we can easily pinpoint a relevant solution. If you can, kindly include the exact error messages you are getting to give us an idea where to start. If you have already tried some troubleshooting steps before emailing us, make sure to mention them so we can skip them in our answers.
If you find this post helpful, please help us by spreading the word to your friends. TheDroidGuy has social network presence as well so you may want to interact with our community in our Facebook and Google+ pages.