In this post, I will tackle several app related problems with the Samsung Galaxy S5 (#Samsung #GalaxyS5) including the issue wherein apps are moved back to the phone's internal storage after they are updated. It started happening after the #Android 5.0 Lollipop update so apparently, Samsung developers changed a lot of things in the firmware. While it's not really a serious problem, it's very annoying to move those apps back to the microSD card after the update.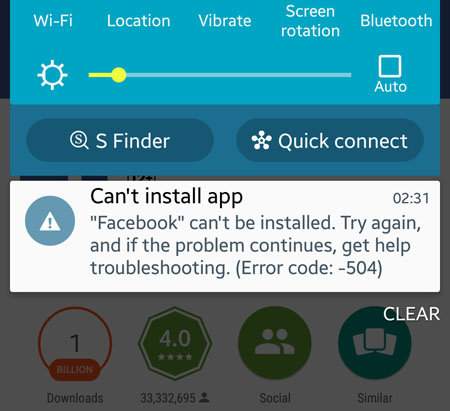 I also included some Facebook issues including the freezes that some users encountered, the error -504, proxy error 400, unable to update the timeline and news feed, etc. Facebook is a company and there is a department that makes sure its app is duly updated and compatible with the latest Android version. So, some of these problems could be in the phone, the system itself, the Play Store or triggered by other apps.
Read on to learn more about the problems I cited here and how to fix them. If, however, you are looking for a solution to a different problem, then visit our Galaxy S5 troubleshooting page where we list down every issue we address each week. We already addressed thousands of problems from our readers so odds are your problems have already been addressed before or there are similar issues. Try to use the existing solutions and if they don't work for you, then fill up this form to contact us.
Here are the problems I covered here…
---
Apps are moved back to internal storage after being updated
Problem: Hi, I installed an SD card on my phone awhile ago and it works perfectly. I transferred all the apps to the card but my problem is that every time the apps are updated they move back to the phone's storage. So I have to sit and transfer them all back again. I hope you can help me with this problem. Regards, Camilla.
Answer: This issue didn't happen to S3 and S4 and it definitely started happening on the S5 after the Lollipop update. It's a sign that Samsung and Google are steering away from external storage devices. In fact, almost all smartphones released this year don't have expansion slots anymore.
I understand how annoying it is to move back every app that's being updated to the microSD card but it's not really a problem because apparently, they can be moved back without issues. Samsung designed the new firmware to work this way and there's not much we can do about it. I know third-party developers and modders have a way around this issue but their workaround are for users who are willing to get their devices rooted or the firmware tampered.
Questions on caches and miscellaneous files
Questions: Apps I move to my SD card get moved back to device storage after an update – anything to do about this? Can I just delete Cached data – a kid at Best Buy said to just clear this for more memory.  What about Miscellaneous files? Takes us a huge amount of memory, what does it store, can it be cleared? Thanks, hope this is not repeated questions, I have searched through your list of S5 problems. 
Answer: As to your first concern, I already answered it in the first problem and there's nothing we can do about it unless you're willing to get your phone rooted.
Caches are files created by the system itself to make apps run smoother the next time you run them. You can delete these files at will without the risk of losing important data or files. After all, the system will create just new caches after a reboot or after an app is run. Yes, you can clear up some space but there's not much as it's the data that uses more storage space. You don't want to mess with these files as you may delete some important contents. For example, if you cleared the data of the Contacts and Contact Storage services, you may end up deleting all contacts saved in your phone and once deleted, it is almost impossible to retrieve them.
The miscellaneous files can be deleted, too. But the thing is, we don't know for sure what the contents of those files are. You may lose some important data if you decided to clear them up.
You know, the best thing to do to free up some space in your phone is to backup every important file and data and then do the master reset. The procedure will delete all settings, files, caches and data that are stored in the phone's internal storage.
How to do master reset on Galaxy S5
Turn off the device.
Press and hold the following three buttons at the same time: Volume Up key, Home key, and Power key.
When the phone vibrates, release the Power key but continue to press and hold the Volume Up key and the Home key.
When the Android System Recovery screen appears, release the Volume Up and Home keys.
Press the Volume down key several times key to highlight 'wipe data / factory reset.'
Press Power button to select.
Press the Volume down key until 'Yes — delete all user data' is highlighted.
Press Power button to select and start the master reset.
When the master reset is complete, 'Reboot system now' is highlighted.
Press the Power key to restart the device.
Facebook app freezes while being used
Problem: Facebook app continually freezes when browsing. I've uninstalled and reinstalled numerous times, tried older apk versions, cleared cache and data, reset phone, etc. Not sure if it's been since the lollipop upgrade, could be that or the app is dud as I don't have problems with anything else freezing. Thanks in advance and for the great service you provide.
Troubleshooting: If you recently updated your phone or noticed that it started after a recent update, then it must be the firmware. As you said, you already tried sideloading previous versions of Facebook to no avail so it must be an issue with the system.
If you have sufficient knowledge to reinstall or reflash the firmware, then I suggest you do that to see if it makes a difference. Otherwise, find someone or a tech who can reinstall the OS. If the problem persists, it's wise to revert to the previous Android version or use a custom ROM.
Facebook, as a company, has developers and engineers that handle the app to make sure it's compatible with the latest Android version. That is sufficient enough to assume it's not an issue with the app.
Game apps crashes on Galaxy S5 after an update
Problem: Hello, I have Galaxy S5 and it is updated to 5.0 lollipop. I am not able to play any game on it especially Gameloft games. When I download games and while opening it says "Unfortunately app has stopped working." I have tried everything reset, cleared data and wiped cache but it still have same problem. Please help me I'm in a great problem. Thank you.
Troubleshooting: Does it happen to other apps as well? If it occurs only when you open a game app, then it must have something to do with the data. I understand you already did almost everything you can think of to fix the problem to no avail but I ask you to try to do the master reset and try to download one game and don't restore backed up data to see if that makes a difference. If the problem doesn't occur, then it must be something to do with the synced data. Do the same for other apps.
However, if the problem happens to all Gameloft games only, then it's time you reported this problem to the developer especially if other apps work normally.
Gallery doesn't pop up when uploading pictures
Problem: I sell on etsy so I use their app a lot to list my products.  All of a sudden when I try to upload a picture,  my gallery no longer pops ups. Only camera and documents? I have tried a soft reset and it's not working.  I really need my gallery to pop up. Please help.
Troubleshooting: The way I see it is that default apps have been changed in your phone that's why the Gallery app no longer pops up when it's time for you to choose pictures to upload to the web. In this case, all you have to do is reset app preferences to make all stock apps the default apps.
From any Home screen, tap the Menu key.
Tap Settings.
Tap Application manager.
Swipe to the All screen.
Tap the Menu key.
Choose Reset app preferences.
Facebook news feed won't load with mobile data
Problem: I can get on Facebook with Wi-Fi but I cannot use Facebook with the data service .  I get on all my other apps (gmail etc.) with my data service only Facebook won't work. Messenger works with data but not the news feed. I would like your help with this. Thank you.
Troubleshooting: Apparently it's the problem with the Facebook app as all others work. I happen to encounter this kind of problem before and there's no need of fancy troubleshooting procedures to fix this. Just clearing the cache and the data will fix the issues. So please follow these steps:
Go to Settings.
Proceed to Applications.
Select Manage Applications.
Tap the All tab.
Choose Facebook.
Tap Clear cache.
Tap Clear data and then OK.
Facebook shows "HTTP proxy status 400"
Problem: I downloaded the updated version of my Facebook app this morning and since then everytime I try to login it says, "Login failed. Check connection or try again. HTTP proxy status 400" Please help me. And all my other apps and data is working.
Troubleshooting: This error is the same as the 400 bad request on Windows computers. If you recently edited your APN, then it try to clear the entries in the proxy and port fields. Or, you can simply tap the Reset to Defaults button and restart your phone. It works every time, try it.
Galaxy S5 can't install an app from the Play Store
Problem: Trying to download app from Vance & Hines for my motorcycle. It's called FP3 fuelpak. it comes up in playstore but when installing it just runs and runs with out completing. Tried soft reboot of phone and same results. Tried several times allowing at least 10 min time and same results……just keeps trying to install but will not accept. Thanks, Rene.
Troubleshooting: Hello Rene. Make sure no apps are being updated at the time of the download. You may also try clearing the cache and data of the Download Manager service and download the app again. Lastly, if the problem persists, clear the cache and data of the Play Store, remove your Google account and set it up again. It usually works.
Related Problem: Can't download anything from the Google Play Store. There's a line moving when I click on install, but no download arrow showing on my phone screen. Please advise. This has been going on for over a week. — Belinda
Play Store shows error -504 while updating Facebook
Problem: Every day, "My Apps" reminds me that an update is available for Facebook. The download is always successful, but the installation always fails. It tells me that the error code is 504, but it doesn't tell me what that means, or what the next step is. I called Google Playstore, and they haven't a clue what error code 504 means. Can you please help me.
Troubleshooting: While it's not a common problem, many actually reported it and it's not just exclusive to Galaxy S5 units. That said, there are several procedures that can fix this problem based on reports from people who experienced it.
The first is to turn the internet connect off and back on. So, if you're connected to a Wi-Fi network, just turn off Wi-Fi for a minute and turn it back on. Do the same if you're using mobile data. After that, open the Play Store, go to My Apps and update Facebook.
Secondly, if the first procedure failed, clear the cache and data of FB app and then uninstall it. Reboot your phone and try to download the latest Facebook version from the Play Store. This time you are not updating the app but installing a fresh copy.
Should the first and second procedures failed, the next thing you should try is to remove your Google account, reboot your phone, setup the account again and try to update the app.
Lastly, clear the cache and data of the Google Play Store and Google Services Framework.
TouchWiz keeps popping up after changing some settings
Problem: All of a sudden Touchwiz keeps popping up! I can't get it to go away! I may have inadvertently change a setting or deleted something that is affecting this? I've had the phone for 2 years and never seem this before…UGH! Can you help? I want my old home screen back…permanently. Thanks. Also not sure of Android version, sorry."
Troubleshooting: If only the TouchWiz error pops up, then it must be just a problem exclusive to the TouchWiz service. In this case, clearing the cache and data will work.
Go to Settings.
Proceed to Applications.
Select Manage Applications.
Tap the All tab.
Choose TouchWiz.
Tap Clear cache.
Tap Clear data and then OK.
Or, you can just backup all your data and do the master reset.
Facebook app crashes when using Yahoo Mail to login
Problem: So like many others I've had a problem with Facebook, but I think I've figured out why, just not how to fix it. The Facebook I use is through my yahoo mail. When I use this to log in it just crashes. If I use an old Facebook with a Gmail email account it works. So the issue is it'll let me use the app with my Gmail Facebook but not my yahoo. The question is, why, and how to fix?! Regards, Craig.
Answer: Hi Craig. I'm not quite sure if this is connected to Yahoo's efforts to reform the company and its services. I know a couple of friends who still use Yahoo Mail to login to Facebook without having any issues. I understand why you just can't abandon your Yahoo account but if it gives you such a problem and if it's really important for you to use Facebook, then I suggest you use your Gmail account.
We really can't provider proper resolution to this problem since we don't know if it's a Facebook problem or Yahoo's.
Connect with us
We are always open to your problems, questions and suggestions, so feel free to contact us by filling up this form. We support every Android device available and we are serious in what we do. This is a free service we offer and we won't charge you a penny for it. But please note that we receive hundreds of emails every day and it's impossible for us to respond to every single one of them. But rest assured we read every message we receive. For those whom we've helped, please spread the word by sharing our posts to your friends or by simply liking our Facebook and Google+ page or follow us on Twitter.