Memory and storage problems are among the most common issues we received from Samsung Galaxy S4 (#Samsung #GalaxyS4) owners. I will address some of them in this post so if you are currently bugged by an issue or two, read on as you may find some answers.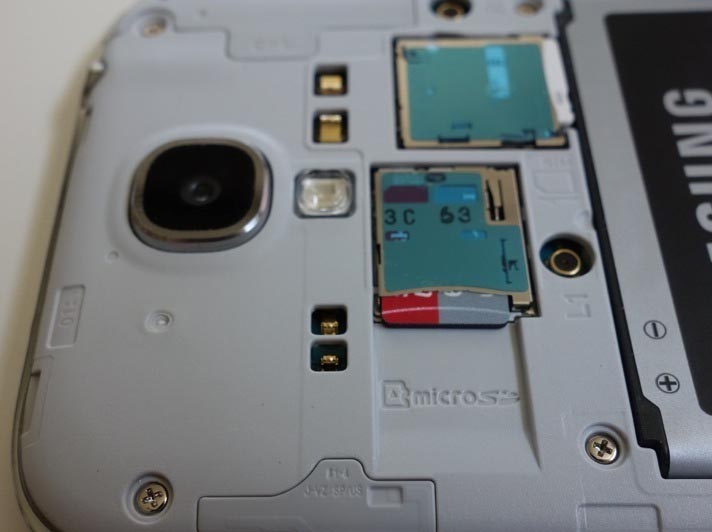 The first issue I cited is about a unit that can't choose the SD card to be the primary storage. This issue occurs only if the device failed to read (and write) on the card. The second problem is a typical write-protection issue. Of course, the device cannot write on the SD card if it's write-protected the problem is only a few know how to remove the protection.
Read on to know more of these problems and how to tackle them in case you'd encounter one in the future. If, however, you were trying to find solutions for a totally different problem, I recommend you visit our Galaxy S4 troubleshooting page where we list all issues we address each week. Find problems related to yours and try the solutions, if they won't work, then contact us through this form.
Galaxy S4 can't save on SD card
Problem: When I change my storage device on my camera from internal to the SD card and a pic goes to save it says it can be stored there and switches back just recently started doing this and then at the same time pictures that I delete from my gallery reappear on my phone.
Troubleshooting: Your microSD card may have been corrupted or already damaged that's why your phone can neither write nor read from it. The best thing to do to further troubleshoot the problem is to let your laptop or computer read it. The machine will immediately tell you if the card needs reformatting or not.
Once you inserted the card, your computer will either prompt you to open it or reformat it. If the latter pops up, it could be that the card is just corrupted and is unreadable or already damaged. Of course, if your computer can't read it, there's no way to backup the files saved in it and if you won't proceed with the format, you still can't be able to use it on your phone.
If you decided to reformat it, use the FAT32 format to make sure your phone can read it provided it's not damaged. Solving this problem will solve the issue with your deleted picture that keeps coming back.
Remove SD card write-protection (Verizon)
Problem: Hi, I am unable to delete anything from the SD memory card under the "My Files" icon. When I try to delete anything I get the message saying "Deleting Failed." After plugging in phone to computer with USB cord, I now get a message telling me the SD card is write-protected. There is no unlock switch on this sd card to turn off protection so I don't know what else to do.
My Samsung Galaxy S4 wants to complete an system update, but I need to clear up storage space first and am unable to because of this crazy sd memory card issue. Please help! Thanks so much.
Troubleshooting: There are several ways to remove the write-protection from your microSD card. You can remove it by changing the value of StorageDevicePolicies in your computer's registry or by using the command prompt to create a partition and reformat it. But the best and easiest way is by using the SD card adapter; there's a lock switch on the side that you can toggle and that will fix the problem.
Sorting photos by date in Galaxy S4
Problem: When I move my photos from my device storage to my sd card they get all muddled up and in the wrong order, not by time. I've tried so so many things I just don't know what to do and it's very stressful and upsetting. Hope you can help.
Suggestion: That's one functionality Samsung should include in its stock Gallery app because for now, the app sorts photos by name and not by date. However, you can rename those files (yeah, individually) to bear the date they were taken just so they are sorted according to your preference, or you can use a third-party app that offer more sorting functions than the Gallery app like QuickPic. I hope this helps.
Galaxy S4 S Memos gone (ATT)
Problem: Received a pop up message saying not enough storage in device to open app. And I went to my storage and cleared or deleted the cache to open up memory. Now my S Memos are all gone. Everything else is the same but the notes are gone. Is there anyway to get them back?
Answer: If you haven't made a backup, then there's no way to get them back because it seems you have also deleted some data accidentally including your memos. Clearing an app's data is irreversible.
Recover deleted data after factory reset
Problem: Much to my son accidentally dead a factory reset on my phone and I have googled and searched and cannot find a way to get back any of my old things. Contact the replaceable games are replaceable but there are text messages and recordings I had that I need for court proceeding in a custody battle. And I'm really hoping somebody can help me get those things back I could really use your help thank you.
Suggestion: For our level, there's not much we can do about deleted data or files, however, there are some applications online that are worth a try. I believe some of those lost files are very important to you so you might want to try programs like Yodot, Jihosoft Mobile Recovery, etc. You can actually find others by googling.
Changing Galaxy S4 USB connection
Problem: Hi, when i plug my GS4 with laptop it start charging normally but i don't have access to MTP, to transfer files btw phone and laptop. How can i solve this issue?
Answer: This is not an issue. All you need to do is change the USB connection option and you can do so by dragging down the notification bar and tapping on Connected as a media device and choose MTP. That's it!
Galaxy S4 still can't install apps after putting in new SD card
Problem: Just added 32gb to my phone but my system still shows 16gb in one place and 32 gb elsewhere.  When I try to download new apps I  get a message that I don't have enough memory so I have to delete one of my existing apps.
Troubleshooting: The "32GB elsewhere" is obviously your microSD card but the phone doesn't see it as the primary storage. To fix your problem, you need to "move" most of your downloaded apps to the SD card. Aside from apps, also move your pictures, videos and files to free up some space in your phone's internal storage (by the way, the SD card is an "external storage" device). After you did all these, you should be able to install new apps.
To move apps, follow these steps:
From any Home screen, tap the Menu key.
Tap Settings.
Tap the More tab.
Tap Application manager.
Swipe left or right to go to the All tab.
Scroll to and tap on the app you want to move.
Tap Move to SD card.
Related Problem: Apparently I have no more storage space.  I recently added a memory card.  How can I move apps to the card so I have more space.  I need to update my phone but can't until I free up space.  Can you help?
Galaxy S4 can't read SD card after an update
Problem: The memory card I bought a few weeks ago isn't working since update keeps saying preparing so card removed as card it's like the phone isn't seeing it.
Troubleshooting: The update may have corrupted your SD card. It happens all the time and the worst thing is all your data and files will be lost and couldn't be recovered. The only solution is to reformat the card to make it useful again. Try using FAT32 format so the phone can easily read it.
What cloud backup would my photos have gone to?
Question: Hi, have saved pics to "cloud" but recently changed phone, what cloud backup would my photos have gone to? Many thanks. – Debi
Answer: Hello Debi. That's actually the kind of question only you can answer. Try to remember what account you used when you backed the up. Your Google account should be the first, then your Samsung account, then the others. All you need to do is sync photos with all accounts you used with your previous phone and your photos will automatically be downloaded or synced to your phone.
Connect with us
We are always open to your problems, questions and suggestions, so feel free to contact us by filling up this form. We support every Android device available and we are serious in what we do.
This is a free service we offer and we won't charge you a penny for it. But please note that we receive hundreds of emails every day and it's impossible for us to respond to every single one of them. But rest assured we read every message we receive. For those whom we've helped, please spread the word by sharing our posts to your friends or by simply liking our Facebook and Google+ page or follow us on Twitter.