One of the most common issues reported by Android users is about the screen that turns on during calls and it's the first problem I addressed in this post as many Samsung Galaxy Note 5 (#Samsung #GalaxyNote5) owners experienced this. It's actually an issue with the sensor; some may have set the phone to make the screen light up during calls while some maybe a hardware problem.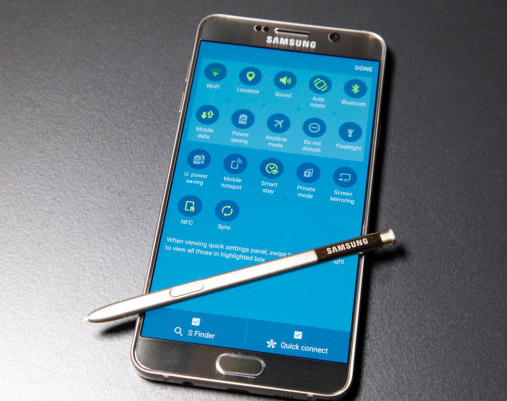 The second problem is about the speakerphone that seems to be the default function to run when calls are received and answered. It could be a firmware issue or caused by an app. Join us in looking into these issues a little deeper.
If you are currently bugged by a different issue, try to browser our Note 5 troubleshooting page. Find issues related to yours and use the solutions we suggested. If they won't work, then fill up this form and hit submit to contact us. Just make sure you provide all necessary details.
Here's the list of the problems addressed here…
---
Phone screen lights up during calls
Problem: When on a call, my phone lights come on on the face of my phone and the caller can't hear me anymore and they hang up. It is worse if I use the phone on my right ear. It appears to put the phone on mute.  The ATT store said it's the sensor. Second, I can't delete emails, they reappear.
Troubleshooting: First of all, make sure the phone is set to turn the screen off during calls and then dial *#0*# and test the sensor. If it seems to be working fine, then do the master reset to bring the phone back to default settings or the state when everything was working fine. Please note that the procedure will delete all your files, apps, data, pictures, etc. Back them up before you follow these steps:
Turn off your Samsung Galaxy S6 Edge.
Press and hold the Volume Up, Home and Power keys together.
When the device powers on and displays 'Power on logo', release all keys and the Android icon will appear on the screen.
Wait until the Android Recovery Screen appears after about 30 seconds.
Using the Volume Down key, highlight the option, 'wipe data/factory reset' and press the Power key to select it.
Press the Vol Down button again until the option 'Yes — delete all user data' is highlighted and then press the Power key to select it.
After the reset is complete, highlight 'Reboot system now' and hit the Power key to restart the phone.
If the problem persists after the reset, then have the phone replaced or checked by your provider's technician.
As to the emails that reappear, login to your account in webmail or using the browser and delete the messages you want deleted from there. It will take care of the problem because those messages will be deleted from the server as well, therefore, the phone cannot fetch it again.
Galaxy Note 5 speakerphone turns on automatically every call
Problem: All of a sudden, no matter what, every call begins on speakerphone, except for the very first call after restarting the phone. The auto speaker is turned off under S voice settings. I followed every suggestion on the Android forum to no avail. It continuously goes to auto speaker which completely obliviates the point of headsets.
Problem persists with or without Bluetooth on, with or without one hand operation on, with or without the auto speaker in S voice checked, I will be forever grateful if you can find an answer that works, apparently many are having this issue
Troubleshooting: Problems like this needs to be triggered so my question is was there an update that you downloaded prior to this problem? If so, then waste no time and immediately wipe the cache partition:
Turn off the device.
Press and hold the following three buttons at the same time: Volume Up key, Home key, and Power key.
When the phone vibrates, release the Power key but continue to press and hold the Volume Up key and the Home key.
When the Android System Recovery screen appears, release the Volume Up and Home keys.
Press the Volume Down key to highlight 'wipe cache partition.'
Press the Power key to select.
When the wipe cache partition is complete, 'Reboot system now' is highlighted.
Press the Power key to restart the device.
If this wasn't caused by an update, then there must be an app you installed and one app I sure know could cause this is Auto Call Record. It has an option to automatically turn on speakerphone for every call. Lastly, if all else fails, reset your phone.
Note 5 audio not working during calls
Description: We did receive a lot of complains from Note 5 owners who are experiencing audio problems during phone calls. More often they would report that the person on the other end cannot hear the despite the fact the phone shows it's connected or the call is still in progress. Depending on the situation, we suggested several times to turn off VoLTE because it often the cause of the problem and just to confirm that, one of our readers got back to us sharing how he fixed his problem. Here's the actual email…
Solution: Hey, thanks for addressing my problem with the phone audio not seeming to work during calls sometimes despite the call being connected. I just wanted to tell you I seem to have fixed it by turning off the  VoLTE function. From what I read, calls made over the LTE network don't work as well, if at all, unless both phones have LTE capability  (?)  or are on the same LTE network. Since I turned that off I have not had any more problems. I have had another of the problems mentioned with having to tap or swipe numbers more than once to get a,call to go through, thanks again for your assistance!
Can't place/receive calls in Landscape mode
Problem: Not possible to place/receive calls in Landscape mode. What an incredible oversight. Need a update to correct this error.
ALSO.. why does it take several commands to do many common tasks.. such as deleting a text? This phone is not business friendly. In some ways my old Note 2 was superior.
Answer: I agree. I, too, can't understand why it can't place calls in landscape mode and I don't think there will be any update to address that "oversight" soon. We just have to deal with this until Samsung decides to add that feature.
As to the number of commands to do common tasks, well, we can't do much about it either. That's how the phone was designed and only Samsung can change it.
One specific can't receive calls from the Note 5
Problem: Call just hang up once after selecting to call. the one that I'm calling does not receive any notifications that I called. Just one person can't receive.
Suggestion: It means that your phone number has been blacklisted in the phone of the person you're calling. Needless to say, the problem isn't with your phone but the other party. Just ask him or her to take your number out of blacklist and all your calls will go through after that.
Mute activated on Galaxy Note 5 during calls
Problem: While on a call, the mute button is activated and my caller can't hear me and hangs up. It happens daily. I've had this phone 2 weeks. 2nd phone in a month. Both have same problem.
Suggestion: What did your provider say about the problem? Does this happen after you installed some apps? I encountered issues like this before that were caused by third-party apps. Let's try to isolate the problem by booting the phone in safe mode:
Turn off your Galaxy S6 Edge.
Press and hold the Power key.
When 'Samsung Galaxy S6 Edge' appears, immediately release the Power key and then press and hold the Volume Down button.
Continue holding the Volume Down button until the phone finishes the restart.
When you see Safe Mode on the lower left corner of the screen, release the button.
Once in safe mode, call your phone number and see if the problem remained. If so, then you have no other option but to get it replaced again and again until you get a unit that's working. Otherwise, an app maybe causing the problem. Try to find and uninstall it. If you don't have a clue as to what app is causing the problem, do the master reset.
Note 5 showing "Not registered on network" error message
Problem: I purchased an  unlocked phone for my job in Saudi Arabia and its SIM card was thru mobily. Whenever I make a phone call I get a "not registered on network" error message.  I can receive email.
Suggestion: it's either the SIM card has a problem or it's a network issue but either way, you better call your provider about. There's nothing we can do about it.
Connect with us
We are always open to your problems, questions and suggestions, so feel free to contact us by filling up this form. We support every Android device available and we are serious in what we do. This is a free service we offer and we won't charge you a penny for it. But please note that we receive hundreds of emails every day and it's impossible for us to respond to every single one of them. But rest assured we read every message we receive. For those whom we've helped, please spread the word by sharing our posts to your friends or by simply liking our Facebook and Google+ page or follow us on Twitter.