Welcome to another installment of our troubleshooting series where we aim to help our readers who own the #Samsung #Galaxy #Note5 fix the issues that they are experiencing with their phone. Today we will tackle the Galaxy Note 5 does not turn back on unless plugged in issue & other related problems. What happens in this case is that whenever the phone turns off it can't be turned on unless it is plugged to its charger. Aside from this we will also tackle the other power related problems that have been sent our way.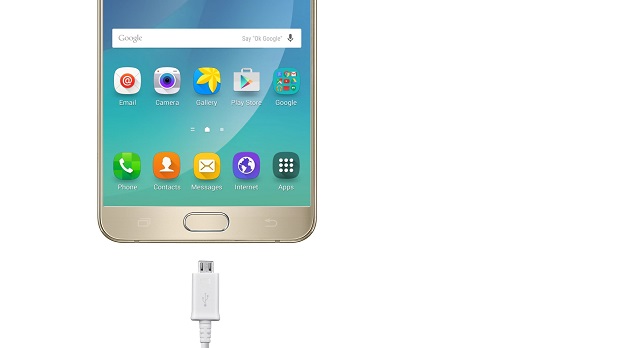 If you own a Samsung Galaxy Note 4  or any other Android device for that matter then feel free to contact us using this form. We will be more than happy to assist you with any concern that you may have with your device. This is a free service we are offering with no strings attached. We however ask that when you do contact us try to be as detailed as possible so that an accurate assessment can be made and the correct solution can be given.  
If you would like to browse the previous parts in this series then check out this link.  
You may also reach us at our Facebook and Google+ social media accounts.
Note 5 Does Not Turn Back On Unless Plugged In
Problem: Hello, I have had my phone for about 7 months now and ever since the first day I got it, it cannot go below about 30% battery without turning off. Once it turns itself off it cannot be turned back on until plugged in. This happens no matter what app is in use and even if the phone is in standby mode. I have tried wiping the cache as well as deleting apps that were installed before the first instance of it shutting down.  What can I do? Thanks!
Solution: If your phone turns off with 30% battery left then there's a possibility that the problem could be caused by a faulty battery or power IC. Since the battery of this phone is non-user removable then you will need to have this checked at a service center. You should however check first if other factors, such as a software glitch, is causing the problem by doing the troubleshooting steps listed below.
Start the phone in Safe Mode. Does the problem occur in this mode? If it doesn't then it's possible that an app you downloaded is causing the problem. Find out what app this is and uninstall it.

Try wiping the cache partition of your phone from the recovery mode. Restart the phone after this then check if the issue still occurs.

Backup your phone data then do a factory reset.
If the above steps fail to fix the problem then you should bring your phone to a service center and have it checked. The battery or the power IC of the phone might need to be replaced.
Note 5 Screen Does Not Turn On
Problem: hi phone was working just fine- was sitting on my desk picked it up and cant get screen to come on – tried the 3 button reset but nothing – the blue light at the top is flashing and i know phone is charged- never dropped (in a case too) never in water…..how do i reset it? thanks
Solution: If the screen of your phone is unresponsive then it is best to simulate a battery pull to fix the problem. To do this you will need to press and hold both the power and volume down button for at least 10 seconds. Your phone should reboot after this.
If the issue still remains then try charging your phone for at least 20 minutes then do the same troubleshooting step again. If it fails then proceed with starting the phone in recovery mode. From there start with wiping the cache partition of the phone. If this doesn't work then proceed with a factory reset. Take note that this will erase your phone data.
If your phone can't access the recovery mode then it's time to bring the device to a service center and have it checked.
Note 5 Completely Dead
Problem: My Note 5 completely dead this am.  Phone was On and plugged into charger as usual by midnight, and at 6am – totally dead.  Cannot turn it on, tried every combination of home key/power/volume up and down, nothing does anything to it.  Any ideas ?  Is this happening a lot to others ? I keep it updated any time there's a new update to install.  Cannot remove a battery on this device.  
Related Problem: So I put my phone galaxy note 5 on charger last night woke up turned it on and it got stuck on at at&t icon, till it was dead, I've tried to charge but it won't, I've tried different chargers
Related Problem: My phone would turn itself off then come back on. I tried to charge it back in. Then it turned off again by itself. Now It will not turn back on. I have tried every thing.
Solution: For this particular issue you will need to make sure that the battery was indeed charged when you left it charging overnight by following the troubleshooting steps listed below.
Clean the charging port of your phone using a can of compressed air. Make sure that any dirt or debris stuck in the port is removed.

Simulate a battery pull by pressing and holding down the power and volume down buttons for at least 10 seconds.

Charge the phone for at least 20 minutes using a different charging cord and charger. Make sure to check if the charging indicator is present.

Turn on your phone.
If the phone still remains unresponsive then you will need to bring this to a service center and have it checked.
Note 5 Screen Stays Black
Problem: I bought a used samsung note 5 and the screen stays black, I've tried all the troubleshooting to get it to turn on but nothing seems to work. I can't do a factory reset because the screen does not come on and I can't see anything. Is there something else that I can do to get the screen to work?
Solution: Try starting your phone in recovery mode. If the screen works in this mode then proceed with a factory reset. If the screen is still black even in recovery mode then it's possible that the problem is is caused by a faulty display assembly or loose connection between the display assembly and the motherboard. I recommend that you have this checked at a service center.
Note 5 Charging Paused Battery Temperature Too Low Error
Problem: My daughter dropped her Samsung Galaxy Note 5 in the toilet. She quickly pulled it out. This happened on 2/8/17. Today 2/9/17 the phone started showing life. Now she's trying to charge it, but it says charging paused, battery temperature too low. What can we do? Thank you for your time.
Solution: This error message usually occurs when the charging port has been damaged which in this case is probably due to contact with water. What you need to do first is to dry the device by placing it in a bag of rice for at least 48 hours. If after this time period the issue still remains then you should bring the phone to a service center and have it checked.
Note 5 Keeps On Freezing
Problem: Hello, My Samsung galaxy note 5 keeps on hanging/frozen almost all the time. I try the force restart but it still can't solve the problem as as soon as the phone restart, it freezes again. Sp I have to keep on force restarting it and it never works. I don't know what is the problem and it is only like 1 year old now. Please can you help on what to do or a place that can repair for me. Thanks
Solution:  Try starting the phone in Safe Mode. If the issue doesn't occur when the phone is running in this mode then it could be caused by an app you downloaded. Find out what app this is and uninstall it.
If the issue occurs even in Safe Mode then I recommend that you backup your phone data then do a factory reset.
Note 5 Factory Reset Protection
Problem: I done the root download with odin3 was successful.  but now my phone i'm stuck at screen that says device has been reset please enter previous google info; which i don't have.  what can i do to bypass this?
Solution: The best way to fix this issue is to enter the Google account information that was last used in the device before it was reset. If you don't have access to this information then you can try using the various bypass tools ( which you can search over at Google) which are designed for this issue.
Feel free to send us your questions, suggestions and problems you've encountered while using your Android phone. We support every Android device that is available in the market today. And don't worry, we won't charge you a single penny for your questions. Contact us using this form. We read every message we receive can't guarantee a quick response. If we were able to help you, please help us spread the word by sharing our posts with your friends.