The #Samsung Galaxy #Note4 is one of the high-end Android smartphones that comes with great battery life. Several tests show that when the 3220mAh battery it uses  is fully charged it can provide up to 28 hours of talk time, 10 hours of web browsing, and 17 hours of video playback. Since this device comes with a Quick Charge 2.0 technology, owners can charge this phone to 60 percent capacity in only 30 minutes.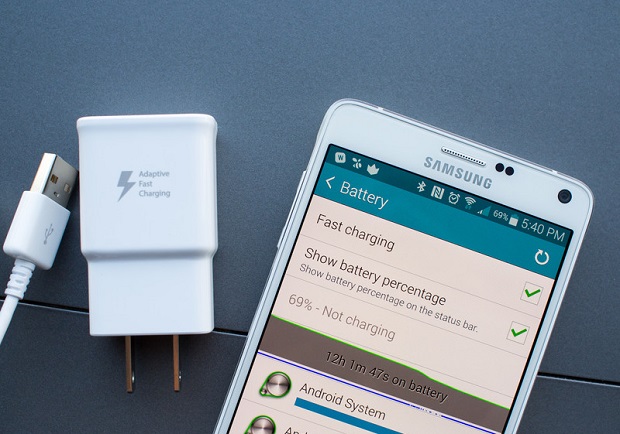 There are however instances when the fast charging feature of the device does not work. This is what we will be discussing. In this latest installment of our troubleshooting series we will tackle the Galaxy Note 4 fast charging not working & other related problems.
If you own a Samsung Galaxy Note 4  or any other Android device for that matter then feel free to contact us using this form. We will be more than happy to assist you with any concern that you may have with your device. This is a free service we are offering with no strings attached. We however ask that when you do contact us try to be as detailed as possible so that an accurate assessment can be made and the correct solution can be given.  
If you would like to browse the previous parts in this series then check out this link.  
You may also reach us at our Facebook and Google+ social media accounts.
Note 4 Fast Charging Not Working
Problem: I just received a new Note 4 (my third one) last week Friday and the fast charger was working pretty fine up until yesterday. In settings the fast charging slot is checked off but when I plug the phone up it is not telling me that fast charger connected. Without the fast charging the phone charges extremely slow! So, can you guys help me solve this problem. Thank You!
Solution: When you are charging your phone using the fast charger have you checked the battery percentage your phone is displaying? When a certain percentage level is reached ( usually 75 percent) the phone switches back to normal charging to prevent the battery from being damaged. It's a different story though if your phone is at 30 percent or 20 percent battery level as your phone should be using the fast charging feature.
The basic things to check if the fast charging feature of your phone is not working are the charging port, USB charging cable, quick charger, and the phone software.
Let's start with the phone software as this is the easiest to eliminate. Try to wipe the cache partition of your phone and see if this resolves the issue. If it doesn't then I suggest you backup your phone data and do a factory reset.
If the issue still persists the next thing to do is to check the phone charging port. Make sure that it is clean. If necessary use a can of compressed air or a cotton bud dipped in alcohol to clean the port.
Moving forward, try to eliminate any problems that may be caused by the USB charging cord as this easily gets broken. Replace it with another cable and see if your phone fast charges.
Finally, another factor that can cause this problem is the quick charger itself. Try using a different charger. Make sure to use a charger with the Quick Charge 2.0 technology.
Note 4 Quick Charge Not Working
Problem: After updating to lollipop, i began experiencing charging issues. Despite plugging the long white Samsung fast charger that came with my phone into a wall outlet, my phone says it is connected to usb, and despite having the fast charging box checked it will not fast charge. No power saving is not on, yes i have factory reseted and lost all my data and still the phone battery drains while i use it while charging.
Solution: Since you have already eliminated any possible software related issues that may be causing this problem it's time to concentrate on your phone hardware. Try to check the charging port of your phone for any signs of dirt or debris. Presence of this foreign matter may interfere with the fast charging feature of your phone. If necessary clean the charging port using a can of compressed air or cotton bud dipped in alcohol.
The next thing you need to look at is the USB charging cord. This cord easily gets broken especially if it  is constantly coiled and bent. Get a new USB charging cord and see if this resolves the problem.
The last thing that you should look at is the wall charger. This charger comes with a special technology which allows your phone to charge quickly. Try using another fast charger (make sure it comes with the Quick Charge 2.0 technology).
Note 4 Not Charging
Problem: I left my phone charging during the night as always but today when I got up I saw the battery percentage to be only 80% and not charging. I unplugged it and plugged it again (the USB cable to the phone) and the charging symbol appears only for a couple of seconds and then disappears and doesn't charge. I have tried removing the battery and plugging it without it(no response), soft reseting it (pressing the power button without the battery for 30 seconds) and nothing has changed… I will try with another cable and plug but in the meantime I wanted to send you this message just to speed things a little bit up. Kind Regards.
Solution: This appears to be a problem concerning the USB charging cable. Try using another USB charging cable and see if your phone charges. If it doesn't then check your phone charging port for any signs of dirt or debris. Clean it if necessary using a can of compressed air or cotton bud dipped in alcohol. You should also consider using a different wall charger if the issue persists.
Sometimes your phone software can also cause this type of problem. If this is the case then try wiping the cache partition of your phone then check if your phone can now charge. If your phone does not charge then I suggest you backup your phone data then do a factory reset.
Note 4 Does Not Turn On
Problem: Even though my phone says it has 15%, my phone completely turns off and when I try to turn my phone back on,it does not turn on. So I connect my phone to my charger and it says 0%. This happens all the time. This also happens in ultra battery saving mode. What should I do?
Solution: It looks like your phone battery is already weak. I suggest you get a new one and see if this resolves the problem. Before getting a new battery though I suggest you backup your phone data then do a factory reset to eliminate any possibility of the phone software causing this problem.
Note 4 Takes Too Long To Charge And Drains Fast
Problem: I have a crackling sound when I use my tablet,when I tap an app like my games and when I check.my email the page is sometimes blank but you can see parts of letters on edges.It sometimes takes to long to charge and drains fast. ANY IDEAS ,IT'S ONLY 6 MONTHS OLD.
Solution: Try to eliminate the possibility that your phone software is causing the problem by backing up your phone data then doing a factory reset using the hardware keys. After the reset do not install any apps or update your phone. Check first if the issue still occurs. If you still hear a crackling sound then this may already be a hardware related problem. I suggest you bring your phone to an authorized service center and have it checked.
Note 4 Charges Slow At 75 Percent Battery Level
Problem: After about 75 % the charges really slow. I power it off take out the battery put it back in power it on and the battery says 100% plz help asap.
Solution: The Note 4 will switch to normal charging mode from fast charging once a certain battery level percentage has been reached (usually at 75 percent). This is to make sure your battery is protected from damage. However, if it takes a long time for your phone to charge to 100 percent then the problem could be software related. I suggest you wipe the cache partition of your phone first and see if this resolves the issue. If the problem persists then backup your phone data and do a factory reset.
Feel free to send us your questions, suggestions and problems you've encountered while using your Android phone. We support every Android device that is available in the market today. And don't worry, we won't charge you a single penny for your questions. Contact us using this form. We read every message we receive can't guarantee a quick response. If we were able to help you, please help us spread the word by sharing our posts with your friends.