Is your Samsung Flip 4 camera acting up following a series of tweaks to the app settings? This post will walk you through restoring the default camera app settings on this Samsung flip smartphone. Read on if you need some input on how to reset camera settings on Samsung Galaxy Z Flip 4.
Time Needed : 3 minutes
The Samsung Camera app has a dedicated reset button that you can trigger whenever you need to restore the app to its factory default state. This reset button is listed among other options from the Camera app's settings menu.

In modern Samsung Galaxy phones, the Camera settings can be accessed either from the Settings menu or straight from the app itself. The following steps depict the process of performing a camera reset straight from the app's main interface. Feel free to refer to this guide if needed.

Whenever you're ready, launch the Camera app to get started.




To do so, simply tap on the Camera icon from the bottom of the Home screen or from the Apps screen of your phone.

Tap tap on the Gear icon located in the top-left corner of the screen.




Doing so will take you straight to the Camera app settings menu.

To continue, scroll down to the Privacy section and then tap Reset settings from the given options.




A pop-up warning will load up next.

Read the warning prompt then tap Reset to confirm.




The camera app settings will then be reset and restored to its factory defaults. 
All your existing settings and camera app customizations will be obliterated. As a result, everything in the camera app will be reverted back to its factory state and the app works like the first time you use it.
Resetting Camera Settings via Apps menu
Aside from the above method, the Samsung camera app reset can also be carried out through the Apps settings menu.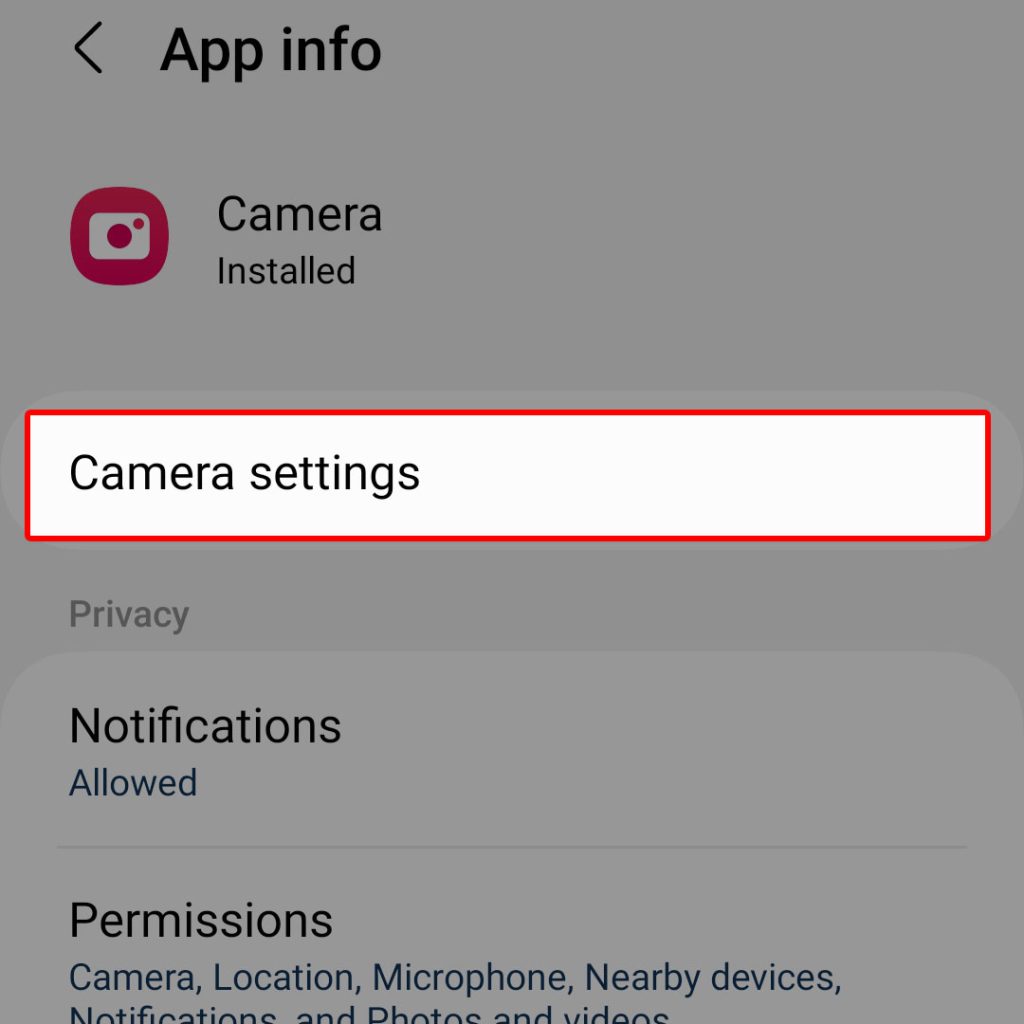 To do so, simply access the Camera app settings by heading to the Settings-> Apps menu and then select Camera from the list of apps.
While you're in the Camera App info screen, tap Camera settings. Doing so will route you straight to the same menu where you can find all inbuilt camera features and settings.
Just scroll down to the bottom then tap Reset settings under the Privacy section.
Read the warning prompt and then tap Reset to confirm action.
Either way does the same result to the Samsung Camera application.
When to reset Samsung Camera app?
Performing this reset is usually deemed important when dealing with camera app issues in Samsung Galaxy smartphones following a series of settings tweaks and/or a software update implementation.
Unlike a factory reset, this reset only affects the inbuilt camera app settings and therefore keeps all your other data and app settings as is.
And that's how to reset the Samsung Camera app settings on the new Galaxy Z Flip 4 device.