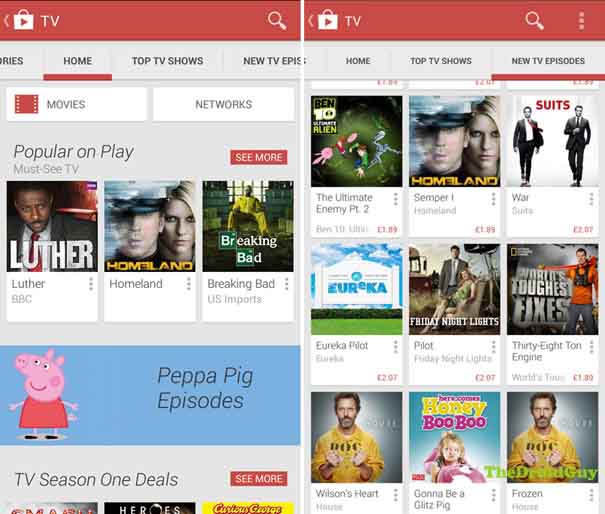 If you are an on-the-go type but fond of watching movies or TV shows, there's no better way than to do it than in a smartphone or tablet. You may have already heard about Netflix or have been using it for a while but if you want a good alternative, Google Play Movies and TV app is the best. This app allows both iOS and Android users to rent movies to steam or download. It also lets users to view the downloaded content to be stored for viewing at a later time. With its generous limit of up to 5 devices able to view downloaded contents using a single account, Google Play Movies and TV app is an very attractive alternative to traditional Netflix indeed.
This app is compatible with smartphones running Android 2.2 upwards and with tablets that has Android 3.2 upwards. It is designed to play movies and to help users find the movies they want in Google Play.
This post will tell you how to watch movies and tv shows offline on your Android device. Should you have questions about any of your steps or problems setting up the app, kindly send us an email at the links at the bottom of this article.
Remember, videos bought on Google Play cannot be downloaded and played on your Android TVs or PCs (unless you have a Chromebook).
First off, you need to install the Google Play Movies & TV app to your device. You can go to the Google Play Store or click on this link.
How to download videos on your Android device for offline viewing
After installing the app, you can immediately start browsing for your favorite movies and TV shows. Here's how:
Verify that your device is connected to your mobile data network or home Wi-Fi.
Go to your Google Play Movies & TV app and select the movie you want.
Tap the download icon indicated by the downward-facing arrow.
How to watch a rented movie on multiple Android devices
As mentioned above, only five devices can share the same rented content. If you have more than five devices, make sure that you delete all the downloaded content from one of the first five devices first. To do that, just follow these simple steps:
Open the Google Play Movies & TV app.
Tap on the red check mark beside the downloaded content.
Note: A user can only download movies and shows to a single device in a single instance. After you have downloaded the content, you won't be able to download it again to another device unless you delete it first. The same is true when streaming. No two Android devices should have the same downloaded content at the same time. The system won't simply allow it.
How to select mobile data connection to download contents
Downloading or streaming movies or shows is a data hog so unless you have an unlimited data subscription, using your Wi-Fi connection is the best way to go. The app is set to use Wi-Fi when downloading  videos by default so this is not a problem. Should you decide to download contents via data, here are the steps:
Open the Google Play Movies & TV app.
Tap the Menu icon.
Go to Settings.
Tap Network.
Tap Download on any network.
Note: if you have no data subscription on your device, this option is not available.
How to manage downloaded contents
Open the Google Play Movies & TV app.
Tap the Menu icon.
Tap Settings.
Tap Manage downloads.
That's all about how to watch movies and tv shows offline on your Android device!
Engage with us
If you are one of the users who encounters a problem with your device, let us know. We offer solutions for Android-related problems for free so if you have an issue with your Android device, simply contact us by email at [email protected] and we will try to publish our answers in the next posts. We cannot guarantee a quick response so if your issue is time sensitive, please find another way to resolve your problem. 
When describing the problem, please be as detailed as possible so we can easily pinpoint a relevant solution. If you can, kindly include the exact error messages you are getting to give us an idea where to start.
TheDroidGuy has social network presence as well so you may want to interact with our community in our Facebook and Google+ pages.