There's this one weird problem some of Galaxy S5 owners have been complaining about–the phone won't turn but vibrate every few seconds. There were also others who said the phone actually boots up on its own, get stuck on the logo, turns off, vibrates and, boots up again and the cycle never ends until the battery is depleted. This post will tackle such problem together with the random reboots issue as well as the occasional freezes or sluggishness owners are experiencing.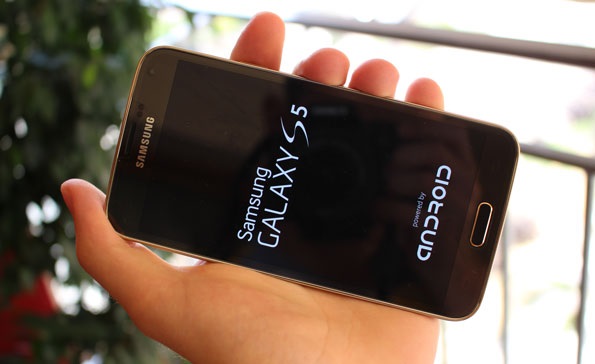 But before anything else, if you have other issues with your phone, I suggest you visit our Samsung Galaxy S5 Troubleshooting page as it contains all the problems, tutorials, tips and how tos we previously published on our site. Try the solutions and troubleshooting procedures we provided and if they don't work for you, email us at [email protected] and we will help you fix your Android problems for free. All we ask of you is you provide us necessary details so we can accurately assess your concern and provide you with appropriate solutions.
Now, here are the problems that you might encounter in the future. Try to go through each one of them and find out how to fix them on your own. I also included a few emails we received from our readers with issues related to ones I addressed below.
Galaxy S5 won't turn on but vibrates every few seconds
Problem: First of all, I want to thank you for the time and the effort for trying to help us. You guys are doing a great job! No one is doing what you're doing. Thank you. Now, since you said to email you if we have problems, well, I have one and it started the day I dropped my phone on the floor. It is a Galaxy S5 phone it just won't start now. When I press the Power key, it won't respond but it turns itself on automatically but immediately turn off as well. Then, there are vibrations before it turns on again and becomes an endless cycle. It's been doing this for a couple of days already and I don't have someone to help me with it. Can you help me please? As much as possible I don't want to visit a technician because the last time I did, he couldn't understand my problem. I hate to explain things over and over. Thank you so much. — Mary
Related Problem: Hi guys. I got your email address from Drippler. Nice app, by the way! Anyway, I have an issue with my S5. Yesterday it was working fine but now, it just turns on its own but turns off almost immediately. When I press the power key it won't respond no matter how hard I tried. All I want is for it to work again because I'm using it for my job. I badly need your help on this one. Thanks.
Troubleshooting: Having been able to encounter this problem before, I am certain the problem is not with the firmware but with the hardware, specifically the Power key. In Mary's case, it looks like the Power switch has damaged when the phone was dropped on the floor. At least, that's the worst case scenario. To verify that, just press the Power key to see if it still snaps like it used to. If not, then try pressing it many times just to see if it's just stuck. If the problem remained after doing so, then you really have to see a technician about it as the switch may require replacement.
Now the other problem, since there's no other information provided, it appears like it's just a stuck power key. Pressing it multiple times is mostly likely to fix the problem as there's no apparent reason why it occurred. If, however, the phone was submerged in liquid, then it could a water damage. Drying it off will fix the problem.
Galaxy S5 randomly reboots after lollipop update
Problem: Yesterday, I updated my Galaxy S5 to lollipop and I don't know what happened but it rebooted itself automatically then got stuck on the logo. I removed the battery and performed soft reset as you specified in one of your articles and I was able to bring the phone back to life again. I thought it was just a glitch but today, the phone is randomly rebooting. It shut itself down, turns back on and I can use it for a few hours before it reboots again. Honestly, I don't know where to look, what to clear and what exactly is the cause. So if you could help, that would be great. Thanks in advance. — Hex
Related Problem: I am new to Android actually and Galaxy S5 is my first. I've been so attached to my flip phone that it took me a few months before buying this device after my contract expired. So far, my experiences with the phone have been great until recently when I received a notification that there's an available update for it. Of course, I downloaded it thinking everything will be just fine but I made a blunder. The phone has been totally messed up that it keeps rebooting. It's random that I don't exactly know when it would reboot or how long I could use it before it shuts down and turns on. I hope you guys have encountered this problem before and know how to fix it. Thank you!
Troubleshooting: Random reboots and performance issues after an update are often caused by corrupt data. They often happen during or after a major update like in your case, from Kitkat to Lollipop, because some dependencies and directories are changed. If the system tries to use obsolete data, that's when conflicts occur and random reboot is just one of the ways of the system to recover. So, to fix the problem, all you need to do is wipe the cache partition first. Caches are files created by the system to make apps run faster and smoother after they were installed. Deleting all of them will force the new system to create new ones that work. Here's how you wipe the cache partition in your phone:
Turn off the device.
Press and hold the following three buttons at the same time: Volume Up key, Home key, and Power key.
When the phone vibrates, release the Power key but continue to press and hold the Volume Up key and the Home key.
When the Android System Recovery screen appears, release the Volume Up and Home keys.
Press the Volume Down key to highlight 'wipe cache partition.'
Press the Power key to select.
When the wipe cache partition is complete, 'Reboot system now' is highlighted.
Press the Power key to restart the device.
Since wiping the cache partition just deletes the caches, it often doesn't suffice. You may need to delete all obsolete data as well and you can only do it with master reset. It doesn't only deletes app data but reformats the data partition itself. However, you may need to backup all your data first. So, boot the phone in safe mode and copy every bit of data you don't want to lose during reset to your microSD card or computer, then follow these steps to perform master reset.
Turn off the device.
Press and hold the following three buttons at the same time: Volume Up key, Home key, and Power key.
When the phone vibrates, release the Power key but continue to press and hold the Volume Up key and the Home key.
When the Android System Recovery screen appears, release the Volume Up and Home keys.
Press the Volume down key several times key to highlight 'wipe data / factory reset.'
Press Power button to select.
Press the Volume down key until 'Yes — delete all user data' is highlighted.
Press Power button to select and start the master reset.
When the master reset is complete, 'Reboot system now' is highlighted.
Press the Power key to restart the device.
Galaxy S5 freezes occasionally and runs very slow
Problem: Hi. For some reason my Galaxy S5 freezes ever now and then and I don't exactly have any idea why it's doing this. All I know is there was some sort of an update that I installed because it kept popping up. Then this problem happens. I actually called Verizon over this but the representative said the phone just needs to be reset, factory reset. So, I refused thinking I still have plenty of files that weren't backed up. I am actually considering a factory reset but if you can offer another solution that will save me from a lot of trouble in backing up my data, that would be great! — Sean
Related Problem: My phone is more than a year old already and it's an S5. As of late, I noticed it freezes a lot even if I'm using light apps like messaging app and emails. It's not doing this before so I'm a bit worried. I also noticed that its performance deteriorated considerably and it has become really slow now. I don't know what caused it or something, I just want it to work like it did before. What can you suggest?
Troubleshooting: Knowing the cause of these issues is the key to their resolution. So, to begin our troubleshooting, let's try to find out if the occasional freezes and slow performance are caused by third-party apps by booting in safe mode.
Turn the device off.
Press and hold the Power key.
When 'Samsung Galaxy S5' appears on the screen, release the Power key.
Immediately after releasing the Power key, press and hold the Volume down key.
Continue to hold the Volume down key until the device finishes restarting.
Safe mode will display in the bottom left corner of the screen.
Release the Volume down key when you see Safe Mode.
While the phone is in safe mode, try to observe if it still freezes or if it's performance is sluggish or slow. If so, then it's a firmware-related issues that master reset may be able to fix. However, if it neither freezes nor slows down in safe mode, then your third-party apps are the culprit. You need to find the apps that are causing the problem and clear their caches and data. If you can't find them, then I still suggest factory reset to give it a fresh start. You said it's more than a year old already, so I'm guessing you haven't tried resetting it before.
Connect with us
We are always open to your problems, questions and suggestions, so feel free to send them at [email protected] We support every Android device available and we are serious in what we do. This is a free service we offer and we won't charge you a penny for it. But please note that we receive hundreds of emails every day and it's impossible for us to respond to every single one of them. But rest assured we read every message we receive. For those whom we've helped, please spread the word by sharing our posts to your friends or by simply liking our Facebook and Google+ page or follow us on Twitter.