One of the most common issues that you may face with an older smartphone is the black screen problem. You will know that your phone has this problem when you try to use it and all you can see is a black display that is unresponsive. There are several factors involved as to why this is happening mostly relating to the software of the device however there are instances when the hardware is involved. The #Samsung #GalaxyS4 is not immune to this problem as there have been several reports of this issue happening on the device.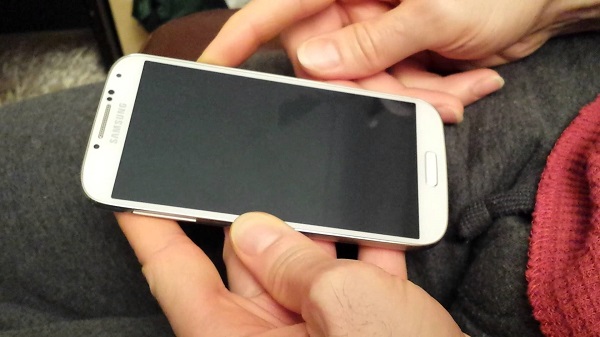 For our latest troubleshooting series we will tackle the Samsung Galaxy S4 black screen problem. We have gathered some of the latest issues of this nature sent to us by our readers. We will be providing the necessary troubleshooting steps necessary to resolve each issue.
If you own a Samsung Galaxy S4 or any other Android device for that matter then feel free to contact us using this form. We will be more than happy to assist you with any concern that you may have with your device. This is a free service we are offering with no strings attached. We however ask that when you do contact us try to be as detailed as possible so that an accurate assessment can be made and the correct solution can be given.
If you would like to browse the previous parts in this series then check out this link.
Aside from sending us an email you may also reach us at our Facebook and Google+ social media accounts.
S4 Black Screen After Software Update
Problem: I did the update and didn't turn it off or anything then it said i needed to shut down the phone and install the software, which I did. Then when it was all done i was using my phone for about an hour and then wanted to lock the screen and the phone just turned off when i clicked the lock key. Now it is stuck between a black screen and the Samsung S4 thing that shows up when the phone restarts. I have taken my battery out several times and as I put it back in the Samsung s4 thing pops up then the screen goes black and again the Samsung s4 thing will show (it continues like this). What must I do?
Solution: Assuming that the update was successfully applied to your phone you will need to restart your phone first by taking out the phone battery then pressing and holding the power button for at least a minute. This discharges your phone of any remnant charge and clears out its RAM. Reinsert the battery then try to turn on your phone.
If the problem still occurs then you will want to proceed by wiping the cache partition of your phone from the recovery menu. This resolves the issue if the issue may be caused by a corrupt cached data.
If wiping the cache partition fails to resolve the issue then you should consider doing a factory reset using the hardware keys. Take note that this deletes your phone data so only consider doing this if you have a backup of your data available.
Usually, a factory reset will resolve this type of issue. However, if at this point the problem still persists then try connecting your phone using a USB cord to a computer running on Kies and attempt to do an emergency firmware recovery.
S4 Black Screen Problem When Running On Official Firmware
Problem: I've lately flashed a custom ROM which is Cyanogenmod for my I9500, but when I reflashed an official Firmware, I had this problem: Let's say I'm using my phone, I lock it and leave it for few minutes, when I come back to use it and press the power button, the screen doesn't turn on, and sometimes back and menu lights turn on but the screen stays black, and if I keep swipping even though the screen is off, it rarely turn on but with a lot of lags and also it shows that TouchWiz has stopped working. So to prove that it is a software issue and it is related to TouchWiz, I reflashed the custom ROM that doesn't use TouchWiz and it works perfectly no lag at all, I tried flashing different countries Firmware, different version still the same. I'm pretty sure, there's something that kills TouchWiz app which is the reason why the screen doesn't turn on.
Solution: Since your phone works perfectly fine when using a custom ROM then we can rule out any hardware related problems that is causing this issue. What I can suggest is you try to get the correct firmware of your phone but this time get it from another source. The firmware files that you have may be corrupt which may be causing this problem.
Once you have installed the stock firmware make sure check for any software updates first before using your phone. Take note that the rules for updating your Samsung phone still applies in this case so you will have to make sure it is unrooted first.
S4 Black Screen Unresponsive
Problem: So my phone shut down because I had to charge it. I left it there alone for a bit before plugging it in. the. We were going to the store, so I plugged my phone into the charger in our car. It turned on like it showed "Galaxy S4" on the screen and then instead of turning on, the screen went black and it showed options like "reboot" or "reset factory data" something like that and it won't let me select one. I don't know what to do. I've never dropped it or anything.
Solution: In cases like this you should try taking out the battery of your phone first then press and hold the power button for at least a minute. This completely discharges your phone of any remnant power and clears out its RAM. Think of this as a way of resetting its state without losing data. Reinsert the battery then turn on your phone then check if the problem still persists.
S4 Black Screen After Drop
Problem: A few days ago I accidentally dropped my phone which caused it to turn off once I turned it back on I could hear it starting and the LCD on but the screen was pitch black. I tried different ways to solve the problem but none worked. The screen won't respond and the touch buttons beside the home button either, everything else works just fine. How can I fix this?
Solution: It's very likely that this is already a hardware related problem possibly caused by a damaged display. Try taking out the battery then reinsert it again. Connect your phone to its wall charger then turn it on. If the issue still persists then you will have to bring your phone to an authorized service center and have it repaired.
S4 Random Black Screen of Death Issue
Problem: My phone will just die. It will be fine and I put it in my pocket for a little bit then it is the black screen of death. I take the battery out as suggested and it will come back. It is annoying. It started happening after the lollipop update. Is there a fix or do I have to live with this? Also the lock screen numbers will pixilate. They just become white squares. Help!
Solution: If this issue happened after the Lollipop update then you should consider doing a factory reset. The way I see it this may be caused by the old software data that has not been completely removed from your phone and is now causing a conflict with the new software version. The only way to completely remove this old data is to do a factory reset. Just make sure that you back up your personal data before proceeding.
S4 Black Screen of Death Issue
Problem: Hello, I am an owner of an s4 mini and I have had a problem with my phone, I searched what my issue may be with my phone and tried the solutions that match the problem. Whilst researching the problem your site came to me as the most trustworthy. As I was researching a term as 'the Black Death screen' came up and I'm not too sure if that is the problem I'm having. Last Friday I was using my phone normally, browsing through Pinterest, like normal and my phone died. Prior to last Friday I had got my screen replaced because it had cracked and desperately needed to be fixed. So, continuing with last Friday, my phone had completely died. I put it on charge and as it started to switch on the usual Samsung Galaxy logo came on it started to glitch and run down the screen constantly, so I took my battery out, left it out for 5 minutes and the same thing happened but the writing was pink, yellow and green. Now my phone is completely black but the sounds for all my notifications work and the back and menu options still light has usual. I have taken out the battery, held the power button down for exactly a minute, released it, and left the battery out for five complete minutes. I then inserted the battery and turned on my phone. The logo came on again but with pink, green and yellow pixels but then went off again and resumed being with a complete black screen. This has gone on for just over a week now and I'm hoping that you can advise me on how to fix it. Thank you for taking your time to read this.
Solution: The issue that you described is very likely hardware related, possibly relating to the screen replacement. If there is any way to save your phone data then do it now. You can connect your phone using a USB cord to a computer running on Kies and back up your data using the software. You should also do a factory reset using Kies. If the issue still persists or if you can't back up your data and perform a factory reset then I suggest you bring your phone to an authorized service center and have it checked.
Engage with us
Feel free to send us your questions, suggestions and problems you've encountered while using your Android phone. We support every Android device that is available in the market today. And don't worry, we won't charge you a single penny for your questions. Contact us using this form. We read every message we receive can't guarantee a quick response. If we were able to help you, please help us spread the word by sharing our posts with your friends.