They say the smartphone space is slowly but steadily getting too crowded for anyone besides Apple to post a constant profit. Tablets are dying, and conventional PCs linger in purgatory, yet an obvious market saturation seems to prevent handhelds from further growing.
As such, it's no wonder companies like HTC or Microsoft badly want to streamline their mobile product rosters, reducing the number of eerily similar Lumia and One models released year after year. Meanwhile, BlackBerry seeks an Android Hail Mary pass in utter desperation, and Samsung may soon need to enforce cost-cutting measures of its own to stop an abrupt, free fall in revenue.
Bottom line, everyone acknowledges the industry's identity crisis, acting in accordance with various austerity tactics, except for Google. The search giant has adhered to the conventional 11 or 12-month hardware upgrade cycle and one phone a year launch standard since the very inception of the Nexus program, but all of a sudden, that's no longer enough for Sundar Pichai & co.
Enter the Huawei-made Nexus 6P and LG-produced Nexus 5X, the first duo in the family's history to get a simultaneous announcement, and target different audiences. In case you're confused regarding exactly what's different, and what's not, let us clear the air for you:
Nexus 6P vs Nexus 5X – design and build quality comparison
As the name suggests, the N6P is larger. Specifically, 159.3 x 77.8 x 7.3 mm vs. 147 x 72.6 x 7.9 mm, as far as the N5X is concerned. So, 12 mm taller, 5 wider, and remarkably enough, around half a millimeter thinner. Also, 42 grams heavier (178 vs 136), and most importantly, half an inch larger in screen diagonal (5.7 vs 5.2).
But of course, the aesthetical distinctions don't stop there. In fact, size is the least important of them, with build material contrasts much more relevant for your buying decision. The higher-end, bigger Nexus 6P is arguably handsomer as well, courtesy of anodized aluminum use, compared to "premium injection molded polycarbonate."
Translation – plastic for the Nexus 5X, and the same type of metal alloy employed in the aeronautical industry on the 6P. Too bad the latter's rear camera looks God-awful, even though we wouldn't exactly call the former's main photographic unit a beaut either. Both stick out like a sore thumb, and the slimmed-down chassis around them seems a huge waste of space. Why oh why didn't Google just make them thicker overall, and add extra battery capacity in the equation?
Display and cameras
No more racking their brains to come up with the "sweet spot" in terms of footprint and screen real estate for Google engineers! There's no such thing, by the by, which is why it's great phablet lovers and fans of smaller phones alike can finally come together.
The only catch is, if you're into "diminutive" Androids, you'll have to settle for 1,920 x 1,080 pixels resolution, LCD technology, 423 ppi, and Corning Gorilla Glass 3 protection. The jumbo-sized new Nexus ups the ante across the board, to 2,560 x 1,440, AMOLED, 518 pixels per inch, and Gorilla Glass 4.
But surprise, surprise, the two primary cams are identical. Truly so, with the same 12 MP sensors, 1.55 μm pixels for superior details in low-light conditions, f/2.0 aperture, laser autofocus, dual LED flash, and 4K video recording capabilities at 30 fps.
Selfie addicts are better served by the Nexus 6P, which sports a pretty amazing front-facing cam too, despite lacking flash illumination. You get 8 generous megapixels, f/2.4 aperture, and 30 fps HD video capture, whereas the N5X barely offers 5 MP.
Processor, RAM and battery life
In the octa-core Snapdragon 810 vs hexa SD808 battle, the question is not who wins in the raw speed department, but whether the fiery hot 810 can at last be contained and cooled down. Hopefully, in a 2.1 iteration, it will.
Likewise, the accompanying Adreno 430 GPU easily eclipses the 808's 418 inside the Nexus 5X in graphics performance, yielding no stability concerns fortunately. The memory duel takes the Nexus 6P one step closer to total N5X annihilation, as the updated 5.2 incher merely matches the RAM count of its two year-old predecessor, at 2 GB.
In addition to packing 3 full gigs of the good stuff, Huawei's rookie Nexus effort also touts the significantly heftier cell – 3,450 mAh, compared to 2,700. We'll obviously have to wait for real-life battery tests before concluding which device lasts longer, but the good news is you get rapid charging features either way.
The Nexus 6P should be able to keep the lights on for around 7 hours after 10 minutes of juicing activity, while the N5X can provide 4 hours or so endurance in the same timeframe.
Software, storage, and others
Say hello to Android 6.0 Marshmallow, possibly the most energy-efficient, security-focused variant of the world's most popular mobile operating system, and hopefully, the smoothest, fastest, most stable too.
As you can imagine, Google doesn't play favorites on this front in 2015 either, and loads up the same stock goodies on both new Nexuses. You have your intuitive Now on Tap function, Doze frugality, App Standby enhancement, customizable permissions, zippier and smarter Google Camera and Photos apps, plus native fingerprint recognition.
Needless to highlight that latter feature would be useless without actual fingerprint sensors, located on the back of the 6P and 5X, and endowed with something called Nexus Imprint that "gets smarter with every touch" by "incorporating measurements each time you use it."
What else? Well, since you predictably can't expand the internal storage space via microSD cards, it's vital to note the smaller handheld accommodates 16 or 32 GB data, whereas the Nexus 6P allows you to store up to 128 gigs, starting at 32 instead of 16.
Then you have dual stereo speakers on the 6P, and a single audio player slapped on N5X's face, three microphones with noise cancellation for each model, LTE Cat. 6, Bluetooth 4.2, NFC, and Wi-Fi 802.11 a/b/n/ac 2×2 MIMO, dual-band across the board. Oh, and let's not forget the two's reversible USB Type-C ports, which help make super-fast charging possible.
Pricing and availability
Up for pre-orders straight from Google, the vanilla Android powerhouses look like phenomenal bargains, commanding tariffs of $379 and $499 respectively in "entry-level" configurations. Considering all the Nexus 6P's fortes listed above, the 32 GB flavor isn't a lot pricier than its 5X counterpart, which sells for $429.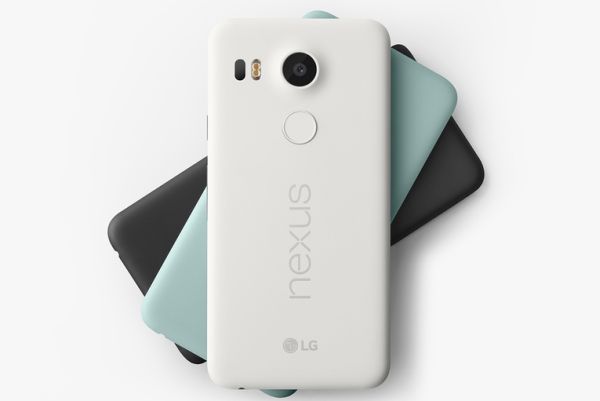 Craving for 64 or 128 gigs of digital hoarding room? Then be prepared to spend $549 or $649. The ultimate deal sweetener comes in the form of free 90-day Google Play Music access, and complimentary $50 Google Play credit for orders placed before October 25. And yes, you'll be able to activate the Nexus 5X and 6P on all four major US carriers, including Verizon.
We will receive sales commission if you purchase items using our links.
Learn More
.