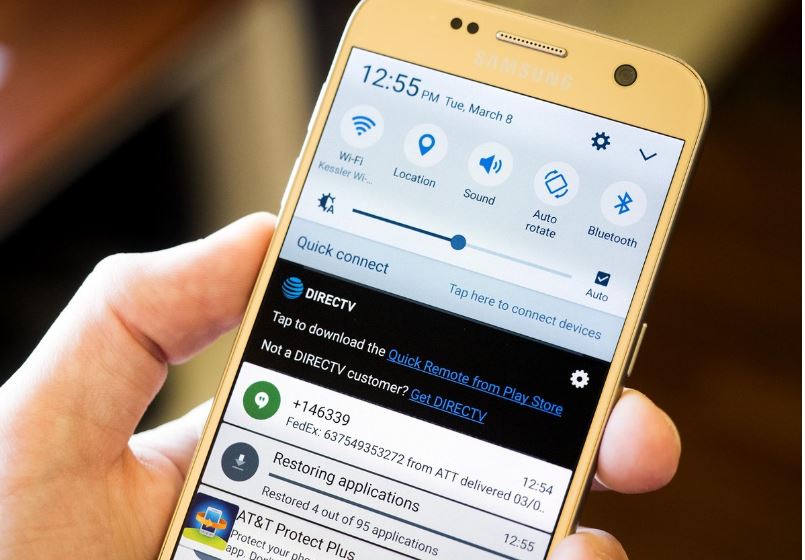 Here's an additional list of #GalaxyS7 issues that we've gathered during the past few weeks. The issues covered in this material range from a couple of connection-related troubles to power and screen problems. Don't forget to visit more S7 problems and solutions in this page.
If you are looking for solutions to your own #Android issue, you can contact us by using the link provided at the bottom of this page, or you can install our free app from Google Play Store.
When describing your issue, please be as detailed as possible so we can easily pinpoint a relevant solution. If you can, kindly include the exact error messages you are getting to give us an idea where to start. If you have already tried some troubleshooting steps before emailing us, make sure to mention them so we can skip them in our answers.
---
Problem #1: Galaxy S7 Edge hotspot keeps disconnecting
Good afternoon. I just switched from an iPhone to the Samsung Galaxy S7 Edge. When I use my Galaxy S7 Edge as a hotspot & tether another device to it, it disconnects every time I look at a message/email/WhatsApp on my Galaxy. I did not have that issue at all when I used my iPhone as a hotspot. Do you know what can be causing this issue and how I can resolve it?
Thank you. — Jacob
Solution: Hi Jacob. Hotspot or tethering feature is a value added service so make sure that your account is permitted to use it. If your subscription does not cover hotspot or data connection sharing, that can be the reason for the problem. Be sure to contact your service provider so they can check your account.
Now, if they'll say that your subscription should allow tethering, the cause of the problem must be a corrupted firmware. Consider doing a factory reset if the issue remains. For reference, here are the steps on how to do that:
Turn off your Samsung Galaxy S7 Edge.
Press and then hold the Home and Volume UP keys, then press and hold the Power key.
When the Samsung Galaxy S7 Edge shows on the screen, release the Power key but continue holding the Home and Volume Up keys.
When the Android logo shows, you may release both keys and leave the phone be for about 30 to 60 seconds.
Using the Volume Down key, navigate through the options and highlight 'wipe data / factory reset.'
Once highlighted, you may press the Power key to select it.
Now highlight the option 'Yes — delete all user data' using the Volume Down key and press the Power button to select it.
Wait until your phone is finished doing the Master Reset. Once completed, highlight 'Reboot system now' and press the Power key.
The phone will now reboot longer than usual.
Problem #2: Galaxy S7 Edge Wi-Fi  is slow and/or keeps disconnecting
Not sure where else to go to report my Wi-Fi issue on new S7 Edge. Looks like It got hit with the Wi-Fi bug. I can be at work in a hotel, my house connected to Wi-Fi getting same results — very slow to not connecting. 
I've tried turning off Bluetooth. I've talked to Verizon support. They told me to restrict all the background running apps and restart the phone. They told me to use Repair Assistant – Software Upgrade Assistant (Samsung nothing works I hope they come out with a fix fast I depend on the Wi-Fi. — Tony
Solution: Hi Tony. Slow or no connection problems, whether you are using mobile data or Wi-Fi, can be caused by bad apps, corrupted firmware, or damaged hardware. In order to identify which of these three is the problem, kindly do the troubleshooting steps below.
Safe mode
Poorly coded apps can interfere with your device's internet connection function, not to mention malware. If you have a lot of third party apps installed, it's a good idea to boot your S7 in safe mode. In this environment, all third party apps are prevented from running so if one of your apps is the culprit, the issue should not occur. To boot your S7 in safe mode, simply follow these steps:
Turn off the phone.
Press and hold the Power key.
As soon as you can see the 'Samsung Galaxy S7 EDGE' on the screen, release the Power key and immediately hold the Volume Down key.
Continue holding the Volume Down button until the device finishes rebooting.
You may release it when you can see 'Safe mode' in the bottom left corner of the screen.
If Wi-Fi connection continues to exhibit the same behavior as before, the next steps that you want to do is factory reset. Please refer to the steps mentioned above. After doing a factory reset, don't re-install your apps right away. You need to observe how Wi-Fi connection works without your apps to see the difference. You also want to make sure that you connect to at least 2 Wi-Fi networks to eliminate the possibility that the problem is network-related.
However, if Wi-Fi connection still keeps on disconnecting or appear slow (despite being connected to a fast Wi-Fi network), you can safely assume that the problem is hardware-related. Call  Samsung or your carrier and ask for a unit replacement.
Problem #3: What to do if the screen turns black and the phone no longer boots up
Today, 5/3/16, this morning around 7:30 I'm at school. Before i start explaining anything i am going to say that my phone has been dropped many times on hard wood floor and on concrete. When the screen does crack, all the cracks come from the top right corner and come out as a curve. there is only one crack that leads from the top right corner to the bottom left corner.
OK so back to this morning. This morning i took off my jacket and my phone was in it and i didn't remember that i had my phone in there. i was not realizing what i was doing at the time but i threw my book bag in the chair and next to it slammed my jacked while talking to my friend. Then not even  a minute later i sat down in the chair and took out my phone now remembering it was in my jacket. I was all fine and everything because i didn't realize what i did at the moment.
i turned on my phone then I looked on the screen. My screen was mostly black and had thick green lines on it. i got scared because i didn't save anything on my phone, none of my pictures nothing. and i was like upset because i was having a very bad morning. so far it got me even more frustrated i asked to go to the office and call my mom and tell her my phone won't be working so she contacted me on my friend's phone. the lady said there is nobody in the office at the moment and she was like just try and take out the battery so i took out the battery all day and i put it in a plastic bag with my phone case and phone. I'm scared to turn on my phone. Can you tell me what to do before i do anything? And my phone is fully charged (forgot to say that). Thank you so much for reading. Please help me. — Jennifer
Solution: Hi Jennifer. The black screen and the thick green lines on it are indicators that you may have damaged the LCD. The screen assembly is consists of three major components — the digitizer, the LCD, and flex cable. Damaging one of these 3 parts can result to a black screen or a totally unresponsive touchscreen. The thing is, there's no easy way to fix if one of them is messed up. You must bring the phone to a shop so the screen can be replaced.
Keep in mind that sometimes, accidentally dropping a phone can also result to other hardware trouble that may not be visually detectable. You will only know that there's a hardware problem once your phone starts to act weird or shows abnormal performance. In any case though, hardware issues are beyond an average user's ability to fix.
In your case, we doubt if you can get a free replacement from your carrier or Samsung since there's a clear sign of user misuse. Sure you can ask them to repair the broken phone but they will still charge you for it because the warranty has been voided. If you an option to let Samsung fix the phone though, we recommend that you let them repair the phone for you instead of a third party shop.
Problem #4: Galaxy S7 won't turn on and stuck on Samsung loading screen
Hi DroidGuy Team. Greetings!!!
First I would like to appreciate you for such a great job you guys are doing in providing help to all with their phone issues that too for free.
I have Samsung Galaxy S7. Yesterday while using the phone the phone got hanged and it got restarted automatically but after that it's going to splash screen where 'Samsung Galaxy S7' is written and then screen goes blank and after 5 to 7 seconds again the same splash screen 'Samsung Galaxy S7' is coming and it's happening the same again and again till battery is drained out.
Also after few minutes the phone is getting heated up. When kept for charging also it's showing charging icon and goes blank for 5 to 7 seconds and then again shows charging icon.
I did follow steps you mentioned in your site by keep pressing power button for a minute without battery and also tried to run in safe mode and backup mode but it didn't work.
Can you help me in this issue and my main concern is I need to get my data's from phone. So at least if i can  get back up of all data's from phone memory would be a great help.
Thanks in advance.
Thanks and Regards. — Nitin
Solution: Hi Nitin. First of all, file recovery is only possible if the phone is still working, that is, the device's flash memory can be powered. The Nand chip or the flash storage device in your S7 has to be powered so that the 1s and 0s in its cells can be read. If your phone does not turn on anymore for some reason, there's no way that you can recover your files.
Now, there can be a number of reasons why a smartphone may not turn on. The causes can range from incompatible software, corrupted firmware, bad battery, malware, or motherboard failure. The general rule of thumb when it comes to troubleshooting is to check first if a software solution can fix the problem. If all software troubleshooting fail, you can assume that there's a hardware failure behind the trouble.
Software troubleshooting for this problem is very limited to attempting to boot the device in other modes only. That means that your only options include trying to restart your S7 to safe mode, recovery mode, or download mode. If the device remains unresponsive and won't boot at all, your only remain option is to have the phone repaired or replaced.
If your phone will boot in either recovery or download mode, your options will be limited to three things:
wiping the cache partition
doing a factory reset
flashing a stock or custom ROM
As you can see, only the first option does not involve erasing your phone storage. If refreshing the cache partition won't fix the problem, you are out of luck. You'll be forced to delete everything from your phone storage if you wish to boot your phone back normally.
Problem #5: Galaxy S7 can't boot to recovery mode and won't turn on
I have a Samsung Galaxy S7 and my problem is when i updated my phone and once it reboot it got stuck on the (Samsung GALAXY S7) screen and it wouldn't go on — it just freezes there. I look up many methods to fix this and none would work.
I try clearing cache and reset the factory, and by the way, i don't use a SD card and i use the phone for Wi-Fi is not connected to any service. Anyways after i tried those methods it did not work at all. I even went on the one where you hold down the volume button and press power and home at the same time and once i press continue it starts downloading and i waited for an hour and nothing.
I tried many times going to recovery mode and i notice everytime i do it it, it says errors or something. And once I'm on the selecting screen it says (no command) on the android mini robot in the background and why is that? And everytime i do it over and over once i press on reboot system it say ( error! ) fast and takes me back where the frozen logo screen. I really need help if there's any solution to this please help. — Ruben
Solution: Hi Ruben. Your issue may be different but the solutions are identical to the ones we recommend for Nitin above. If there's an error when you boot the device to recovery mode, you can try to restart the device to Odin or download mode instead so you can attempt to install a stock or custom ROM. If that won't work still, consider having the phone checked by Samsung.
---
Engage with us
If you are one of the users who encounters a problem with your device, let us know. We offer solutions for Android-related problems for free so if you have an issue with your Android device, simply fill in the short questionnaire in this link and we will try to publish our answers in the next posts. We cannot guarantee a quick response so if your issue is time sensitive, please find another way to resolve your problem. 
If you find this post helpful, please help us by spreading the word to your friends. TheDroidGuy has social network presence as well so you may want to interact with our community in our Facebook and Google+ pages.