It's been over a year now since the #GalaxyS6 series was first released so it can be expected that many users are starting to experience issues with it.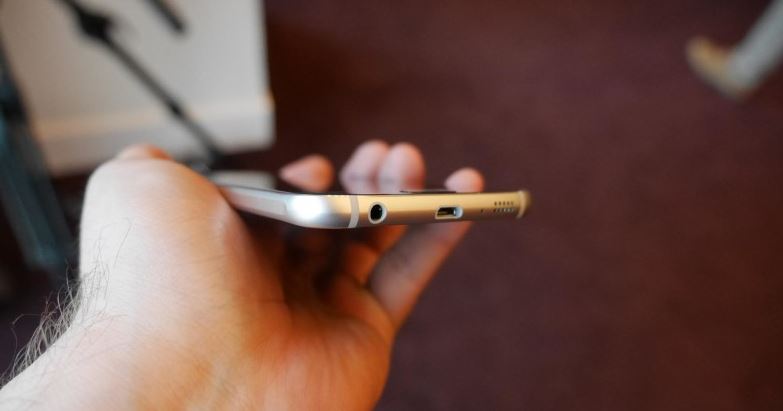 Below are some of the common problems reported  by some of our S6 users during the past few days:
If you are looking for solutions to your own #Android issue, you can contact us by using the link provided at the bottom of this page, or you can install our free app from Google Play Store.
When describing your issue, please be as detailed as possible so we can easily pinpoint a relevant solution. If you can, kindly include the exact error messages you are getting to give us an idea where to start. If you have already tried some troubleshooting steps before emailing us, make sure to mention them so we can skip them in our answers.
---
Problem #1: Galaxy S6 charging port not working | Galaxy S6 power button is defective
So I'm having some troubles with my Galaxy S6. it started last night when my phone went into a reset mode or something where a blue screen comes up and says downloading. It was locked up and unresponsive. I looked it up and got that fixed by holding the power and volume down key. However, after that, now the charging port will not work. I have to use a wireless charger, and my phone is now just going crazy. Sometimes I can't turn off my phone off. Pressing the power key just doesn't work. it gets very glitchy, and the Google page comes up out of random and when I try to close it, Google just comes back up again. I don't know if you can help I'm afraid the whole system is damaged, hope you can help! — Drew
Solution: Hi Drew. We haven't noticed you mention doing a factory reset so we suggest that you try that first. Afterwards, observe the phone for at least 24 hours without installing any app so you'll know if one of your third party apps is to blame. To do a factory reset, kindly do the following steps:
Turn off your Samsung Galaxy S6 Edge.
Press and hold the Volume Up, Home and Power keys together.
When the device powers on and displays 'Power on logo', release all keys and the Android icon will appear on the screen.
Wait until the Android Recovery Screen appears after about 30 seconds.
Using the Volume Down key, highlight the option, 'wipe data/factory reset' and press the Power key to select it.
Press the Volume Down button again until the option 'Yes — delete all user data' is highlighted and then press the Power key to select it.
After the reset is complete, highlight 'Reboot system now' and hit the Power key to restart the phone.
If your phone continues to show abnormal behaviors after a factory reset (and without any third party apps), it's time that you consider getting a replacement unit.
Problem #2: Wet Galaxy S6  won't hold a charge | water damaged Galaxy S6 won't stay on
About 2 months ago my phone was accidentally dropped into a pool and suffered a bit of water damage. I kept it in rice for about a week and then tried plugging it into a charger before turning it on. It recognized the charger and showed it was 96% charged, I let it get to 100% and then tried turning the device on but nothing happened, it just refreshed and the battery level went back to 96% charged (it was still plugged in).
I tried doing some damage control with the help of Samsung and even sent it in for repair, and tracking the whole process they sent the phone back almost immediately after receiving it labeling it as "beyond economic repair." I returned from a trip abroad, and checked the phone and now it turns on when plugged into the charger. Everything on the device works perfectly fine, including the display, audio, etc. The only issue is that it won't hold a charge, everytime i unplug it from the charger it turns off.
I spoke to Samsung again and they say they wont repair it because it had damage to the motherboard but I get the feeling they never even opened up the phone to check it out. Is there anything I can do to fix this problem? — Rima
Solution: Hi Rima. If Samsung won't repair your water-damaged phone, your only option is to let a third party shop do it instead. As far as resolution on your end is concerned, we doubt that. Unless you have advanced electronic knowledge, can fix a specific Samsung device, and the special kit to do the job, there's really nothing much that you can do. Software troubleshooting won't help you obviously so simply let a professional check the phone.
Problem #3: Galaxy S6 won't turn off after Android update
I think i gave you the right system. After the last update my phone randomly started rebooting itself. If i open a photo and hit share, it reboots itself. If i try to send an attachment it reboots itself. I cannot shut it down either. When you hit the power button, the shutdown/restart menu no longer exists. It just reboots itself when you hit the power button. The update before this it randomly froze and stayed that way for long periods of time in the reboot mode. Frozen, that stopped. Now it reboots randomly.
Also if i have set a background, when it reboots it erases that and puts it back to factory picture. I have not added any aps to my phone in a very very long time. The issues started at the same time as the update and i had also applied a different back ground in text from the theme store. Which came with the phone. I had just used it at that time coincidentally. I was afraid it was that so uninstalled it. I have read tips here but they require you to shut down the phone which I can't do. — Rebecca
Solution: Hi Rebecca. The first thing that you want to do is to reset your phone. This can be done by pressing and holding the Power and Volume Down buttons for at least 10 seconds. After doing a soft reset, you can attempt to shut the phone down again. If it's successful, you then want to wipe the cache partition.
For minor firmware-related issues brought by apps and firmware updates, wiping the cache partition often does the trick. It's because this procedure will literally delete all cached files in the cache partition, which will force the system to create new ones during the next boot up.
This procedure is also very helpful in fixing issues like random reboots, boot loop, stuck during boot up and random freezes after updates. Here's how you wipe the cache partition on your S6:
Turn off the device.
Press and hold the following three buttons at the same time: Volume Up key, Home key, and Power key.
When the phone vibrates, release the Power key but continue to press and hold the Volume Up key and the Home key.
When the Android System Recovery screen appears, release the Volume Up and Home keys.
Press the Volume Down key to highlight 'wipe cache partition.'
Press the Power key to select.
When the wipe cache partition is complete, 'Reboot system now' is highlighted.
Press the Power key to restart the device.
If wiping the cache partition won't work, the next thing that you can do is factory reset. Please refer to the steps below on how to do it.
In case soft reset won't resolve your difficulty in shutting down the phone, consider getting a replacement phone as the Power button may have become stuck.
Problem #4: Galaxy S6 keeps on rebooting on its own
I want to ask for your help about my smartphone.
In this recent days, my phone keep rebooting by itself especially when I restart my phone (sometimes it can happen without restart my phone). After I restart my phone, It is absolutely keep rebooting by itself and I don't know when it will stop, so I just leave it until it is finish.
I already tried 2 methods to solve that, the first one is wipe cache partition and the last one is factory reset. However none of that method work up on my phone.
Can you help me to solve this problem? Please I don't know already what should I do, I just bought it 6 months ago and this phone already has kind of this problem. Is it possible the source of the problem is the newest OS?
And by the way, I don't understand the meaning of carrier in your form
Thank you. — Anthony
Solution: Hi Anthony. There's only so much that you can do when it comes to an issue like this. If factory reset did not change anything, consider installing another firmware, in case the cause of the problem is due to the poor quality of firmware running on the device. If you rely on your carrier to receive updates (OTA update),  you want to manually install the firmware instead via Odin mode. Now, manual firmware installation has its risks and does not guarantee a resolution. This is, however, the only thing that you can do on your end before you consider having the phone replaced. If you want to flash a new ROM or firmware to your device, use Google to search for a guide.
Problem #5: Galaxy S6 won't charge | Galaxy S6 won't turn on
It was on charge the other night, woke up and and went to go on the phone but it seemed to drain itself and then switch off? So I tried charging it but it would vibrate and go onto the grey battery icon with the lightening bolt in and nothing else. I would try to turn it on and it would switch off as soon as my homescreen loaded.
I tried several different cables and plugs etc, ones that i knew worked with family but still nothing. I tried clearing out the charging port as best as I could and still nothing. I then tried using a wireless charger from a friend and the same thing happens where it just appears with a grey battery icon and doesn't actually charge. It's been two days and now the phone won't turn on at all and it wont let me boot into safe mode or do a hard reset. The only thing i can get up on the screen is the grey battery icon when the phone is on the wireless charging pad. — Charlotte
Solution: Hi Charlotte. There's obviously nothing much that you can do about this problem on your own. Looks like you have a hardware issue right now. We know that Samsung Galaxy S6 phones are very reliable and we don't think these issues just came out of the blue. Either the phone has been dropped or exposed to elements like water or heat. If none of these things happen to your device, there's a chance that there's a problem with the battery. Unless you have the required electronics skills and tools, there's no way you can examine the phone's hardware. So, your best course of action right now is to call Samsung so they can check the hardware or even replace the device. If your S6 is no longer in warranty, be sure to prepare to pay for the service required.
---
Engage with us
If you are one of the users who encounters a problem with your device, let us know. We offer solutions for Android-related problems for free so if you have an issue with your Android device, simply fill in the short questionnaire in this link and we will try to publish our answers in the next posts. We cannot guarantee a quick response so if your issue is time sensitive, please find another way to resolve your problem. 
If you find this post helpful, please help us by spreading the word to your friends. TheDroidGuy has social network presence as well so you may want to interact with our community in our Facebook and Google+ pages.