Our final #GalaxyS6 post for the week is here. To make it worth your while, we're bringing you 12 different S6 issues here and their solutions. We will resume posting more S6 issues next week so keep watching for them.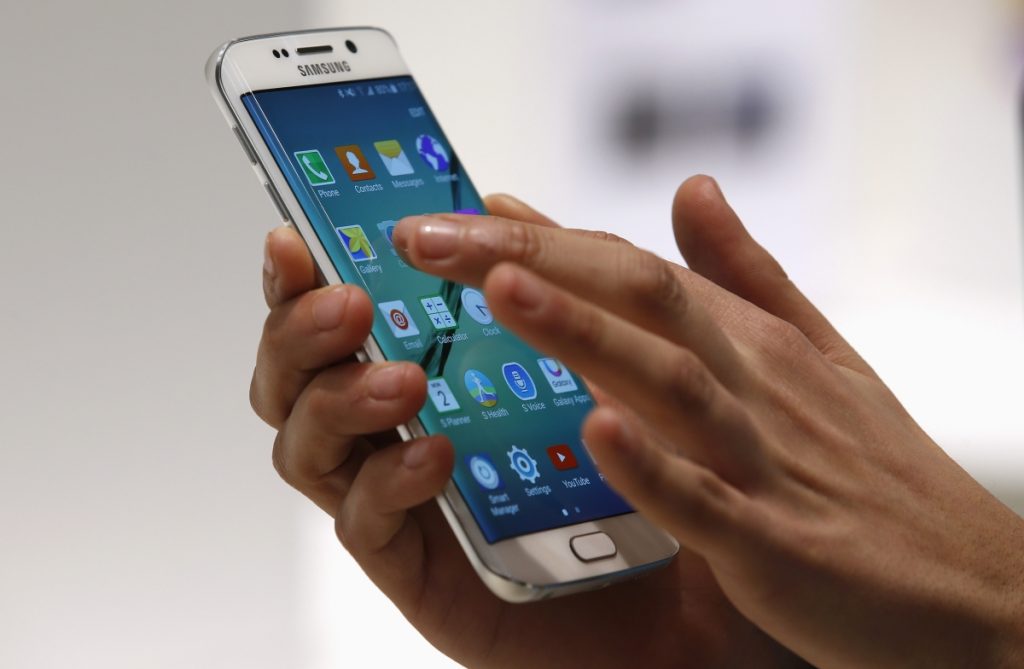 If you are looking for solutions to your own #Android issue, you can contact us by using the link provided at the bottom of this page.
When describing your issue, please be as detailed as possible so we can easily pinpoint a relevant solution. If you can, kindly include the exact error messages you are getting to give us an idea where to start. If you have already tried some troubleshooting steps before emailing us, make sure to mention them so we can skip them in our answers.
Below are specific topics we're bringing for you today:
Problem 1:  Galaxy S6 edge crashes everytime a video plays
Hi guys. I have Samsung S6 edge plus since November 2015. I'm facing a new problem with it, which is each time I open a video via YouTube, Facebook, Instagram or even a saved video inside it, my phone restart itself automatically.
I tried many solutions like factory reset, cache wipe, and tried to open a video through safe mode but the phone turned off immediately. I also sent it to Samsung agencies in my country Jordan. they installed a new software on it but the problem still remains! I tried a third party specialist but had no luck. i need to know what's wrong with my phone! I'm desperate. Can you please give me a solution? — Khadeeja
Solution: Hi Khadeeja. There are only two possibilities that we can think as the reason why this is happening. The first one may be due to a third party app and in order to check that, you want to restart the phone to safe mode. Here's how:
Press and hold the Volume Down and Power keys for 20 to 30 seconds.
Once you see the Samsung logo, release the Power key immediately but continue pressing the Volume Down key.
Your phone should continue booting up and you will be prompted to unlock your phone as usual.
You will know if the phone successfully booted in safe mode if the text "Safe mode" is displayed at the lower-left corner of the screen.
Safe mode blocks third party apps and services from running so if your phone will be able to play a video normally, that's proof that our suspicion is true. You won't be able to load YouTube, Facebook, and Instagram apps unless they're part of the pre-installed apps so you want to just play a video saved in the Gallery or somewhere in the phone.
We understand that you already tried to factory reset the phone before contacting us but if you did it without checking how video works right after, you may have simply re-installed the problematic app. If the problem continues even when your device is in safe mode, do another round of factory reset, and observe the phone while playing videos afterwards. Make sure not to reinstall anything before doing the test.
If the issue persists, then the second possibility is most probably true — that there's an unknown software or hardware glitch behind the trouble. Unfortunately, there's really no way to know for sure where this glitch may lie so you'll be better off with a replacement phone. Don't send the phone and have it simply repaired. No technician will be able to determine its cause at all so you want to opt for a replacement instead.
Problem 2: Galaxy S6 edge processor not working
I purchased the S6 edge last year 3 October 2105 in Dubai. The phone worked well then the CPU just died. I took the cellphone to Samsung South Africa in Cape Town and they told me that they cannot fix it because I did not buy it in South Africa and the guarantee is only for that country. Sad to say in the technological world they cannot carry an international guarantee. They also told me that the CPU cannot be repaired. I must throw the phone away. That's an expensive device and that was the answer I got from customer service at Samsung South Africa Cape Town. Sad. — Pardu6
Solution: Hi Pardu6. We don't know how you were able to determine that the device's processor has died but, sadly, yes, it cannot be repaired. It will take an entire motherboard replacement to give you a running phone again. And motherboard replacement is an impractical choice for a smartphone repair because it will cost almost as a new phone. And there's no guarantee that the device will work normally again following a motherboard replacement. So, unfortunate it may be, you really don't have much choice in this situation but to simply throw the device away, or replace it.
Problem 3: Galaxy S6 edge sound is very low during calls
I am on my third S6 edge plus since December of 2015. The same issue keeps happening. What happens is, when I make a call, the other person cannot hear me and sounds like I'm talking into a paper bag. The whole time I can hear them just fine. We've tried replacing the SIM card, didn't help. Have tried resetting factory settings, didn't help. Safe mode, didn't help. No screen protector or cover, didn't help. Using HD calling and WiFi calling, didn't help. None of them have been submerged or any water damage. They are going to allow me to get a different phone entirely. Just wondering if you've had anyone else report this issue and had an answer? — Megan
Solution: Hi Megan. If the same problem keeps happening on at least 3 phones on the same network, we don't think it's a device issue at all. This must be network-related. It can be that the Galaxy S6 phone model is not properly coded to work with the network's voice calling system, or that all Galaxy S6 phones are simply incompatible with your current network. Try getting an entirely different phone model like a Galaxy S7 or S8 (or get an older Galaxy S5) to see if the same issue occurs. We've heard of this issue in some other phones before but they're random and happens on all sorts of devices, including non-Android ones.
Keep in mind though that most voice call-related issues are network-related so please work with your carrier to solve the issue.
Problem 4: Galaxy S6 won't turn off
When I woke up this morning I took my phone off of the charger and started to attempt to use it. I could slide the home screen either which way but when I pressed on an icon for anything, nothing would happen. When I held the power button down to restart the phone options to restart or turn off, the phone popped up but when I chose an option the home screen would appear and nothing else would happen. I can't make any calls, any text messages, open any app or function for the phone, turn it off or restart it. I can open any of the windows, settings, nothing. What do I do? — Noah
Solution: Hi Noah. You can either try to soft reset the device, or wait until the battery is drained and the device turns off. Only then can you try other follow up troubleshooting like wiping the cache partition, observe it in safe mode, or factory reset.
To soft reset your S6, kindly do the following:
Press and hold the Power and Volume down buttons for 12 seconds.
Use the Volume down button to scroll to the Power Down option.
Press the Home key to select.
Problem 5: Galaxy S6 keeps getting a notification of an incoming SMS but can't open it
My phone won't show me my messages from a certain person. Only that person and they texted me a lot of times but I still can't see it. Now no matter what I do it seems it'll never leave. My phone keeps saying that I have a message, it won't leave my notification bar, and the message app has a one on it. But when I click on the message it takes me to the new message page, and I can't delete the message because there isn't in there to delete. I've done what many pages have told me to do. I've forced stopped the messaging app, turned it off and on, but my Samsung Galaxy S6 edge does not have the All button to clear data in settings. I don't know what to do. Please help me! — Robersonstarks
Solution: Hi Robersonstarks. The simplest fix for this issue is most probably by clearing the data off the messaging app. If your phone is running Android Marshmallow or Nougat, here are the steps on how to do that:
Open the Settings menu either through your notification shade (drop-down) or through the Settings app in your app drawer.
Navigate down to "Apps". This may be renamed to something like Applications or Application Manager in OEM skinned versions of Android 6 or 7.
Once in there, click on an application.
You'll now see a list of stuff that gives you information about the app, including Storage, Permissions, Memory Use, and more. These are all clickable items. You'll want to click on Storage.
You should now clearly see the Clear Data button for the application. Tap it.
If clearing the app's data won't work, do a factory reset by following the steps below:
Create a backup of your important files such as photos, videos, contacts etc. You can use Smart Switch for this task.
Turn off your Samsung Galaxy S6 Edge.
Press and hold the Volume Up, Home and Power keys together.
When the device powers on and displays 'Power on logo', release all keys and the Android icon will appear on the screen.
Wait until the Android Recovery Screen appears after about 30 seconds.
Using the Volume Down key, highlight the option, 'wipe data/factory reset' and press the Power key to select it.
Press the Volume Down button again until the option 'Yes — delete all user data' is highlighted and then press the Power key to select it.
After the reset is complete, highlight 'Reboot system now' and hit the Power key to restart the phone.
Problem 6: Galaxy S6 stuck in boot loop
Bootloop
Can't enter recovery mode, sometimes it can if battery charge is below 10%
Had done clear cache and factory reset in Recovey mode
Can revert to stock firmware, however an update image shows its stuck at 32% and after that phone enters bootloop
Problem started after my girlfriend installed an app about editing pictures
Had rooted phone using Kingroot before
Please help… I already followed all tutorials available online on how to fix bootloop but none worked. — Excalibur
Solution: Hi Excalibur. Try flashing the bootloader and see what happens from there. If that won't fix the issue, nothing will.
Problem 7: Galaxy S6 can't download apps, install updates, or open apps when wifi is on
Hi there! Love my Androids and recently moved from a Galaxy S4 to the S6. So far, I am happy with the phone, except for one thing: I cannot seem to download apps/install updates/do anything when connected to a strong wifi signal.
The phone indicates that the phone is connected fine (and it's the same wifi I've used for years on the old phone without an issue). Yet, if I try to send an email, download an app, I must turn OFF wifi in order for the action to be completed. Help! — Linda
Solution: Hi Linda. There may be a software glitch causing the problem. We suggest that you do two things. One is to wipe the cache partition to force the phone to build a new system cache, and two, to factory reset if the first one won't work.
Here are the steps on how to wipe the cache partition:
Turn off the device.
Press and hold the following three buttons at the same time: Volume Up key, Home key, and Power key.
When the phone vibrates, release the Power key but continue to press and hold the Volume Up key and the Home key.
When the Android System Recovery screen appears, release the Volume Up and Home keys.
Press the Volume Down key to highlight 'wipe cache partition.'
Press the Power key to select.
When the wipe cache partition is complete, 'Reboot system now' is highlighted.
Press the Power key to restart the device.
Refer to the steps above on how to factory reset your S6.
Problem 8: Galaxy S6 can't receive SMS from some contacts
I used to own a Samsung S3. I loved it but then I noticed I wasn't receiving texts from certain people. I thought it was because the phone was old. I got an iPhone 5 and no more issues with receiving texts, BUT I hated the phone. I gave it to my younger son and bought a Samsung S6. Guess what, I don't receive texts again, specifically not from O2 or Vodafone users. I'm with Three by the way. They receive my texts but I don't get theirs unless they're very short. So the problem is intermittent but I think I've narrowed it down to being in part due to length of text and in part specific network providers. This issue has caused me no end of problems. I've almost lost friends over it. People think I'm ignoring them! I've had a new SIM card and umpteen conversations with Three. Can you help? The interesting thing is it's happened with two different Samsung phones but not the iPhone I had in between (same number throughout). Can you help? — Hilary
Solution: Hi Hilary. This kind is issue is best addressed by your carrier than by third party support teams like us. The most that we tell you is to try basic device troubleshooting such:
clear the cache and data of messaging app
wipe the cache partition
using another messaging app
perform a factory reset
Other than these, the rest of the support should come from your carrier's technical support team. They should be able to help you check if there are blocks in place causing the problem, or if there are other issues on their end.
Problem 9: Galaxy S6 Bluetooth keeps disconnecting
I recently received a FitBit Blaze for my birthday and have struggled to get it paired with my Samsung Galaxy S6. During the setup, I lost Bluetooth connectivity and had to complete the setup through my laptop. Since that point, I have been able to pair my device a couple times, but the Bluetooth on my phone repeatedly shuts off. I am only able to turn it on after restarting my phone, and even then, it shuts back off after a few minutes. — Kat
Solution: Hi Kat. Bluetooth functionality is often one of the most reliable connection in a Galaxy phone so there must be a bug causing it to not work properly. Try wiping the cache partition first. If that won't work, head over to Settings>Apps and delete the Bluetooth app's cache and data (complete steps provided above). If the problem remains after that, create a back up of your data and factory reset the device. That should take care of the problem.
Problem 10: Galaxy S6 can't make calls or send and receive SMS
Hello. On Friday my phone random stopped working. I have called AT&T and Samsung, the Samsung repair store and Best buy. Samsung says I have to bring my phone to them in Texas to have them look at it but that is impossible.
So I have been searching for a long time for help. The phone shows Data, and Bars, but will not make or receive calls, will not send or receive texts, and will connect to data. After troubleshooting with AT&T I no longer so have any network connection. Any advice would be helpful, I have been on your site for a while and tried several other tips you gave others, but nothing helps. — Amy
Solution: Hi Amy. If you've around our website for some time, you'll notice that most of the time, our solutions are all software related. A lot of times we recommend that users simply do a factory reset if all else fails. That's because there's only so much that you can do in an Android device. Factory reset is the most drastic solution that we often suggest, especially if we think that the problem is due to a software bug. Yours may be due to a software issue as well. If you haven't tried our usual dose of troubleshooting like the ones we mention above, send the phone to Samsung so the hardware can be checked. Anything that cannot be fixed by factory reset must be caused by bad hardware, or a very serious coding problem. Either way, you either have to send the phone in for repair or replacement.
Problem 11: Galaxy S6 sync not working properly
Initially, I thought I had a problem with the syncing of my Google mailboxes. Mails were not dropping on the phone. I kept having to refresh the mailbox manually before mails will drop. I followed your directions and wiped the cache, issue persisted. I then noticed that the issue was not with my mailbox alone. Tweets don't drop, Skype pings are very irregular and same with Whatsapp. Sometimes I see no internet notice in my Skype thread page while fully connected to wifi. The issue is same either on my work wifi or at home. Same with my mobile data. Please help! I am very frustrated. — Kelden20
Solution: Hi Kelden20. This issue may stem from a master sync issue. If the Sync button in the status has always been on throughout this time, do a factory reset to fix the problem. Also, make sure that your operating system is fully updated to minimize possible bugs that can lead to problems.
If you have lots of third party apps, it may also pay if you observe how sync works in your phone by booting it to safe mode. Let the phone run in safe mode for at least 2 full days so you'll notice any difference. If sync works properly while safe mode is on, one of the apps must be to blame.
Keep in mind that third party apps you're having problems with like Skype, Twitter, or Whatsapp will not work at all when safe mode is enabled so you'll not receive any notifications for them.
Problem 12: Galaxy S6 keeps restarting on its own due to bad battery
So I've dropped my phone numerous times and it finally cracked. There have been no problems until recently. All of a sudden my S6 freezes in the middle of using it and restarts. Sometimes when I turn it back on the battery percentage has decreased a large amount and most of the time the percentage is 0. For example it could be at 80% battery life but then it restarts and when it turns back on its at 0%.
Also, I've noticed that everytime before it turns off, the cell signal bar loses all connection. That's how I know it's going to restart. I'm not sure what's going on I can't seem to find anyone else with the same problem online. I'm pretty sure it's a bad battery but I'm going to try to back up and reset the S6 before I go out and replace the battery. Note that I've also tried clearing the partition cashe and removing the sim card, nothing worked. — Ethan
Solution: Hi Ethan. If the phone's battery no longer holds enough charge to keep the phone stay long enough to back up your files, there's nothing much that you can do. Battery malfunction is considered hardware failure and there's no software trick that can fix it except battery replacement.
---
If you are one of the users who encounters a problem with your device, let us know. We offer solutions for Android-related problems for free so if you have an issue with your Android device, simply fill in the short questionnaire in this link and we will try to publish our answers in the next posts. We cannot guarantee a quick response so if your issue is time sensitive, please find another way to resolve your problem. 
If you find this post helpful, please help us by spreading the word to your friends. TheDroidGuy has social network presence as well so you may want to interact with our community in our Facebook and Google+ pages.