This post is one of our answers to our readers who encounter charging, battery, and power problems on their #Samsung #GalaxyS5 devices. Despite being powerful and a truly remarkable flagship smartphone from Samsung, S5s are not immune from the perennial power-related issues so we are expecting more of similar cases in the future.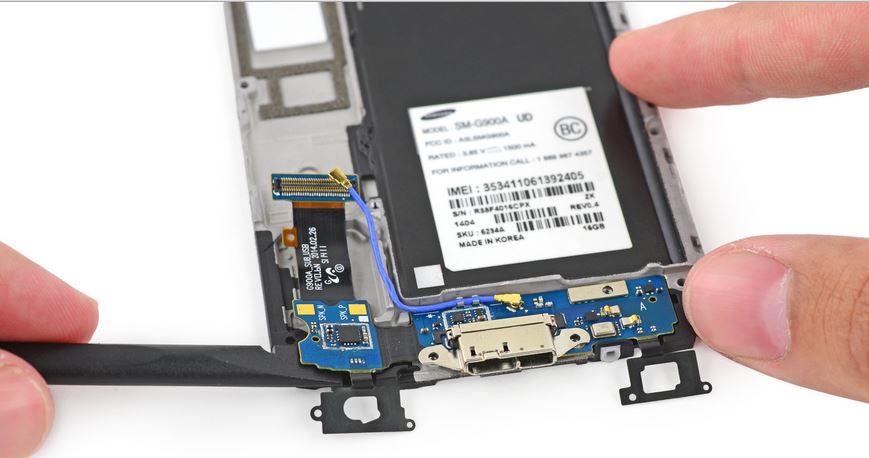 Our article today covers these topics:
If you have #Android issues, you can shared them to us by using the link provided below.
---
Problem #1: Samsung Galaxy S5 keeps getting disconnected when charging
A year ago I got a Samsung Galaxy S5 Active and it was working fine until about a month ago. I started having power issue such as the battery depleting very quickly. I also noticed that whenever I plugged my phone in to charge the display would give me a "disconnected" message shortly thereafter with an audible beep. I would wiggle the cord around and it would go back to charging. I ended up replacing the cord with one of better quality, thinking that was the issue.
The battery draining became more pronounce so I started uninstalling apps. The battery still drained. The next thing I noticed was that the battery was depleting faster than it was charging. Even when it was plugged into the wall, it depleted faster than it charged with normal checking email or Web browsing. Thinking that perhaps it was the battery I got a brand new one (not a cheapy kind, but an actual Duracell Ultra).
The battery STILL drained incredibly quickly so I did a complete factory reset.
Fully charged to 100%, at factory settings with no third party apps installed, location, WiFi and Bluetooth off (airplane mode), the battery will be depleted in 1-2 hours with the phone just sitting there doing absolutely nothing.
I'm completely out of ideas. The last thing I was going to do was swap out the charging port, but not sure how that would help the battery drain issue. At most it would help with the constant "disconnected" issue. I've only had the phone for a year and think that it's kind of ridiculous to be having charging issues after 10-11 months of having it. Any help would be appreciated. — Jasmine
Solution: Hi Jasmine. You've done everything on your end and it appears that the problem is not software in nature. One of the probable causes of the problem must be a bad charging port and this happens a lot of time. Because of its function as the main physical point of contact between another device (charging cable), this port runs a higher chance of  becoming damaged from periodic plugging and unplugging.
If the phone is still within warranty, make sure that Samsung repairs or replace the phone. Otherwise, let any qualified technician check the port and replace it if necessary.
Problem #2: Galaxy S5 won't charge when it is on
Hi droid guy. So recently out of the blue my phone decided that it wouldn't charge properly. If the phone is off it recognizes, the charger then goes to another screen with an empty battery and a yellow warning sign. Although if i have phone plugged into charge while I'm using it the charge icon won't be displayed. But what i have found is that after a while of using phone while it is on and plugged in if i turn it off the battery percentage increases as if it is charging. Which leads me to believe it can't be a hardware problem? Is there anything i could do to rectify this? Thank you– Brody
Solution: Hi Brody. You're right. The phone must still be charging but it's either very slow or that the battery discharges faster than the charger can put power into the battery. Try running the phone in safe mode while charging and observer. If you haven't tried booting in safe mode before, here's how to do it:
Turn the device off.
Press and hold the Power key.
When 'Samsung Galaxy S5′ appears on the screen, release the Power key.
Immediately after releasing the Power key, press and hold the Volume Down key.
Continue to hold the Volume Down key until the device finishes restarting.
Safe mode will display in the bottom left corner of the screen.
Release the Volume Down key when you see Safe Mode.
Safe mode prevents third party apps from running so if one of the installed apps is the reason, charging while in safe mode should be normal. Consider removing apps if the problem fails to occur in safe mode.
If the problem remains though, perform a factory reset and observe how the charging works right afterwards. Make sure not to install any third party apps before charging. Many users encounter the same problem after doing factory reset simply because of installing the same set of apps afterwards.
Here are the steps to do a factory reset:
Power down the Galaxy S5.
Press and hold the Volume Up, Home, and Power button together until you see the Android on screen.
Use Volume Down to highlight the wipe data/factory reset option and press the Power button to select it.
Use Volume Down again to highlight Yes – delete all user data and press Power to select it.
Use the Power button to select Reboot system now.
When the S5 restarts it should be completely wiped and ready to set up again
Problem #3: Galaxy S5 takes several hours to charge
This is the problem of my Samsung Galaxy S5 which i have faced from a week back. the phone takes several hours to get fully charged and the charge is finished up to 70 to 60 percent over a night even after all running applications are killed and screen is powerered off. Lets say, the charge is reduced even after not using it.
Ss i mentioned the phone was working right a week ago, but at that time it suddenly didn't charge.
i saw your video and cleaned the charging port and charger with toothpick but it dint charged and from the next day .i tried charging and it got charged but took several hours to get fully charged and these all problem of charge finishing fast even after not using phone starts from then..please help me out. — Rozina
Solution: Hi Rozina. Your case is similar to Brody's above so our suggestion for him should work on your problem too.
Problem #4: Galaxy S5 charges very slowly
Hey this is Sam and I have a Samsung Galaxy S5. I've had it for over a year now and I've updated to the newest 5.0 Lollipop. And I've had my charger for over a year and it doesn't look damaged (well to me it looks fine).
I also have an Android charger but I don't really use it. So the problem is that my phone chargers are really slow or not even at all. While it's charging, I have taken out the battery and put it back and it give me a higher percent in the battery. (Example if its at 21% and its been like for a while, i take the battery out and it gives me like a higher percentage) it usually charges really fast so this is weird. Plus it overheats a lot. I hope you help me. — Sam
Solution:  Hi Sam. This type of problem can be caused a few things including third party apps, corrupted firmware, or a bad battery. To address possible software causes, please follow our suggestions for others above. If booting the phone in safe mode and doing a factory reset won't fix this trouble, try to calibrate the battery. To do that, simply charge the phone until 100% percent and use it until the battery is completely flat to 0%. Do this process twice consecutively to force the battery to regain its normal charging cycle.
Note: battery calibration is recommended to be done only once every 2 or 3 months (assuming that you charge your phone everyday).
For more tips on how to save battery power, please visit our short guide here.
Problem #5: Galaxy S5 no longer boots normally after it got dropped
Dear Droid Guy. I've had my Galaxy S5 for a little over a year now.  And seeing as I am very, very clumsy I dropped it. On concrete. Now, I expected my screen to crack and shatter but that's not what happened. Instead this static screen appeared. It would not do anything. So I did the only thing I could think about. I took out the battery and kinda started compressing it and wiggling the phone itself. Surprisingly enough, it worked. But it didn't wok all the time. I would be using my phone and lock the screen when I was done, but when I would try to unlock it wouldn't work. The touch buttons at the bottom would light up but the screen would remain black. And then I would have to repeat the process to get the damned thing to turn back on. So after doing this for about a year, I decided to factory reset it last night. So I did but when I went to turn it back on it won't let me. I can get it to turn on but it won't let me sign into the phone with my Gmail account.  It keeps saying "In progress" and then nothing happens. I really need to fix this phone because I don't exactly have enough funds to go out and buy a brand new Galaxy S5. So please help me? I would really appreciate it. Thank you for your time.
Sincerely. — Amber 
Solution:  Hi Amber. The Samsung Galaxy S5 screen is made of durable type of glass so it can withstand drops that would otherwise shatter ordinary glass. The things, just like water damage, a drop can lead to ANY problem. That means that users won't really know what happens to a device has been dropped until symptoms start showing up.
If the problem you describe started happening only after that drop, you can assume that some components may not be working properly due to loose connection. Your Galaxy S5 is not shock proof so motherboard parts can become unhinged or disconnected after that drop. Hardware problems may manifest in many guises including failure to boot up properly.
Try booting the phone in recovery mode so you can either try wiping the cache partition or doing a factory reset (if this still possible at all).
Turn off your S5.
Press Power, Volume Up and Home buttons at the same time.
Keep pressing these keys until recovery mode is displayed on your Galaxy S5.
In recovery mode, use Volume Up and Volume Down buttons in order to scroll up and down; also use power button in order to select your option.
You can then reboot into Android by selecting Reboot System Now.
Recovery mode is a special environment that allows a user to perform factory reset and delete the cache partition by using the hardware buttons. If the phone still fails to boot in this mode, you surely must have a hardware issue at hand, which, unfortunately, is beyond our scope of support. Please call Samsung for replacement or repair of your phone right away.
---
Engage with us
If you are one of the users who encounters a problem with your device, let us know. We offer solutions for Android-related problems for free so if you have an issue with your Android device, simply fill in the short questionnaire in this link and we will try to publish our answers in the next posts. We cannot guarantee a quick response so if your issue is time sensitive, please find another way to resolve your problem. 
When describing your issue, please be as detailed as possible so we can easily pinpoint a relevant solution. If you can, kindly include the exact error messages you are getting to give us an idea where to start. If you have already tried some troubleshooting steps before emailing us, make sure to mention them so we can skip them in our answers.
If you find this post helpful, please help us by spreading the word to your friends. TheDroidGuy has social network presence as well so you may want to interact with our community in our Facebook and Google+ pages.