Despite getting lesser introductory fanfare compared to its predecessors, we know that the latest Samsung phablet, the Galaxy Note 5, is going to astonish users. Hardware-wise, the Galaxy Note 5 is a beast so we understand if users are anxious to get their hands on one. Before anything else though, it is important that the phone is set up properly  before using it further. This #GalaxyNote5guide (and the succeeding ones) and is intended for first-time users only and for those wondering what to do next after unboxing this awesome device.
Watch out for more #GalaxyNote5 tutorials in the near future.
If you have any Android question or problem with your Android device, please use the link provided below.
Samsung Galaxy Note 5 front view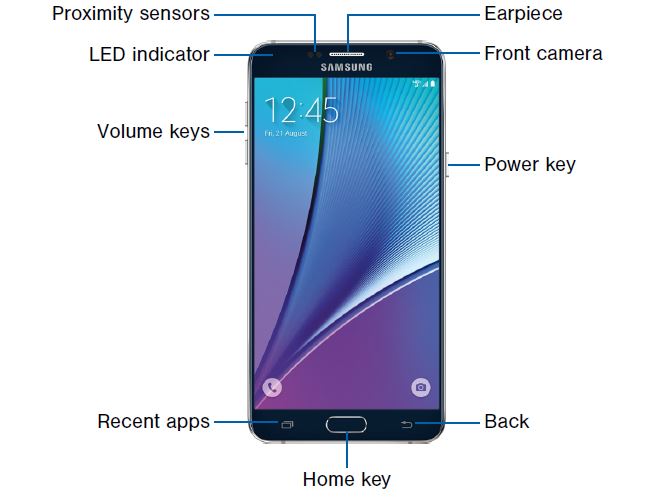 Samsung Galaxy Note 5 rear view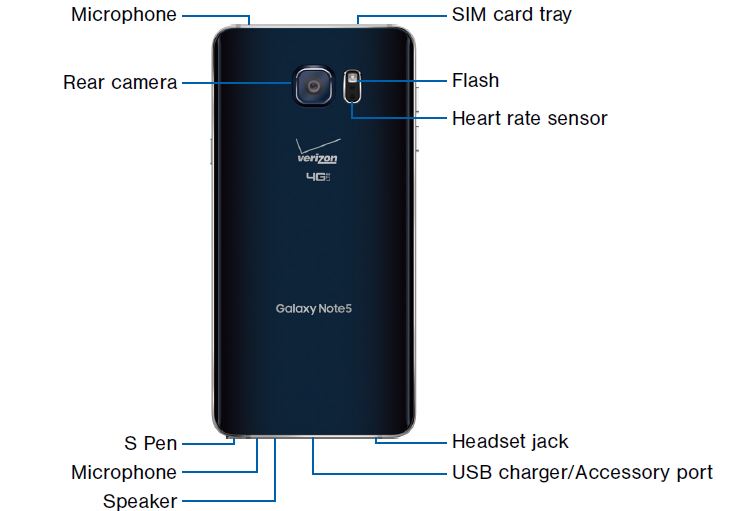 How to install the SIM card on your Galaxy Note 5
If you've own a Samsung phone before, you should have known that putting in the SIM card is the very first thing to do when assembling a brand new device like the Note 5. In this tutorial, we are assuming that you already have the SIM card ready for use. If you have your old SIM card from another device ready, it should also work in your Note 5.
Now, take out the removal tool that came with the phone and use it to pop out the SIM card tray. Simply insert the pointed end of the removal tool at the top left part of the bezel. The outline of the SIM card slot should be discernable. Please refer to the image below for guidance. 
Once the SIM card tray pops out, put the SIM into it and slide it back inside. The metallic contacts of the SIM card should be facing down. This is an important step so make sure this is done correctly. If the SIM card faces upwards, the device won't detect it.
How to charge your Note 5 properly on your Galaxy Note 5
Your newly unboxed Galaxy Note 5 has been charged initially to give you at least 30 minutes of standard setup usage before running out. We recommend that once the SIM card has been inserted, the device should be fully charged before doing any further setup tasks.
Samsung designs your phone to give a sound alarm at regular intervals when there's only a few minutes of battery power left. If you hear the sound alarm, make sure that you charge your phone first before proceeding to any other preparations you are doing.
If the phone's battery is low, the screen will be dimmed to conserve energy. Don't panic as this is normal.
A full charge battery indicator is symbolized by a solid color battery icon on the notification bar.
The Samsung Galaxy Note 5 is equipped with fast charging capability so you want to take advantage of it. Make sure that you use the Adaptive Fast Charging charger that comes in the box to initially charge the phone. While a standard Samsung charger may work in this case, we recommend that you use the fast charger so the charging time will be quicker. To charge your phone, just follow these steps:
Gently insert the USB cable into the charging port as shown. 
Assemble the charger by connecting the charging cable to the charging head, then plug the charging head to your wall outlet.
Wait until charging is done and unplug the charger from the wall outlet and the phone.
---
Engage with us
If you are one of the users who encounters a problem with your device, let us know. We offer solutions for Android-related problems for free so if you have an issue with your Android device, simply fill in the short questionnaire in this link and we will try to publish our answers in the next posts. We cannot guarantee a quick response so if your issue is time sensitive, please find another way to resolve your problem. 
When describing your issue, please be as detailed as possible so we can easily pinpoint a relevant solution. If you can, kindly include the exact error messages you are getting to give us an idea where to start. If you have already tried some troubleshooting steps before emailing us, make sure to mention them so we can skip them in our answers.
If you find this post helpful, please help us by spreading the word to your friends. TheDroidGuy has social network presence as well so you may want to interact with our community in our Facebook and Google+ pages.