Hello #GalaxyJ7 users! Welcome to our new troubleshooting series that addresses issues regarding the Galaxy J7. We hope that the solutions in this post will help not only the users mentioned here but others that are experiencing similar issues as well. We will be posting more of the same posts in the near future so keep watching.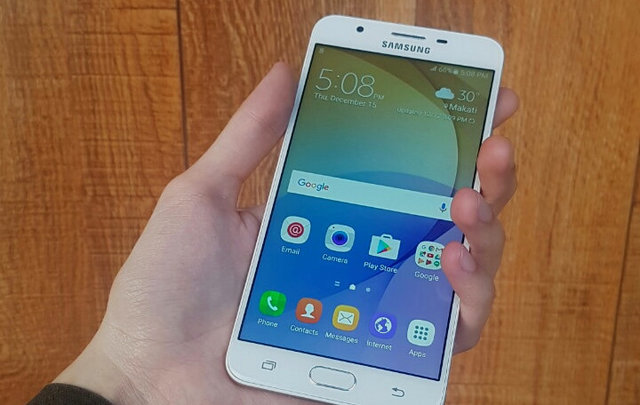 If you are looking for solutions to your own #Android issue, you can contact us by using the link provided at the bottom of this page.
When describing your issue, please be as detailed as possible so we can easily pinpoint a relevant solution. If you can, kindly include the exact error messages you are getting to give us an idea where to start. If you have already tried some troubleshooting steps before emailing us, make sure to mention them so we can skip them in our answers.
Below are specific topics we're bringing for you today:
Problem 1: Galaxy J7 getting delayed SMS
My phone is delayed in receiving text messages some times. It's never too much, at the most half an hour, but it's still rather inconvenient. I really only text with one person, so I'm not sure if it's an issue on my end or his. It's his texts that delay, I don't think mine do. Sometimes for about half an hour I won't receive any texts from him, but he is still getting everything I send over that span of time. Then suddenly I get all the texts he's sent that I hadn't been getting. Or sometimes it's just one text that will delay; we'll be having a conversation then a text he sent 10 minutes ago will finally send. What can I do about this? I've restarted my phone plenty, taken the battery out, and it hasn't helped. Device is a Galaxy J7, carrier I'm pretty sure is Straight talk. — Kaitlyn
Solution: Hi Kaitlyn. You should try to wipe the cache and data of your messaging app. This will address any possible bug that may be in your messaging app. Try to delete the cache first and observe how messaging works for 24 hours. If that won't work, proceed with Clear Data. Here's how:
Open the Settings menu either through your notification shade (drop-down) or through the Settings app in your app drawer.
Navigate down to "Apps". This may be renamed to something like Applications or Application Manager in OEM skinned versions of Android 6 or 7.
Once in there, click on an application.
You'll now see a list of stuff that gives you information about the app, including Storage, Permissions, Memory Use, and more. These are all clickable items. You'll want to click on Storage.
You should now clearly see the Clear Cache and Clear Data buttons for the application.
There's really nothing much that you can do on your end to fix an SMS problem. Device troubleshooting is very limited and there's nothing to change since apparently  SMS function is working. If the issue will continue after clearing the cache and data of the messaging app, contact your carrier for support.
Problem 2: Galaxy J7 uses up all remaining storage space, apps won't load
My J7 did a software download which completed, installed and optimised all applications. Subsequent to completing all my free storage space started to disappear. As quickly as I deleted apps, images and music, it got used up until all 1.6 GB was used. I could not use any apps. Tried removing the battery and restart. Phone boots to the Samsung name and after a while reboots while chewing up power very quickly. Did a recovery start and erased cache. Did not work. Did a factory reset and that did not work. I am at a loss in terms of what to do next. tried downloading bootloader but it has been saying it is downloading for over an hour. I believe it is hung. — Jefft104
Solution: Hi Jefft104. Like you, there's no way for us to know what's going on with your device since there's not much information you provided. The fact that the phone won't even do a factory reset is a bad sign though. It can mean that the bootloader may be corrupted, or there's a software glitch causing system to behave erratically. If your issue is similar to this one, your only option may be to flash the bootloader and firmware. Just ignore the downloading bootloader option as that won't help. Restart the phone by pressing and holding Power and Volume Down for at least 10 seconds, then boot it back to Odin mode. Try to find a good online guide on how to flash the bootloader and firmware for this particular phone model and see how it goes.
For demonstatation purposes, here are the steps on how to flash a bootloader. Keep in mind that the exact steps may vary on your phone model.
Look for the correct firmware for your phone model and download it. Make sure that you select the right one. It should be the same exact firmware that ran previously on your device. We assume that you list down the firmware version somewhere. If you did not take note of it before, there's a chance that you may pick the wrong one. As you may know now, using an incorrect firmware can cause complications so good luck with that.
Let's now say that you have identified the correct firmware. You then want to download it to your computer. The firmware file should have a bunch of files in it like AP_, BL_, CSC_, etc.
Look for the file that starts with a label BL; this should be the corresponding bootloader file for this firmware. Once you've identified the bootloader file, copy it to your computer's desktop or to any other folder that you can easily access.
Proceed with the rest of the flashing procedure using the Odin program.
In Odin, click on the BL tab and make sure to use the bootloader file you've identified earlier.
Now, make sure that the "Device Added" status and its "ID:COM box" has turned blue before hitting the START button. This will initiate the flashing of your phone's bootloader.
Restart the phone once the procedure is finished.
Problem 3: Galaxy J7 won't charge fully to 100%
Hello there. For the last few days, my Samsung Galaxy J7 won't completely charge to 100%. It's only new since March. I first noticed a couple of nights ago that when I plugged it in, it didn't do the little bing alert it does to let me know it was charging. But the battery itself had the charge icon so I wasn't worried. The following morning when I was it was only on 97%. The phone usually fully charges in around 2 hours. I figured I just hit the cable during the night or my toddler unplugged it or something. Then this morning, the same issue. It was only 97% again. I know it's not the worst of problems but it's just a little niggling problem that I'm thinking may get worse over time if I don't fix it Any help would be appreciated 🙂 — Ciara
Solution: Hi Ciara. Try to recalibrate the battery and everything should be fine. Here's how it's done:
Use the phone by playing games or doing tasks to hasten power discharge, until the phone turns itself off.
Turn the phone on again and let it turn itself off.
Charge the phone without turning it back on.
Wait until the battery says it fully charged to 100%
Unplug the charger and turn the phone on.
If the phone says it's not 100% anymore, turn it off, plug the charger back in and wait until 100% charge is reached.
Unplug the charger the turn the phone on again.
Use the phone until you drain the battery down to 0.
Repeat the cycle once.
If battery recalibration won't help, back up your important files using Smart Switch and do a factory reset.
From the Home screen, tap the Apps icon.
Tap Settings.
Tap Backup and reset.
If desired, tap Back up my data to move the slider to ON or OFF.
If desired, tap Restore to move the slider to ON or OFF.
Tap Factory data reset.
Tap Reset device.
If you have screen lock turned on, enter your PIN or password.
Tap Continue.
Tap Delete all.
Problem 4: Galaxy J7 showing green vertical line on the screen
Hey there! Thanks for taking the time to read my problem. I've got a Samsung J7 running LineageOS 13 (Android 6.0.1). I've got a green line running down my screen about 1 to 2 pixels wide. It does not affect usage of my device in any way. The line shows up even in bootloader and TWRP Recovery. However due to the design of AMOLED screens this line does not appear when black color is being displayed such as when using BlackPlayer EX. I've attempted to return to the stock Samsung ROM as well as factory reset and RessurectionRemix Nougat. Is it possible to get this line fixed up? Thanks! — Adarsh
Solution: Hi Adarsh. If this green vertical line appears in Recovery and normal mode, you're dealing with a hardware issue possibly due to a physical damage. If you want to fix it, have the screen replaced. There's no amount of software tweak that you can do to solve a bad hardware.
Problem 5: How to recover files from a corrupted SD card in a Galaxy J7
I've had SD card installed since purchased, no problems. Think after recent system update this has started, but most recent pics in gallery show up as grey with the exclamation point. I've read thru info here and done the following: soft restart, removing battery & SD at least 10 seconds, wiping cache and starting in safe mode. Nothing brings photos back and i don't know what next step is. Recovery software? Side note, two photos in my gallery show the picture but half of it is solid gray. This is weird to me. — Ticialacollins
Solution: Hi Ticialacollins. The troubleshooting steps you mention here won't bring your photos back. Yes, you need a recovery software for that, if there's anything to be recovered at all. Recovery software are mostly proprietary and are only available to companies specializing in digital forensics. If you think those missing files are worth a few hundred dollars, try scouring the web for reputable companies that can help you recover your files.
While searching, make sure not to use your phone or SD card. If possible, turn the phone off and do not remove the SD card. Just leave everything in place to avoid something from overwriting sectors that may still contain relevant information.
Problem 6: Pre-owned Galaxy J7 can't detect network signal
Respected sir. I bought a second hand Samsung J7 prime, and phone looks good and works good. but i came home and inserted a 4G SIM card and it  doesn't work. It does not show the network. then i check network setting, but it does not have 4G LTE option in network setting. I checked online and use *#*#4636*#*# and other option too.. but it dosesn't work. Please reply with solution as soon as possible. Thanks and regards. — Pratik
Solution: Hi Pratik. There are a number of possible reasons why the phone does not detect your network. Here are they:
Phone was never network unlocked. Samsung devices, except those built for the global or international market, are usually locked to a certain carrier's network. For example, although of the same model, some phones are built for AT&T while a similar ones for T-Mobile. The network function of a phone built for AT&T network may not work when you insert a T-Mobile SIM card to it. It must be network unlocked first before you can use a different SIM card to it. You should have asked the previous owner if the phone was network unlocked in the first place.
There are things called CDMA and GSM. CDMA and GSM are the two most popular networking technologies being used by most telephone companies around the world. If your J7 was built for a CDMA network like Verizon or Sprint and you try to use it in a GSM network, it may not work. Aside from making sure that it's network unlocked, you also have to ensure that it can work in a different network type like CDMA or GSM.
Phone's hardware may not be compatible with your current network. Every carrier operates in a particular radio frequency. If your phone's network chip is designed to work in a different set of radio frequency not being used by your carrier, it will not receive any signal at all.
Due to space limitation in every post, we can't dwell on more details about these items so our advice to you is to know more about your phone so you'll know if there's any incompatibility issue causing the problem. Better still, try to talk to your carrier and see if their technical support team can walk you through some things, especially in checking the details of your phone.
Problem 7: Galaxy J7 won't turn on
I have a Samsung Galaxy J7. I can't turn it on or reboot or anything, it's just a black screen. I've tried pulling out the battery, charging it, etc. and nothing has worked. I have even tried plugging it into my computer to charge and nothing comes up on the screen to say that I even plugged it in. Could it be my battery, USB cord, or charger? This happened before when I had an iPhone and they said that I had overcharged it too many times but I'm not sure it's the same case. Thanks! — J.taylor.4004
Solution: Hi J.taylor.4004. To know what's the reason for this problem, you need to narrow down the possible causes. Telling us that your phone won't turn on does not really give us any idea where the issue may lie. You should have included other relevant details that may have led to the issue.
The usual causes of an issue like this includes the following:
defective USB cable and/or charging port (that's why the phone won't charge and appears not to power on)
bad battery
damaged charging port
malfunctioning screen assembly (for the black screen issue)
other unknown hardware errors (other serious motherboard problem)
We want you to go over the list above and check each one. We know you can't directly test the charging port, screen assembly, and the motherboard so if using a different charger/cable and battery won't fix the problem, send your phone in for repair or replacement.
Problem 8: Galaxy J7 stuck in Samsung logo screen
After a software update was downloaded, I selected install updates. The green Android robot appeared and counted from 1 to 100. Then the Samsung logo kept on flashing with brightness changing from bright to dull for about 3 hours. I did some research then tried to reboot the phone until it eventually gave me option to go to download mode. It was on that screen for about six hours and my phone was heating up. I removed my battery and it returned to the flashing Samsung logo screen. — Wykunjwa
Solution: Hi Wykunjwa. Boot the phone to Recovery mode, then wipe the cache partition first. If nothing will change afterwards, make sure to do a factory reset.
Below are the steps on how to restart your phone to Recovery mode:
Charge the phone for at least 30 minutes.
Make sure the phone is turned off by removing the battery for at least 10 seconds before putting it back in.
Press and then hold the Home and Volume UP keys, then press and hold the Power key.
When the Samsung Galaxy S7 shows on the screen, release the Power key but continue holding the Home and Volume Up keys.
When the Android logo shows, you may release both keys and leave the phone be for about 30 to 60 seconds.
Using the Volume Down key, navigate through the options and highlight 'wipe cache partition.'
You can either wipe the cache partition or do a factory reset when in this mode.
Problem 9: Sound keeps cutting off when headset is connected to Galaxy J7
Hi. Having sound issues on my Samsung J7. Sound is fine without headphones. With headphones, it cuts out permanently. I can just hear background noise but no speech. I've removed the battery, done a factory reset. These haven't worked. My headphones work fine on other devices. Please help. Thanks. — Arvindaucharaz
Solution: Hi Arvindaucharaz. In a lot of cases, an issue like this is due to a malfunctioning headset port. Try nudging or turning the headset plug to see if you can remedy the situation that way. If that won't work, try using another headset. Sometimes, a head plug may not fit properly in the port causing poor or no contact at all. If this workaround won't work though, we're afraid you have to revert to more drastic solutions like opting for a wireless headset or having the phone replaced entirely.
Problem 10: Galaxy J7 System UI has stopped error
My Samsung Galaxy J7 keeps saying System UI has stopped working everytime I try to recored my phone screen or stream it. it started happening after I accidentaly deleted mobizen for Samsung. Please help me. — Donovan
Solution: The best solution for a System UI-related error is factory reset. If you haven't tried that, make sure that you do. Here's how:
Back up data on the internal memory. If you have signed into a Google account on the device, you have activated Anti-theft and will need your Google credentials to finish the Master reset.
Turn off the device.
Press and hold the Volume Up key and the Home key, then press and hold the Power key.
When the device logo screen displays, release only the Power key
When the Android logo displays, release all keys ('Installing system update' will show for about 30 – 60 seconds before showing the Android system recovery menu options).
Press the Volume down key several times key to highlight 'wipe data / factory reset.'
Press Power button to select.
Press the Volume down key until 'Yes — delete all user data' is highlighted.
Press Power button to select and start the master reset.
When the master reset is complete, 'Reboot system now' is highlighted.
Press the Power key to restart the device.
---
If you are one of the users who encounters a problem with your device, let us know. We offer solutions for Android-related problems for free so if you have an issue with your Android device, simply fill in the short questionnaire in this link and we will try to publish our answers in the next posts. We cannot guarantee a quick response so if your issue is time sensitive, please find another way to resolve your problem. 
If you find this post helpful, please help us by spreading the word to your friends. TheDroidGuy has social network presence as well so you may want to interact with our community in our Facebook and Google+ pages.