The #Samsung Galaxy #S5 is one of the smartphone models available in the market today that has a good battery endurance rating. Several tests conducted on this device shows that a full charge can provide an average of 27 hours of 3G talk time, 9 hours of web browsing, and 11 hours of video playback. This are very good numbers and should please moderate to heavy smartphone users.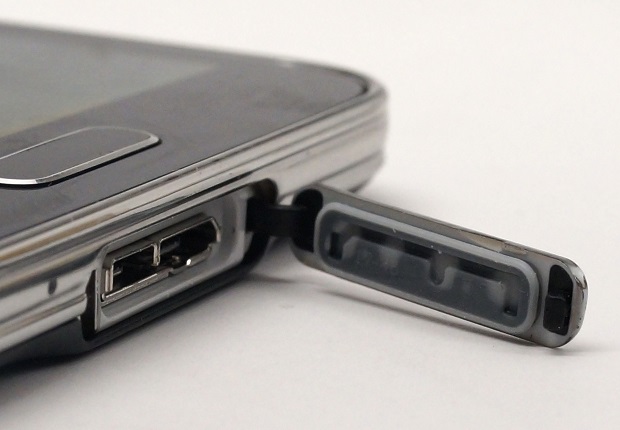 Once the battery power gets drained the first thing that any phone owner would do is to charge the device. There are however times when the phone won't charge. Fixing the Samsung #GalaxyS5 that does not charge is what we will tackle in our latest troubleshooting series.
If you own a Samsung Galaxy S5  or any other Android device for that matter then feel free to contact us using this form. We will be more than happy to assist you with any concern that you may have with your device. This is a free service we are offering with no strings attached. We however ask that when you do contact us try to be as detailed as possible so that an accurate assessment can be made and the correct solution can be given.  
If you would like to browse the previous parts in this series then check out this link.  
Aside from sending us an email you may also reach us at our Facebook and Google+ social media accounts.
S5 Does Not Charge
Problem: Hi, my name is Kayla and I was just wondering if you had a solution to my problem. I have the galaxy s5 and I came home yesterday 9/09/2015 and went to charge my phone but it wouldn't work, I tried multiple chargers and it did not work. When my dad charged his phone to see if the charger would work, it worked and he charged it back in my phone and it charged. Later it died again, It wouldn't charge, I took my battery out for the whole night ( 10:00p.m-6:30a.m) and the next morning It started charging but it charged very slowly, so it died during the day at school, and now as I am typing this it won't charge anymore, the charging symbol just keeps coming on but it will not charge.
Related Problem: The phone doesn't want to charge.  The battery drained very quickly today and now won't charge. I tried your suggestion above and it didn't work.  I have tried other phones on the charger and the charger works. It's definitely the phone.  Could it be the port? Should I backup my information? What do I do now? What could the problem be? Who do I take the phone to?
Solution: From what I can see of the problem it looks like the charger works fine as it can charge your father's phone without any issues. Let's concentrate our troubleshooting on the phone itself. What you need to do first it to check the charging port of your phone for any signs of dirt or lint. The presence of such particles can affect the charging process. If necessary, you should clean the charging port using a can of compressed air or cotton bud dipped in alcohol.
Next, take out your phone battery then press and hold the power button for at least a minute. This discharges the phone circuit and clears out its RAM. Reinsert the battery then check if your phone can charge normally.
If you are still having a charging problem then proceed with wiping the cache partition of your phone followed by a factory reset if wiping the cache fails. Make sure to backup your phone data before performing this procedure as it will be deleted in the process.
If the problem still persists then try replacing your battery and if that does not resolve the issue you should bring your phone to an authorized service center and have it checked.
S5 Use Original Samsung Charger Error
Problem: I woke to my phone working fine, no errors, no issues, working just fine.  It was plugged into the factory s5 data/charger plug which was plugged into the usb outlet plug.  All was working fine and it was showing a full charge.  When I went to use the phone, again still plugged in, it gave me a lengthy message stating to use the original factory samsung charger that came with the phone and that charging of the phone has been disabled.  A red x appeared in the upper right corner and it would not charge the phone.  The battery would slowly go down for the next few hours.  I tried ever single charger I had that I have used with this phone that has worked, not one charger worked on it.  None.  I tried other samsung chargers at work and none worked except for one s6 one for about 30 minutes that allowed a quick charge to 50% but then the error message came back along with the red x.  I also am getting a reminder to check to make sure the battery cover is properly sealed all the time now along with the charger plug cover, which btw has not been attached to the phone since summer 2014 when it broke.  I've done a full cache wipe, restart, pulled the battery numerous times.  What are my options at this point?  I really don't want to do a full reboot and lose all the installed apps, contacts and such.  Last time i did this the phone said it had successfully backed everything up and it did not.
Related Problem: Hi, I bought s5 on nov. 2014 but still it is constantly showing charging issue. It keep saying use original charger while I use original only.
Solution: Samsung has introduced a failsafe system into this model that detects if the proper amount of charge is being provided by the charger to the phone battery. If the original wall charger and USB cable is used then the phone charges normally. If a third party charger is used then the error message may appear. This error message may also appear even if the original charger is used. If you have checked that your charger working with other Samsung devices then the problem may be with your phone.
The first thing you should do is to check your phone charging port for any signs of dirt or lint. Clean it if necessary using a can of compressed air or cotton bud dipped in alcohol.
If the problem still persists then the chances that your phone has a faulty charging port is high. I say this because your phone is also getting the reminder to check the battery cover and the charger plug cover.
Before bringing your phone to an authorized service center for checking I suggest you backup your phone data first then do a factory reset.
S5 Shuts Down When Unplugged From Charger
Problem: My phone shuts off whenever I unplug it from my charger.
Solution: If your phone turns off when unplugged from the charger the first thing you should suspect is that the battery of your phone has gone bad. Try getting a new battery first and check if the issue still occurs.
Feel free to send us your questions, suggestions and problems you've encountered while using your Android phone. We support every Android device that is available in the market today. And don't worry, we won't charge you a single penny for your questions. Contact us using this form. We read every message we receive can't guarantee a quick response. If we were able to help you, please help us spread the word by sharing our posts with your friends.