In this post, I addressed some system related problems with the #Samsung Galaxy S6 (#GalaxyS6) including an issue wherein the system volume automatically turns itself down until the sound icon shows an X on it.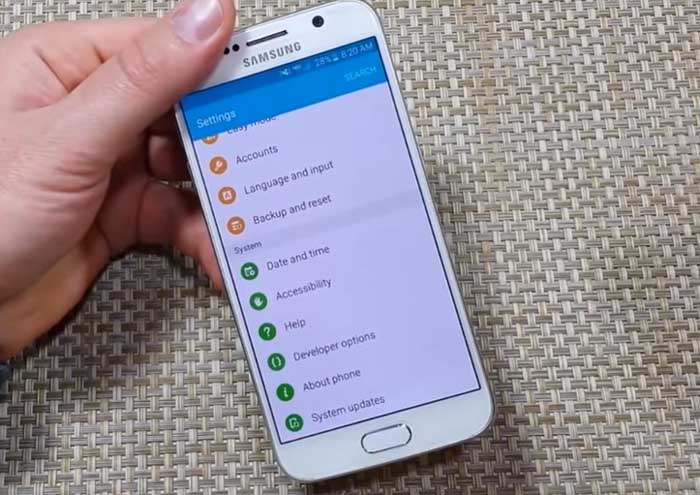 Continue reading to know about other problems and learn how to fix them in case they happen to you. Here's the list of the problems you can find in this article…
For those who have other issues and need further assistance, fill up this form and provide all necessary details about the problem. You may also browser through our S6 troubleshooting page and find issues that are similar to yours to be guided accordingly how to deal with them.
---
Galaxy S6 automatically turns down system sound volume
Problem: I have had the phone 10 days.  About 5 or 6 times the volume has gone to the status where there is a line through the sound sign.  I can only return it to the sound setting I have set by turning the phone totally off.  I miss calls or try to make a call and can't hear the person.  That is how I know it has automatically turned down.  I don't know if this would be classified as a sound or system problem.
Answer: To know whether it's a third-party app or pre-installed that's causing this, boot your phone in safe mode and observe further.
Turn off your Galaxy S6.
Press and hold the Power key.
When 'Samsung Galaxy S6' appears, immediately release the Power key and then press and hold the Volume Down button.
Continue holding the Volume Down button until the phone finishes the restart.
When you see Safe Mode on the lower left corner of the screen, release the button.
If it was caused by a third-party app, it shouldn't occur in safe mode but if it does, there's one more thing I want you to check before doing the master reset: check the Volume Down button as it might be stuck or something.
Assuming the cause of the problem is neither a third-party app nor a stuck Vol Down key, then it's time you do the reset before sending it in for repair:
Turn off your Samsung Galaxy S6.
Press and hold the Volume Up, Home and Power keys together.
When the device powers on and displays 'Power on logo', release all keys and the Android icon will appear on the screen.
Wait until the Android Recovery Screen appears after about 30 seconds.
Using the Volume Down key, highlight the option, 'wipe data/factory reset' and press the Power key to select it.
Press the Vol Down button again until the option 'Yes — delete all user data' is highlighted and then press the Power key to select it.
After the reset is complete, highlight 'Reboot system now' and hit the Power key to restart the phone.
I hope this helps.
Galaxy S6 freezes if the SIM card is in
Problem: It always freezes and cannot be shut down with the power point, it has to be off by pressing the down volume and the power at the same time. now I removed the SIM card  its been working fine and it has not gone off for 3 days now. I have tried to factory reset but it keep freezing. once the SIM card is in it keeps freezing
Answer: If it were a SIM card problem, you must get some kind of errors relating to the SIM card itself. But there are also times when the SIM card is defective but the phone is still detecting it and even getting a service from the network. If you're 100% sure the phone freezes if the SIM card is in, then call your provider and request for a SIM card replacement.
Galaxy S6 attempts to update firmware always failed
Problem: The system update has never worked for this phone. It fails to update every time. I have just learned to ignore it. I have had the phone since November 2016. While updating the little android symbol tips over while showing the Yellow alert triangle. the system restarts then displays a message that the system has failed to update. I keep getting the update system notification but the system will not update.
Answer: I do get the feeling that you haven't tried updating the device using other methods. For instance, it's easier and quicker to update the device using Smart Switch, although you need a computer for it.
Download Samsung's Smart Switch for computers and run it, then connect your device and click the Update button.
You can also perform and factory reset and then try to update the device via Settings again.
Music apps close on their own without apparent reason
Problem: Listening to music in amazon music or milk and after various amounts of time (3-10) minutes, playlist and what ever music app being used d will shut off and go back to end all process menu (like when you hold down the left bottom key for 3 seconds) or back to a process previously used. I've tried removing various different apps, white listing all music apps in task killer, nothing works. Even happens while listening through bluetooth.
Answer: Make sure the button on the left of the Home key isn't pressed. I don't think it's an app issue but could never be sure. It's wise to boot your phone in safe mode and wait until the same thing happens. If it stopped, then there's a third-party app that causes it but if it doesn't occur, then it must be that the button is pressed. You need a technician to do further observations.
Gear VR warning always pops up
Problem: I have downloaded this app around Christmas. It was working perfectly fine up until recently when it started showing that it is connecting to the Samsung VR without me having it actually connected to the headset. I rebooted my phone, restarted it. Formatted it back to the regular setting and it still wants me to download the app. It goes all day long telling me to download the app. or showing that its trying to connect.
Answer: Using a toothpick, try to clean out the microUSB port in your phone; there must be some debris or lint that bridges the pins making the phone to think the VR headset is connected. If it persists though, download Package Disabler from Play Store and disable all VR related packages in your phone. It's not the best solution but it's helpful especially that we don't know what causes it.
Connect with us
We are always open to your problems, questions and suggestions, so feel free to contact us by filling up this form. This is a free service we offer and we won't charge you a penny for it. But please note that we receive hundreds of emails every day and it's impossible for us to respond to every single one of them. But rest assured we read every message we receive. For those whom we've helped, please spread the word by sharing our posts to your friends or by simply liking our Facebook and Google+ page or follow us on Twitter.