Have you recently experienced an issue wherein the screen of your Samsung Galaxy S6 (#Samsung #GalaxyS6) turns black with a little white 'X' at the lower-right corner? If so, then you're one of the many owners who already complained about this.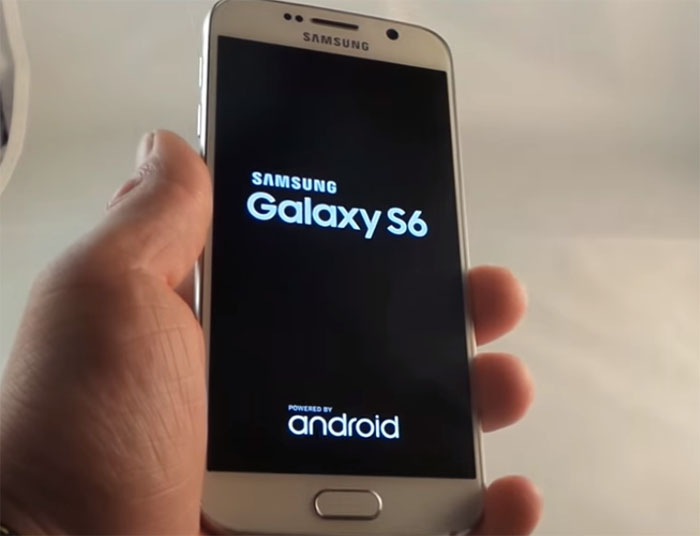 The fact is this problem can be fixed but sometimes it's very frustrating if the phone doesn't respond. When this problem occurs, your phone seems to freeze that you can't even turn it off. Others fixed it by connecting the phone to a computer or plugging in the charger but it doesn't work every time. So, read on to know how to tackle this problem.
Here's also the list of other problems I cited in this article…
For other problems, visit our troubleshooting page for the Galaxy S6. We already addressed a lot of issues since we started supporting this device. So, there's a chance your problem has already been answered. Or, you can just fill up this form and hit submit to contact us directly in case you need further help.
---
Galaxy S6 screen is black with white 'X'
Problem: My device just shows a black screen with a 'X' in the top right corner which when I push doesn't close off the screen or anything, I've tried holding the home & off screen together along with those 2 buttons & the volume keys I've plugged it into the charger & computer & still no change. Help! Please. Kind regards.
Answer: If this problem happened after the mandatory Gear VR app installation, then a reboot should fix this problem. The worst case scenario, however, is for you to do the master reset should reboot doesn't work. But your problem here is that the phone won't even turn off, right?
I understand you already tried a lot of key combos to no avail but keep trying to press and hold the Volume DOWN and Power buttons for 15 seconds. If that won't work, then you have to other choice but to wait for the phone to drain all its battery.
On the other hand, if the problem occurred after using the VR headset, then just reconnect the phone to it and it should bring up the UI. You can then close it properly.
Galaxy S6 Bluetooth, Smart Lock and GPS issues
Problem:
Cannot CONNECT to a laptop via Bluetooth. Shows PAIRED, but not connected, like with a vehicles bluetooth system. I am blaming Windows 10 for now.
Reason for #1: Trusted Places and certain trusted devices (above) do not work (Using the Smart Lock feature). There are a few tutorials for this problem dating back to Mid-Late 2015 when apparently this surfaced with 5.0, however nothing has helped. 
Changed location setting to use GPS, cellular and WiFi, performed a factory reset, deleted all locations, set new locations, disabled Smart Lock, re-enabled and then set new locations. Still won't work. Have you had many inquiries about this?  Any other suggestions? Thanks.
Answer: Bluetooth issues have always existed with Galaxy devices and while it's an obvious issue, Samsung hasn't provided solutions or even workarounds. They can always get away with it as it's always viewed as one of "compatibility issues." I understand your problem as I always encountered it with my phone and laptop but with Windows 7, there is always this option to "always allow this device to connect for all operations" and once checked, everything works. Have you tried using Phone Companion app? Maybe it will work with it.
I was thinking it was just a Bluetooth issue but I think maybe it's a firmware problem. Have you tried updating your phone to Marshmallow? If not yet, please do and see if the phone works fine with the recent firmware.
Galaxy S6 shows "Dm-verity verification failed…" error
Problem: I bought a Galaxy S6 with a bad espn so I fixed it by repairing the imei after that my mobile data on the Galaxy S6 would work for a while then wouldn't work so I searched up on Google how to fix it and it said to wipe cache partition. After doing that I powered the phone done by going volume down to power down. Then turned on the phone using the power button then the phone froze. I went back to system recovery and tried rebooting the system but it just froze again then I tried apply update from ABD but on the button it said update from ADB is disabled then tried apply update from external storage  but it said it was disabled too, I tried apply update from cache and it said APPLY_CACHE is deprecated, and when I tried wipe data/factory reset it worked then I went to reboot system now but it froze again, then I tried reboot to bootloader but froze. And on the bottom in yellow text it says dm-verity verification failed… and right under it, it says need to check DRK first. Please I need your help! Can u tell me what to do?
Troubleshooting: Apparently, the phone is messed up but there's one procedure you could try to fix it–reflash the stock firmware.
I know you are savvy enough to be able to do the things you did with your phone so I won't write the step by step guide here. All you need to do is download Odin and the stock firmware for your phone. Then, boot your device in Download Mode and flash the firmware using a computer.
Peel Smart Remote icon popped up on Galaxy S6 and it freezes
Problem: Something is wrecking havoc. No recent downloads (that I am aware of). The phone froze, I did get it turned off the first time, then an icon popped up, white outline of a phone with vibration symbol. I clicked on it and the phone froze again. I had to do the 2 button forced shut off. That icon has periodically appeared on my home screen and as long as I don't touch it, all is well. What is it?
Solution: The icon is actually a picture of a remote control and the vibration symbol actually means the IR transmission and based on your description, I'm positive you're seeing the Peel Smart Remote icon and yes, it may cause your phone to seemingly freeze.
Since you couldn't recognize the icon, I'm sure you're not using it. Just disable it so it won't cause any more trouble.
From any Home screen, tap Apps.
Tap Settings.
Scroll to 'APPLICATIONS,' then tap Application manager.
Swipe right to the DOWNLOADED / ALL screen.
Scroll to and tap Peel Smart Remote.
Tap Disable.
Galaxy S6 back button brings up the wallpaper, icons loads few seconds later
Problem: Hi, so I've had my galaxy s6 for around 4 months now. And just recently, I've noticed that every time I exit an app using the back button, it will bring me to my wallpaper and the icons will only load a few seconds later. I've tried turning the phone off, clearing the cache partition, deleting apps but none of them works. I really need your advice. I've looked into many different websites but it did not solve the problem. Best regards, Sy.
Answer: The first thing I want you to try is clear the defaults for the TouchWiz and if that won't work, then do the master reset. It appears like a general performance issue and while we can spend the entire day trying to find the culprit, it's easier and quicker to just backup your data and reset the phone. Should you do the master reset, don't forget to remove your Google account after your backup and then disengage all screen locks.
Turn off your Samsung Galaxy S6.
Press and hold the Volume Up, Home and Power keys together.
When the device powers on and displays 'Power on logo', release all keys and the Android icon will appear on the screen.
Wait until the Android Recovery Screen appears after about 30 seconds.
Using the Volume Down key, highlight the option, 'wipe data/factory reset' and press the Power key to select it.
Press the Vol Down button again until the option 'Yes — delete all user data' is highlighted and then press the Power key to select it.
After the reset is complete, highlight 'Reboot system now' and hit the Power key to restart the phone.
Connect with us
We are always open to your problems, questions and suggestions, so feel free to contact us by filling up this form. This is a free service we offer and we won't charge you a penny for it. But please note that we receive hundreds of emails every day and it's impossible for us to respond to every single one of them. But rest assured we read every message we receive. For those whom we've helped, please spread the word by sharing our posts to your friends or by simply liking our Facebook and Google+ page or follow us on Twitter.