I will look into a problem involving a Samsung Galaxy S5 (#Samsung #GalaxyS5) that pops up an error message saying "SD card blank or have some unsupported filesystem." Obviously, this is a microSD card issue but the word "blank" could mean a couple of things; either corrupted (unreadable) or damaged.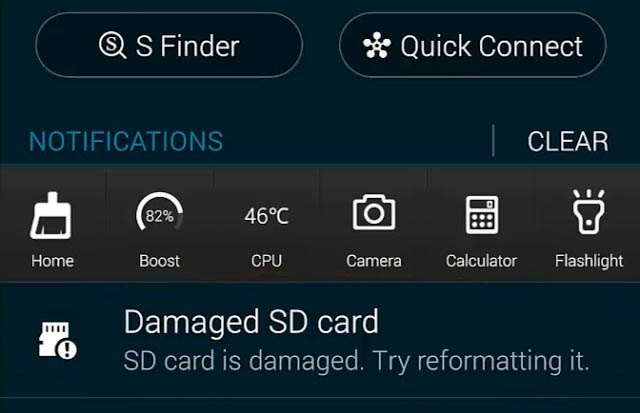 Just because the error says it's "blank" doesn't mean it's blank or doesn't contain any file. Remember that blank SD card can still be read and opened by the phone without any errors. This here is obviously an error and when it pops up, it automatically means something is wrong.
There were also those who think the card is simply undetectable. Well, that's not the case either because if that's the case, the phone won't return an error simply because it hasn't detected anything that's plugged into its microSD card slot.
Therefore, the error means the phone has detected a microSD card is mounted but it can no longer read it or can't recognize the filesystem used to format it. That's what we are going to address in this post with reference to a few problems sent by our readers.
Now, before we go any further, if you have other concerns with your phone, visit our troubleshooting page intended for the Samsung Galaxy S5 as we've listed hundreds of solutions to problems we already addressed in the past. Find problems related to yours and try the solutions we provided. If they won't work for you, then contact us using our Android Issues Questionnaire. Make sure to add more details of the problem in the description field so we can accurately assess your problem.
SD card blank…unsupported filesystem
Problem: When I insert memory card it shows notification "checking for errors" after that it shows notification "sd card blank or have some unsupported filesystem" when I format the card it shows "sd card unsupported try new one" I tried different card but it shows same error.
Solution: Both of the SD cards have a format that couldn't be read by the phone. You should format them using FAT32 file system and the easiest way to do that is by using a computer. All you need is a card reader that you can plug into your computer. Once plugged in, find the drive, right-click on it and choose Format. In the file system drop-down, choose FAT32.
You may try this procedure with one of your cards and see if the phone can detect or read it. If not, try the other one and if it bears the same result, then it's the phone that has an issue, probably the firmware. Try to see if there's an available update, if there's none, find someone who knows how to re-flash the firmware.
The phone can detect that there's a card mounted on it but the problem is it couldn't read it. Therefore, it's not a hardware issue but firmware.
SD card can't be detected by Galaxy S5
Problem: Hi! I have been trying to move some apps to my sd card so that I have more space on my actual phone and my phone keeps telling me that I do not have an sd card in there. Meanwhile I have a 16GB Samsung SD card in there. Why is it saying that if there is one in there?
Troubleshooting: If the phone merely says that there's no SD card mounted instead of returning an error or a prompt telling you it's blank, then the answer to your question is simple: it couldn't detect it. Possible reasons include improper mounting, there's corrosion on the connectors, and damaged SD card.
To address this problem, try to physically remove the card from the phone and wipe its connectors with dry cloth and then mount it back on, this time though, make sure it's properly mounted. If the phone still couldn't detect it, then try my suggestion in the previous problem; let the computer read it as it will tell you there and then if it's damaged or just needs reformatting.
If you're prompted by your computer that you need to reformat the card, then do it but please note that all your data and files will be lost. If it says it couldn't be reformatted, then it's damaged. Time to buy a new card.
Related problem: It is not acknowledging my sd card at all… It only says mount sd card but it is mounted correctly.
Pictures aren't saved or viewable in Galaxy S5
Problem: I have installed and formatted an SD card but when I take pictures I cannot view them. They show up as little mountain icons. At first they showed up but now even the first couple pictures are not viewable.
Troubleshooting: First of all, make sure your microSD card can be read by your phone. Just try to open it using My Files app; if you can browse through, then it's fine, otherwise, try reformatting it using FAT32 file system.
Second, make sure you set your camera to directly save snapped photos and recorded videos into the microSD card. I have a feeling that the device's internal storage is almost full that there's no room for new pictures and that the camera app is still set to save them there. Basically, those were the only two possibilities that I can see.
Cannot mount the SD card on Galaxy S5
Problem: I have tried adding a micro sd card. I have placed 2 different brand new cards in the slot, but when I try to move an app to the card, it says I don't have a card. I have tapped the "mount sd card" and it tells me the card is safe to remove. What can I do to make it recognize the card?
Troubleshooting: First of all, make sure the card is not damaged. You may let your computer read it and try saving files to it just to make sure it's writable and readable. If you've done that, try to mount the card to your phone and if the same error pops up, try to reformat it using FAT32 file system; it might just be a formatting issue.
You may also verify if other phones can read it or if your phone can read other cards. This will give you an idea what the problem really is. It's just a common sense; if your phone can read other cards, then your microSD card might be the issue here and since you already formatted it to FAT32 to no avail, then it's either damaged or not compatible with your phone at all.
Photos saved in SD card gone
Problem: After months of use one day my SD card gets an error. I didn't touch the card prior, during, or after. I selected "cancel" so as not to lose my photos. When I got to T-Mobile a day later, all my SD card photos were gone. My phone also randomly restarts several times a day.
Troubleshooting: The SD card is probably damaged and the phone just couldn't read it. I hope T-Mo's techs didn't reformat the card because if they did, there's no hope for those photos to be recovered. Of course, you can try to un-mount the card and then remove it from your phone. Let the phone be without the card for a few minutes and then mount it back. Turn the phone on and see if it can detect it, if not, try letting your computer read it but make sure you don't reformat it once the machine prompts you that it needs reformatting.
You may attempt to recover your photos by using this tool or any other tool available online.
Related problem: The device is running out of storage,with most of the storage being taken up by application. I got an SD card but when I move an application to the SD card it goes through the process of moving it, but deletes it instead.
Recover photos from internal storage after reset
Question: I did a Verizon system update this morning at 10:30 am. At 5pm, I realized all my photos that I had transferred from my iPhone in mid June were gone.2 years worth of photos. These were on internal memory. Is there any way to recover? Thx in advance.
Answer: The factory reset will delete all data and files saved in the phone's internal storage, so the answer to the question is no, although there were some experts and security firms who claimed to have recovered data from the phone's internal storage even after the reset using a special kind of tool that's not available in the market for average users.
Connect with us
We are always open to your problems, questions and suggestions, so feel free to contact us by filling up this form. We support every Android device available and we are serious in what we do. This is a free service we offer and we won't charge you a penny for it. But please note that we receive hundreds of emails every day and it's impossible for us to respond to every single one of them. But rest assured we read every message we receive. For those whom we've helped, please spread the word by sharing our posts to your friends or by simply liking our Facebook and Google+ page or follow us on Twitter.