How to deal with deleted emails reappearing on the Samsung #Galaxy Note 5 (#Note5) and Email app not connecting to incoming and outgoing servers.
What to do if the phone can't import Calendar invites and S Planner that won't show previous events from Outlook Calendar
What to do if you can't set the default email account on your phone.
Why Facebook app doesn't sync with the Calendar?
Learn more about the troubleshooting procedures necessary to fix these issues.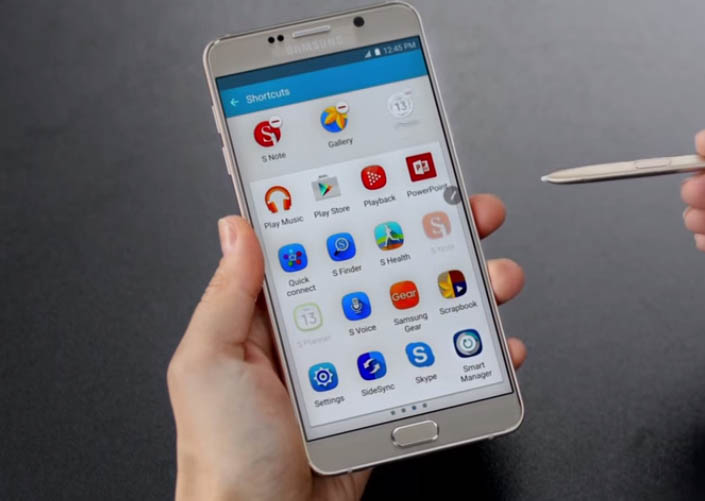 In this article, I have addressed random apps problems sent to us by owners of the Samsung #Galaxy #Note5, particularly on email, calendar, and #Facebook applications. Among these issues include email deletion, error connecting to email server, calendar crashes, calendar account settings, as well as calendar and Facebook app syncing errors.
Feel free to refer to the workarounds highlighted in this content should you bump into this page in search for potential fixes to any of the aforementioned problems with your Note 5 device.
Possible Causes
No matter how well-designed a program is there is always time for it to become corrupted. It's the same concept with smartphone applications. While majority of these apps are thoroughly scrutinized prior to launch, it doesn't mean they can't go wrong in the process.
There are many factors that could trigger an app to misbehave or become corrupted. An app may fail to work because of system incompatibility, limitations, and bugs. Looking into these factors alone can already help you deal with any transpiring issue associated with apps on your device, including the subsequent problems.
Problem: Deleted emails reappear
"Email does not stay deleted once it confirms it is deleted. Any input?"
Answer: One possible reason as to why your emails keep reappearing even after they've already been deleted from your phone could be due to a latency when syncing between the email platform and the mail server. Try to verify and/or change the syncing frequency on your device.
Also, if you've set up your email in your Note 5 as a POP3 account, try to remove the account and set it up again as IMAP. To do this, navigate to your phone Settings-> Email-> Accounts-> Tap to delete the account. Once the account has been successfully deleted, re-enter the account with the username and password, and then tap Manual and POP3. From the next screen that appears, scroll to the bottom and then toggle the Delete to Server option from NEVER to DELETE TO SERVER. I have prepared a step-by-step guide on how to remove and re-enter email account on your Galaxy Note 5 right below this page. Feel free to use it, if you need further assistance.
Problem: Cannot connect to incoming or outgoing server
"I'm having trouble sending and receiving email on my Galaxy Note 5. Email is saying I cannot connect to server for incoming or outgoing."
Answer: Based on the error message, we can tell that something is wrong with the incoming and outgoing server settings. That said, kindly verify settings for both the incoming and outgoing servers (host names), as well as port settings on your phone's email application. You may need to contact your email service provider to ensure you've got the correct information and that everything set correctly. Also ensure the email address and password you used to connect to your email account are all correct. I have demonstrated the steps on how to modify email settings on your Note 5 just in case you need help doing so. Just scroll down to the bottom of this page when necessary.
Problem: Cannot import Calendar invite
"I can't import a calendar invite. Every time I try my calendar shuts down."
Answer: Sometimes, corrupted cached files can cause an application to misbehave, become unresponsive, or shuts down by unexpectedly. If this is the first time you've encountered this trouble, try clearing cache on your phone's calendar app. Once you've done that, restart your device. Regarding your problem on importing calendar invites, clearing the apps cache and data may also help but should that failed to rectify the issue, then you can try removing and re-adding of the account you've set to use for such purpose. For example, if you're using a Google account from your Note 5, you can remove and re-instate it again in order to flush the cache and then get all your events to update from the calendar app. Refer to the steps below this page.
Problem: Multiple email accounts display, can't set default email account
"Using the stock Calendar app, I apparently show multiple exchange accounts as well as "Samsung" account, which I am not sure what this is, and EASTERN accounts?  I need my default to be my main exchange account, because when I created an event, it does not show up in Outlook on my computer."
Answer: First, make sure the Exchange Email account is set up and set as default on your device. You may refer to the steps (how to set default email account) itemized right below this page. After verifying your preferred email account is set as default, head on to your phone settings to verify if every email-associated option is configured properly. Just go to Settings-> Personal-> Accounts-> Microsoft Exchange ActiveSync-> and make sure the Sync Calendar option is enabled or turned on. You should then see your default Exchange account showing up under calendars and appointments should start to populate.
Problem: S Planner won't show previous events from Outlook Calendar
"When my S Planner syncs to my Outlook calendar, it will only display events from the current month forward.  How can I get it to display previous events up to a year ago? Thanks for your help."
Answer: Generally, events that are shown up on the S Planner are the most recent ones. That's how it's programmed. By default, the main screen of the S Planner app displays a one-day, one-week, or one-month view of your appointments. If you want to view previous events go to the Calendar app's Home screen and use two fingers to swipe left. Doing this will open a side menu containing tabs that will let you select between weekly, monthly, and yearly views. Specify the year you want to view. It's the quickest way I've known for you to view previous calendar events.
But before you do anything, make sure you've properly set the date and time on your device. Applications like Clock and S Planner would require your device to have a correct date and time for them to function or sync properly.
Problem: Facebook does not sync with calendar
"I can't get my Facebook app to sync with my games or calendar."
Answer: In your case, try to navigate to your phone Settings -> General-> Accounts. A list of different accounts will show up on screen. Scroll to and select Sync apps with Facebook. Menu options may vary between carriers, the reason why this option may be missing from other Note 5 devices. If that option is not available on your phone, you can try downloading an app called Facebook sync from the Google Play Store instead. After installing the app, run it on your phone, then go to Settings-> Accounts, and you should see Facebook sync is already listed in there.
Detailed Troubleshooting Guide
Below are the steps on how to perform the workarounds/solutions I recommend above. Feel free to use this as your reference if needed.
Steps to Remove Email Account:
Tap Apps from the Home
Tap Settings.
Scroll to Personal section, and then tap to select Accounts.
Select and tap on the email address/account you want to delete.
Tap the MORE icon to view more options.
Tap Remove account.
Check the box next to the account you want to delete.
Tap Delete to confirm deletion of selected account.
Steps to re-enter/set up Email Account
Tap Apps from the Home
Tap Settings.
Scroll to Personal section, and tap Accounts.
Tap the Add account (+)
Select the account type you want to set up.
Enter your email address and password.
Configure or enter correct settings for incoming and outgoing servers.
Follow the onscreen prompts to complete the setup process.
Note: Be sure to set sync options, email check frequency, retrieval size, notification options, and other settings, according to your preference.
Steps to change syncing frequency:
Tap Apps from the Home screen.
Tap Email.
Tap MORE, on the upper-right corner of the Inbox screen.
Tap Settings.
Tap to select the account you want to check or configure.
Scroll to and tap Sync schedule under Sync settings
Tap Set sync schedule.
Tap Auto (when received).
Note: Selecting this option will automatically sync emails on your phone upon received from the server.
Steps to modify email settings:
Tap Apps from the Home screen.
Tap Email.
From the Inbox screen, tap MORE.
Tap Settings.
Scroll to and tap the email account you want to verify or change settings.
Scroll to and tap Incoming server settings to configure settings for incoming server.
Scroll to and tap Outgoing server settings to configure settings for outgoing server.
The most common settings to change on Outgoing server settings are the SMTP server name and port number. Make sure all your entries to these fields are correct to avoid having problems afterwards.
Steps to set the default email account:
Tap Apps from Home.
Tap Email.
On the Inbox screen, tap MORE.
Tap Settings.
Tap Set default account.
A list of email accounts you've set up on the phone will be displayed. Tap to select the account you want to set as default.
To confirm selection, tap DONE.
The default account has already been set.
Steps to clear Calendar app cache and data:
Tap Apps from the Home screen.
Tap Settings.
Tap Applications under Device
Tap Application Manager.
Tap Calendar.
Tap Clear Cache.
Tap Clear Data. This option deletes all data stored in the app so you may only go for this option if you've got everything backed up.
Tap OK to confirm action.
Steps to change S Planner events view per year:
Tap Apps.
Tap S Planner.
Note: You may need to swipe right of the Apps screen to view S Planner. Also, some carriers in the US like AT&T renamed S Planner as Calendar but it's the same app, with similar functions.
Connect with us
We would be glad to assist you further! Should you have any other issues with your Galaxy Note 5 or other Android devices, just fill up the Android Questionnaire Form available in our Troubleshooting Page with the required information. We would appreciate if you could provide us more significant details of the problem, for us to be able determine the cause and therefore, could come up with more efficient solutions and recommendations. You may also browse for our support team's recommended workarounds and solutions to other device issues we have addressed on our TS pages.