If you have been in the market for a Galaxy s10 wireless charger, well wait no more. We have found the PERFECT wireless charger you will need for that brand new Galaxy S10 you just got.

Best Galaxy S10 Wireless Charger
The perfect Galaxy S10 wireless charger we are raving about is the Anker PowerWave Pad Wireless Charger. This sucker will charge your phone faster by 30 minutes compared to other ordinary wireless chargers on the market. The secret sauce is its 10w output that allows faster charging than most other wireless chargers on the market.
What's also cool is that this Anker wireless charger will fast charge your Samsung Galaxy S10, as well as any other phones that support wireless charging, even the latest iPhones will charge wirelessly on this thing.
Some people are skeptical about wireless charging. We often get questions like…Hey Droid Guy…does my Samsung Galaxy S10 wireless charging work with a case on? The answer is an emphatic yes with this Anker PowerWave Pad. Give it a shot and let us know how much you love this relatively new technology.
Wireless Charger Compatible Devices
Here are just a few of the compatible devices per the manfacturer:
Fast 10W Wireless Charging Compatible Phones
Samsung Galaxy S10
Samsung Galaxy S10 Plus
Samsung Galaxy S10e
Samsung Galaxy S9
Samsung Galaxy S9+
Samsung Galaxy S8
Samsung Galaxy S8+
Samsung Galaxy Note 9
5W Wireless Charging Compatible Phones
This Anker 10% Faster than most other wireless chagers
Apple iPhone Xs
Apple iPhone Xs Max
Apple iPhone XR
Apple iPhone X
Apple iPhone 8
Apple iPhone 8 Plus
Latest Apple AirPods
Best Galaxy S10 Wireless Charging Stand
And by the way, if you prefer to have your phone charge wireless on a stand, we have just the device for you. You will want to pick up an Anker PowerWave Stand. This baby also has a 10w output to provide that Galaxy S10 wireless charging capability.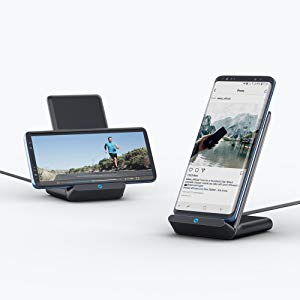 With the Anker wireless charging stand, you can charge your Galaxy S10 in landscape or portrait position. You know what that means…you can watch all your favorite shows on landscape mode while charging on a stand!
Definitely pick up one of these life changing devices and you won't regret it. Who can go back to poking that darn cable in to charge anymore.