Regardless of their processors' number of cores and clock speed, RAM count, camera megapixels, screen diagonal or resolution and battery size, most upper-tier Android smartphones and tablets nowadays come with fancy audio enhancements.
Dolby Mobile, BoomSound speakers, Beats sound augmentations, DTS systems, even Harman/Kardon special editions with Clari-Fi and LiveStage technology. Any idea what all devices using these "innovative" functions and capabilities have in common?
That's right, they deliver sucky acoustics across the board. And don't bother splashing the cash on a $500 pair of ultra-high-end Sennheiser Momentum 2.0 headphones with active noise cancellation. It won't make a noticeable difference. Well, it will, but I think we can all agree spending $1,200 or so on a decent portable audio experience is a total waste.
Want the best of the best, the loudest, crispest, sharpest, most deafening, bass-filled music your HTC One M9 or Samsung Galaxy S6 can play? There's only one solution to your pickle – a Bluetooth external speaker. Which is fully compatible with not just smartphones and tablets, but laptops and whatever else touts Bluetooth support.  Be sure to also check out the best bluetooth headset 2016.
So, basically, you won't be buying a measly speaker. Some of our top recommendations below are outright home/travel entertainment systems. Others are just wireless and cheap. Here we go:
Best sub-$100 Bluetooth speakers
SoundBot SB510 HD – starting at $12.89 in grey/black
To counter any favoritism accusations, we'll list these first-class accessories from the least expensive to the costliest. Obviously, our opener isn't much better than pre-installed audio systems on some flagship handhelds around, but its prime forte is water resistance.
That means you can listen to your favorite tunes in the shower or pool via Bluetooth 3.0, with a respectable connection range of 10 meter (32 feet) and 6-hour autonomy. All for the price of a fast food meal.
Etekcity RoverBeats T3 Ultra – $19.99
This thing is tiny, but not tinny, and the nearly 900 customer reviews on Amazon tell you everything you need to know about its strengths and utter lack of weaknesses. It's surprisingly loud for its size, comes with hands-free call answering support and up to 7 hours of life between charges. Obviously, it's also usable while juicing up. The perfect travel companion? Why not?
$69.99 Large Portable
Now that's what we call diversity. One size fits all? How about all sizes fit all? Starting with a somewhat awkwardly designed Micro model that tips the scales at, get this, 4 ounces while measuring 3.4 x 3.4 x 1.2 inches. How punchy can such a little guy get? 3W.
Not bad, since the 7.2 ounce Mini is exactly as rambunctious. Then you have a 6W Portable version weighing in at 1.2 pounds, and a Large 10W Portable with 1.6 pound bulk, call divert function and 8-hour battery life. As usual, Amazon's own brand is a safe accessory bet.
Cambridge SoundWorks OontZ Angle Enhanced Edition – $27.99
Compared to the $30 AmazonBasics Ultra-Portable Mini, this baby is heavier and larger, but it also lasts an impressive 12 hours on a single charge and stands out with a futuristic style, two "precision neodymium speaker drivers", as well as above-average hands-free speaker phone capabilities.
DKnight Magicbox Ultra-Portable – $28.99
Amazon's number one wireless & streaming audio system best seller is palm-sized (literally), designed to blend in no matter the background (that being a good thing), and capable of running on its own Li-Ion battery for up to 10 hours.
Total sound power is rated at an appropriate 6W, and if you don't own a Bluetooth 2.1-enabled device, you can always use the 3.5mm port or standalone microSD card to render your melodies at tedious parties or while away from home.
$99.99 most other colors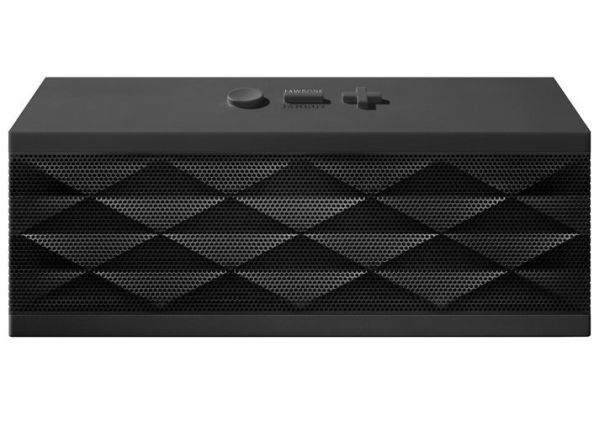 This barely makes the sub-$100 category, and as a direct consequence, predictably walks the fine line between casual and professional Bluetooth speakers. Aside from the simplistic but striking aesthetics, the "normal-sized" Jambox will no doubt catch the eyes ears of audiophiles with an output capacity of 85 decibels, a pair of proprietary, "highly sophisticated acoustic drivers" and ultra-small yet extremely apt dome.
Jawbone doesn't even have to advertise hollow, meaningless numbers. Their reputation precedes them, and over 3,700 mostly satisfied Amazon customers give the Jambox a weighted average of four stars.
Best $100 to $200 external speakers for your Android
Bose SoundLink Color – $129
Things are officially getting serious. Now, we know the SoundLink Color doesn't look like much. It's probably fugly by many standards, but it only weighs 1.2 pounds and measures 2.1 x 5 x 5.3 inches while delivering "clear, full-range sound you might not expect from a compact speaker."
Marketing baloney? Maybe, although the producers are known for never skimping on quality since 1964. Besides, you can't fool 1,500+ demanding buyers who claim this accessory is nearly five-star-worthy all in all.
TDK Life on Record Trek Max A34 – $149.99
Nowhere near as popular a brand as Bose, Beats or even Jawbone, TDK Life on Record offers a satisfactory quality-pricing ratio here, courtesy of A34's rugged, water-protected, "weatherized" construction. And dedicated two front full-range drivers, and reliable subwoofer, and "dynamic audio performance", Signature Sound tech, plus 8-hour battery.
It's clearly a tad tougher to carry around than most of its rivals, at 3.6 pounds, but rain or shine, it stands beside you to put a smile on your face. Rock and roll, baby!
$159.99 and up other paint jobs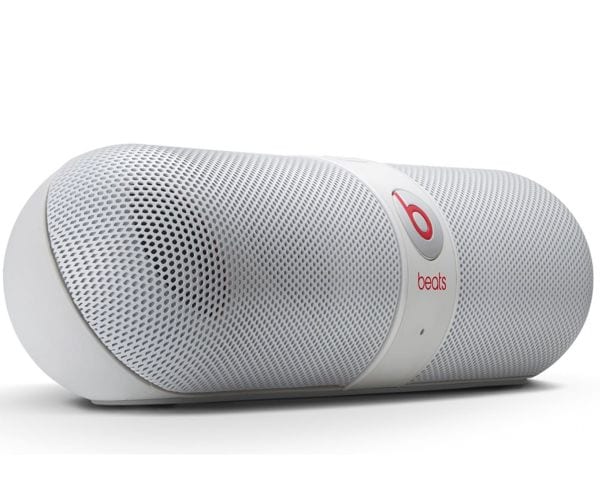 The ultimate portable speaker, this is vocally contested by many audio "pros", but it's easily the number one mainstream choice. It's stylish, petite, incredibly easy to pair with phones, as well as fairly loud and powerful. Warning – it's not the loudest money can buy.
Sony SRSX5 – starting at $164.51
Don't try to understand the name or design. Just keep your eyes on the 20 Watts (!!!) of power, rich 50 Hz to 20 kHz sound, convenient One-Touch Listening features, excellent range, hands-free calling functions and, last but not least, 8-hour battery. That's amazing for such a forceful speaker.
Bose SoundLink Mini – $199
The customer review average isn't a perfect five stars, but it's phenomenally close – 4.8. And for all the good reasons. Cleverly made to look like a retro, miniature stereo, the SoundLink Mini brings the party to you, at home, out in town or in the car traveling to… wherever.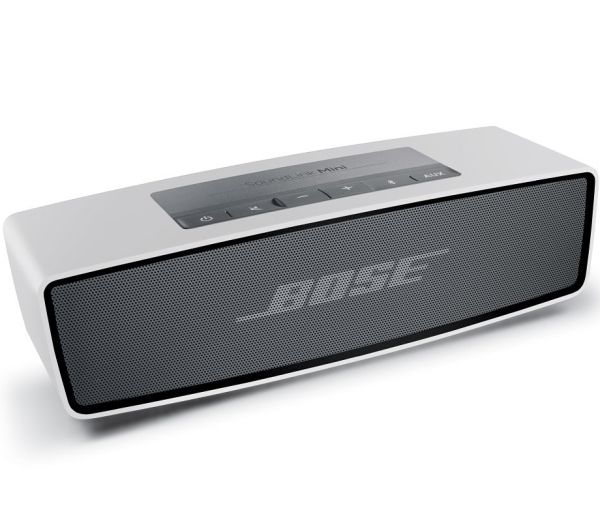 It goes on and on for up to 7 hours, has a range of roughly 30 feet, and the physical volume controls are such a simple, nice touch, we wonder why they aren't "borrowed" by everyone.
Best $200+ Wireless Bluetoth speakers
Jawbone Big Jambox – starting at $208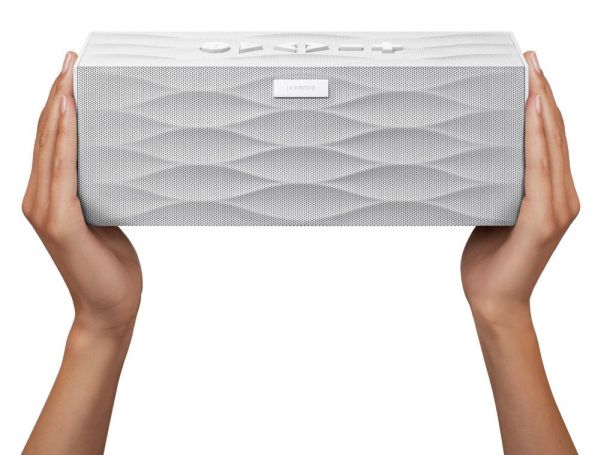 It's perhaps unfair to separate the Big Jambox from the SoundLink Mini for a pithy 9 bucks, although this bad boy's towering size allows it to offer up to 15 hours (!!!) of continuous play. In addition to customary footprint-enabled audio, volume and bass improvements, the 2.7 pound big guy also adds something called LiveAudio tech in the equation for, you guessed it, immersive 3D "live" sound.
Logitech UE Megaboom – $299.99
Maybe the "pricier is better" equation doesn't always check out when it comes to Android smartphones or tablets, but accessories and especially audio tools greatly depend on production costs. The Megaboom, for instance, which unfortunately only ships "within 2 to 5 weeks", could have never afforded to lay "freakishly amazing 360-degree sound" at your feet, plus "heart-pounding" bass, water resistance, 100-feet Bluetooth wireless range and 20-hour autonomy.
It's the best of both worlds, compact and outlandishly powerful. In the illustrative words of its makers, it's "musical mayhem on the go."