While most of the carriers in the U.S. cater to the postpaid audiences, there is a large number of customers who rely on prepaid networks as well. People prefer prepaid because it offers more flexibility. And it's no surprise that all the top carriers offer a prepaid plan for its consumer base. As you probably know, carriers are highly competitive in the U.S., which makes it incredibly hard for the customers to pick the best prepaid cell phone plans.
However, there are some carriers out there that stand out. We're going to talk about them today in an attempt to make your lives easier. However, there are several factors involved here. More importantly, the coverage in your area also determines the kind of carrier you need to pick.
Best Prepaid Cell Phone Plans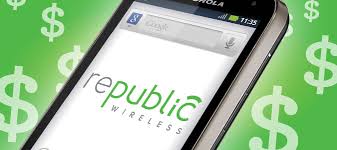 The prepaid cell phone plans right now is Republic Wireless. This is primarily because it offers a low cost alternative to some of the other carriers out there. It comes with a pretty decent set of prices, making it accessible for the everyday user. It doesn't offer a lot of streaming data, however, so it's only meant for those who need access to data without any of the streaming goodies. While it's hard to imagine someone who wouldn't stream content on their phones, bear in mind that a lot of customers only use internet for social media apps and email or IM. So for such users, Republic Wireless is the best prepaid option out there.
As for the plans, for as low as $20 per month, you will get access to 5GB of data along with unlimited texts and calls. If the data isn't sufficient for you, the user can add an extra GB of data for just $5 per month. You can add up to 15GB of data this way, so there are options for heavy users as well.
In terms of wireless performance, Republic Wireless uses a combination of Sprint and T-Mobile networks, offering a pretty broad coverage in the U.S.
Buy it now: here
VZW has been America's largest wireless network, and that is the case even today. Verizon's prepaid plans come with a few attractive perks, including of course the same nationwide 4G LTE coverage that postpaid users enjoy. Naturally, the company prides itself on its fully unlimited (4G LTE) prepaid plan, which costs $75. A cheaper alternative, starts from $30 and offers 3GB of data along with unlimited calling and texting (also free to over 200 countries). Users of the unlimited tier get the added bonus of unlimited calling to Canada and Mexico.
The free texts to 200 countries is available on each prepaid tier, so regardless of how much you spend every month, you're bound to access this feature year-round. Even if you're paying slightly more than some other carriers, the fact that Verizon's network coverage is second to none plays a big role in the customers' decision making. If you're torn between network coverage and cost, there's no doubt that you will always favor a reliable network.
Buy it now: here
3. MetroPCS
If you're looking for a carrier that offers the best in terms of features and pricing, MetroPCS has to be it. The coverage might not be the best everywhere, it certainly offers the best pricing. It is available for $60 (two lines) and $120 (four lines). These plans come with unlimited talk, text, data as well as videos. These plans also come with mobile hotspot by default including Wi-Fi calling. It leverages T-Mobile's data networks, so if you have magenta's signals in your region, the chances are that you will have decent MetroPCS coverage.
The catch here is that customers will have to pay full price for smartphones. This is the case with any prepaid network, so it's not a major surprise. Naturally, you are also free to bring your own smartphone, which is recommended if you're moving to MetroPCS. If you don't want to shell out big every month, the carrier's low cost plans start from $30, offering 2GB of data along with unlimited talk and texts.
Buy it now: here
This particular carrier is highly recommended for those who want the best unlimited plans out there. As you probably know, Boost Mobile uses Sprint's networks for coverage, so as long as you have the carrier's signals in the area, you should be good with Boost. The addition of features like Boost Dealz helps you save some money in return for watching a few advertisements.
If you're looking for a single line, you will have to spend $50 per month and in return you get unlimited data, talk and texts. If you're willing to add up to three members of a family, the price comes down to $100 per month, a saving of $50 every month. Content is streamed at 480p by default, but adding an additional $10/month to your line will give you access to 1080p streaming. This is highly recommended if you're going to use mobile data to stream content. The plan also includes 8GB of mobile hotspot, making this one of the most attractive unlimited offerings overall.
Buy it now: here
AT&T is obviously no stranger to prepaid networks, and thanks to the massive lineup of devices on its shelves, it can offer practically any new device on prepaid. The carrier offers its most attractive prepaid plan at $50 per month, which can be cut down by a further $10 if you activate auto-pay every month. For this price, the customers get unlimited talk, texts, and data. However, you get access to high speed data up to only 8GB, and you will probably need more high speed data. If that is the case, the $75 plan is worth considering as it also offers 10GB of mobile hotspot per month.
Customers stand to save a lot more if they add multiple lines in their account, which is the case with any other carrier really. So theoretically, you can get unlimited calls, texts, and data (8GB high-speed data) for up to four people at only $140, which is a discount of $20 over the standard single line pricing.
Buy it now: here