Planning on heading out to Germany for a trip, you will need the best international SIM Card for traveling to Germany? Maybe you're going on vacation, or are planning on staying with friends or family for a couple months. Or, maybe you're even scoping out a new place to live. Either way, you need to make sure that you have data while you're in the country, so that friends and family can easily contact you, and also so that you can keep them updated!
* If you buy through links on our site, we may earn an affiliate commission. For more details, please visit our Privacy policy page.
Traveling to Europe and looking for phone and data connections? We recommend the Orange Holiday Europe prepaid international Sim card. Works in 30 of the largest countries in Europe. MORE INFORMATION How do you do this without buying a new phone and signing up with a carrier in Germany, though? With an international SIM card, of course! Follow along with us below, and we'll show you five of the best choices for traveling to Germany.

Best International SIM Card For Traveling to Germany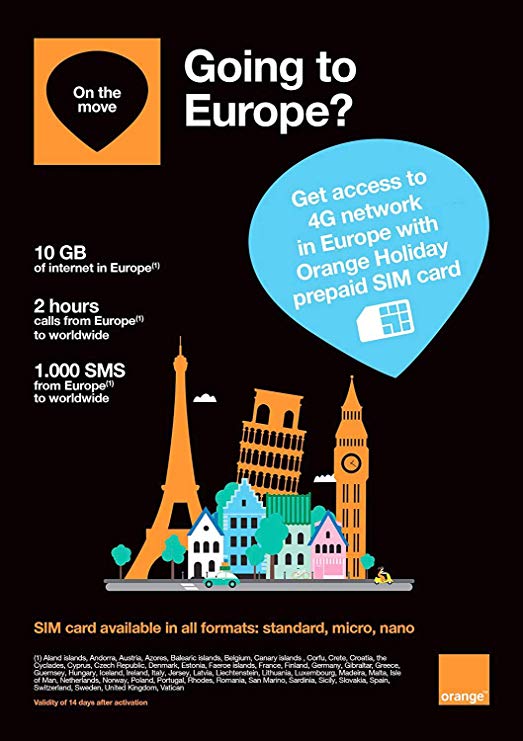 Orange is another great choice, but is limited to GSM phones exclusively. Orange gives you fast 4G data roaming speeds in thirty many different European countries, including Germany. Your purchase of $49.99 will give you 10GB of total data to use that is only valid for 14 days. Once that 14 days is up, you'll have to call up Orange and reload it. Additionally, they give you 2 hours of talk time, and up to 1,000 messages.
Next up, we have the ThreeUK SIM Card for international European travel. Coming from ThreeUK in the UK, this SIM card will allow you to call UK numbers; however, you can use it to phone EU numbers, too. That includes numbers in Germany! Now, since this is a local international SIM that you can order off of Amazon, this is actually one of the more affordable choices — putting you on Three UK's network. Your package gets you 12GB of data to use, 3000 voice minutes, and 3000 texts. That's plenty for your visit or trip to Germany! There are actually 71 different destinations in the EU covered, but Germany is definitely one of them.
ThreeUK does make it easy to reload data, minutes, and texts as needed.
Mobal Europe Plus SIM comes up as first on out countdown, with their service supporting 1GB of free data and unrestricted tethering. Normally, you'd have to pay extra for hotspot abilities, but not with Mobal. You can use your international Internet connection to connect online with your laptop or tablet.
Mobal allows you to accept calls from people in over 130 different countries. The same applies to text messages. That's all incoming calls; however, outgoing call rates cannot rival local providers. You'd be best off with a local SIM there, but Mobal's rate are still competitive at 30¢ per minute in all countries, including Germany. It certainly beats US-based roaming charges.
You can pay $59 for every month you want to use the service and stop paying when you don't need it anymore.
Three UK's "Internet with Legs" Trio comes up as fourth on our countdown, actually offering you up to 3GB of data for 90 days. It will work in any mobile Wi-Fi device, such as a smartphone or tablet. 3GB doesn't seem like a lot for the on the go use, but you can top up whenever you need. One of the nice things about this one is that they allow you to roam in the USA without any extra charges, essentially allow you to test the SIM card out first.
Coming up as last on our list, but not least on our countdown, we're looking at Keepgo's Global Lifetime SIM card. Keepgo is looking to give its users data wherever its customers go in the world, including to European countries like Germany. One of the more unique things about it is that they will give you a 1GB mobile data credit that stays valid for 1 year; however, once you use it up, Keepgo allows you to add more to your data bank.
Additionally, this international SIM card for traveling to Germany does come with multiple SIM adapters to make sure the SIM card works with all phone types, new and old. It's worth noting that this will only work on GSM phones and networks.
Verdict on SIM Card For Traveling to Germany
As you can see, there are a lot of excellent international SIM cards to use when you're traveling to Germany. All of these will help you accomplish the means that you're after, but we think the Europe Plus SIM will offer you the best experience for your phone. What's your favorite international SIM card for traveling to Germany? Sound off in the comments section below.
* If you buy through links on our site, we may earn an affiliate commission. For more details, please visit our Privacy policy page.