Who doesn't like Android? Based on recent market research, a very small fraction of the mobile tech-consuming world, with Google's trendy OS hiking to an all-time record-high sales share of nearly 85 percent in Q3 2015.
Basically, there's only a 15 percent chance you'll make a bad impression with an Android-powered Christmas gift this year, which comfortably beats the flop odds of your ties, watches, holiday-themed sweaters, perfumes, personal hygiene items, even good old fashioned toys and sweets for kids.
Forget all that, and forget racking your brains to come up with the best, most thoughtful, sweetest presents for the entire family, plus close friends and the obligatory randomly drawn Secret Santa work colleague.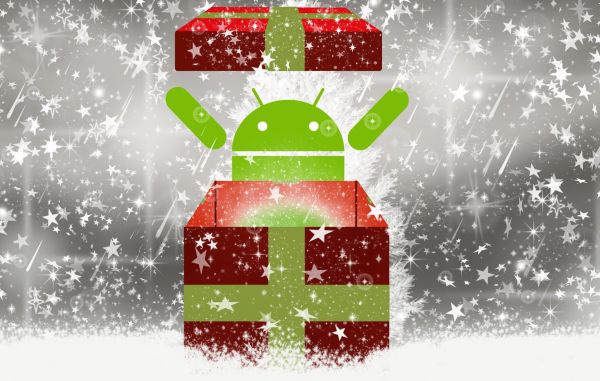 The following smartphones, tablets and wearable devices may lack the intimate nature of an inspired gift, but you can rest assured they won't be returned for a replacement or abandoned in a drawer somewhere come January.
Android Christmas gift ideas for him
Listen up, ladies, as we'll only say this once. When in doubt, go black. Black phone, black tablet, black smartwatch. Nothing too fancy, pretty, delicate or swanky either. Rugged can be a good choice, though the Samsung Galaxy S6 Active is a little pricey, at $650 unlocked.
The LG V10 looks even manlier, and can almost take a bullet for your husband or boyfriend, but once again, it costs an arm and a leg, namely $634 free of contractual obligations. Wait, we got it. The Sony Xperia Z3+. It lacks aesthetic bells and whistles, looks all mysterious and low-profile in black, withstands water and dust interaction, and will set you caring gals back a much more palatable $452.
Or how about the gunmetal grey HTC One M9? It's tough, with an aluminum unibody construction in tow, it's sharp, powerful, and can be had for no upfront charge with device financing.
As far as "accessories" go, the second-generation black leather band Motorola Moto 360 feels ideal for retro-loving dudes, while the gold metal variant should put a big smile on the face of a gentleman not afraid to show off an original, posh style.
For her
Feel like you won the lottery, having found the "one" that shares most of your passions, from Star Wars to sports and gadgets? Don't mess it up, and don't be cheap. Undoubtedly, women are more complicated than men, so there's no universal top Android pick for all your better halves.
But if you've been paying attention, you already know if she leans towards the white pearl $557 Samsung Galaxy S6 Edge, or if she's more a pink $100 BLU Life 8 XL type of lady. Unless she's crazy about selfies, in which case the $200 HTC Desire Eye will make her believe in Santa again.
Are you both intrigued by smartwatches, and would like to be considered early adopters? Then why not get a black leather-strapped Huawei Watch for yourself, and a beautiful rose gold plated model for her? The grand total sits at an exorbitant $1,000, but trust us, it'll pay off in the long haul, covering your behind the next time you forget an anniversary.
For mom and dad
Dumb phones? Not even your 80-year-old grandpappy uses one of those anymore, so naturally, mom and dad need something easy to carry around, with a simple to understand UI, respectable but short of mind-blowing specs to check their Facebook on.
Like the $200 or so Samsung Galaxy J5. Or, better yet, the $200 Sony Xperia M4 Aqua that comes backed by a US warranty, and won't turn into a paperweight if it gets a little wet. Or how about the third-gen Motorola Moto G, aka the ultimate low-cost Android contender, priced at $177 with a relatively large 5-inch HD screen on deck, at least 1 GB RAM, decent battery life and cameras, as well as Marshmallows on the way?
Now, a wearable piece isn't exactly the right present for someone who can survive without notifications for a couple of hours, so if you're thinking of a smartphone alternative, why not the Samsung Galaxy View? It's a small fortune ($600), but you'll please both parents, with portable instant access to big-screen sports for dad, and a nifty cookbook substitute for mom.
For the little one
Dolls? Action figures? Board games? Bikes? That's so 2002. These days, children want their own phones, their own accessories, their own gadgets. Of course, you have to consider the consequences of exposing a young, fragile mind to all the technology you lacked access to growing up, and adapt to the specific needs of different age groups.
The $149 Fuhu Nabi 2S targets precisely preadolescents with loads of educational content and fun little games, not to mention it features stellar parental controls. The $90 Amazon Fire Kids Edition and $60 Samsung Galaxy Tab 3 Lite Kids indicate loud and clear they're more than toys, with unrestricted access to the two best Android app stores around, thus theoretically catering to older youths.
But if your "little" one is no longer very little, you're probably better off going for a "normal" tablet, perhaps something designed with gaming in mind, like the $200 Nvidia Shield K1, or the $295 Google Nexus 9.
Searching for their first phone? Start them off modestly, with, say, the $90 2015 Moto E or an $80 BLU Studio Selfie.
For a coworker
You don't want to spend too much money for Joe over in accounting, who you call Joe because you don't really know his real name but now it's too late to ask, yet you're afraid he drew you for the traditional office Secret Santa gift exchange also, and would hate to be one-upped in festive "generosity."
What to do? Easy – buy something that's too novel for people to know for certain how much it costs. Case in point, the hybrid Withings Activite Pop smartwatch/fitness tracker. It's just $120 and up, but it looks like a million 300 or so bucks. Or the original Moto 360 that used to go for $250, and now sets you back $150.
For your best friend
We left possibly the hardest choice for last. Hardest, as it requires personalization. So, yeah, we don't have a single, all-inclusive, all-pleasing answer for you here. Merely a few suggestions. The $100 Fitbit Charge if your BFF is into fitness, or the $250 Microsoft Band 2 if your BFF is really into fitness.
The $200 and up LG Watch Urbane for fashionistas. The $329 Google/LG Nexus 5X for Android "purists" and geeks. The $620 Samsung Galaxy Note 5 for power users you owe your life to. The $169 Asus ZenPad S 8.0 for someone who appreciates a solid bargain and hates the iPad mini's overpriced guts. The $180 Amazon Fire HD 10 for, well, pretty much the same "target audience", just looking for an iPad Air alternative instead of a diminutive slate.
We could probably go on and on for a while longer, but we're sure you'll be fine if you have some insight into your best bud's preferences. And if you don't, you might not be a great friend anyway, so why bother?
We will receive sales commission if you purchase items using our links.
Learn More
.