Once upon a time deemed harmless toys incapable of challenging the conventional laptop's productivity, tablets have grown in mainstream popularity of late not only because they're smaller and, often, easier to master than computers.
They're also slowly but steadily moving up the enterprise ranks, becoming safe, functional and, most of all, cheap enough to use in business environments. Besides, tablets allow professionals and entrepreneurs to take their work with them wherever, whenever, with increased comfort.
Juggling between one's relaxation and entertainment needs, and office endeavors is a walk in the park, and a slew of optional accessories and add-ons like keyboard docks or stylus pens often bring tabs perfectly on-par with larger PCs as far as productivity goes. Sometimes, higher.
Granted, many tablets, especially in the Android ecosystem, remain focused on light tasks, gaming, or multimedia playing. Which is why you may need a little guidance into picking the pads that mean business the most. Here are seven top options available today, each one fitting a different enterprise profile:
At first glance, there's nothing businessy about the latest entry in the "pure Google" Nexus franchise. Quite on the contrary, if we're talking strictly from a software standpoint, as Big G is never keen on adding software optimizations or security "enhancements" in the mix.
What makes the N9 a sensible choice for corporations and corporation workers is the dedicated keyboard folio, up for grabs on Amazon at $88. Sure, most tabs support third-party docking stations and keyboard cases. Many of which might be larger and thus more productive than Nexus 9's accessory.
But this one is specifically made for Google's 8.9 incher, and you're guaranteed perfect compatibility and a smooth user experience close to the one offered by a traditional laptop. All for less than $500, in a package weighing under 800 grams in total. Nice!
It's perhaps needless to point out why a stylus could come in handy for a graphic artist, or just a scribbler always attending meetings and always in need of easy note-taking tools. Well, the Note Pro 12.2 is one of the easiest and best all-around, along with its beautiful, greatly prolific S Pen.
A fantastic multi-tasker and a bona fide powerhouse, the Note Pro 12.2 offers all the screen real estate you'll need to create and tweak spreadsheets in comfort, and of course, an Office Suite built with your enterprise requirements in mind.
Plus, Knox security, a wireless printing-dedicated app and a bundled keyboard if you're willing to cough up $720 and up. Not exactly a bargain, but it could be money well spent.
Looking for a bargain tablet/laptop hybrid, and don't mind cutting a few performance and productivity corners? This aging Transformer Pad is a smart buy no matter how you look at it, even if it's smaller than the Note Pro and doesn't come with a stylus in tow.
Not quite a speed champion, the TF103C can last for a full day's work on a single charge, and the bundled keyboard is particularly impressive, touting a decently sized trackpad and as such replicating to the letter a notebook's typing experience.
Something for everybody. That's our motto today, and the 10.1-inch Note aims to meet the desires of those who see the Note Pro as too uncomfortable to lug around, and the Transformer Pad as underwhelming in the performance department.
Not too pricey, and not too cheap, if you know what we mean, this baby comes with Polaris Office pre-installed, S Pen support on hand, the same exquisite multitasking abilities as the 12.2 incher and an optional case/stand. No keyboard love? Afraid not, although there are numerous external choices.
This $26 Newstyle, for instance. Or this "premium" $47 ProCase. This $37 Supernight? Your call.
If your employer is not the generous kind, and you're simply looking for an inexpensive, light, sleek travel companion instead of a top-of-the-line laptop replacement, the Tegra Note 7 is perhaps the safest bet.
It ain't extremely productive, obviously, but it's decent for note-taking, courtesy of the intuitive Nvidia Direct Stylus experience, and will let you answer a few urgent e-mails on the move. Oh, and don't tell your boss man, but the Tegra Note 7 is a bitching gaming device. Almost like an oversized Shield console.
Pencil pushers (no offense) make up merely a tiny portion of the target audience addressed by business tablets. A solid business tab should handle itself in the wild outdoor too, and in need, fight off water dips and dust contact.
Enter the waterproof, dirtproof Xperia Z2 Tablet. Perhaps not the ideal gadget to visit a construction site without a helmet on, the 10.1 incher is incredibly easy to carry, tipping the scales at 439 grams and measuring 6.4 mm thick.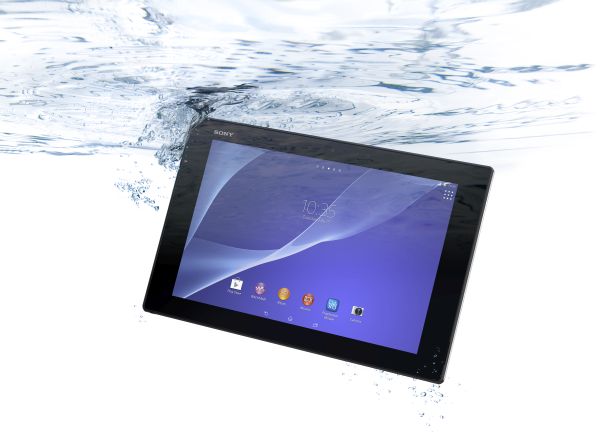 Now, elegance may not be the prime concern of enterprise slate users, but if you're to be available for your business partners and execs at all times, at least do it in style. Speaking of all-times availability, the 10.1-inch Z2 can be had with just Wi-Fi connectivity, or Verizon LTE speeds. The latter, high-speed connected around the clock, costs $500 with two-year contracts, and $600 outright.
Meet the Terminator of business-friendly tablets. This thing can take a beating without flinching, and needs no helmet in its construction travels. The Tab Active is the protection helmet, its rugged exterior ensuring security against four-foot drops.
Also, against accidental water immersions up to 30 minutes, and interaction with dust. Basically a Tab 4 8.0 squeezed into a protective case, the Tab Active is "enterprise-ready, productivity-ready and solutions-ready."
How so? With Knox security, NFC, C-Pen support, a bundle of special apps to crank up productivity, various data encryption methods and, last but not least, a daylight-readable LCD screen.
Do we have an enterprise champion? Maybe, although we'd like to stress again each business user is different, and has a very particular set of skills in need of polishing and support. All considered, is anyone thinking of purchasing one of the above? Which one and why? Sound off in the comments section below.
We will receive sales commission if you purchase items using our links.
Learn More
.