If you're planning a trip to Paris anytime soon, you might be in the hunt for the best prepaid SIM Card for traveling to Paris, given how important it is to keep in touch with your loved ones. But as you may have found out, making the choice is not easy. There are so many options to choose from that it becomes close to impossible to pick the best one. This is why we've decided to make a list of some of the best prepaid SIM cards that you need to check out before you head out for that exciting Paris trip.
Editor's Choice
Looking for a prepaid sim card for your Paris vacation?
:ook no further than the Orange Holiday Europe Sim Card MORE INFORMATION
* If you buy through links on our site, we may earn an affiliate commission. For more details, please visit our Privacy policy page.
You may recognize some of these options, but we've made sure to scour the internet for the best prepaid SIM Card for traveling to Paris out there. So without waiting any further, let's have a look.
Best Prepaid SIM Card for Traveling to Paris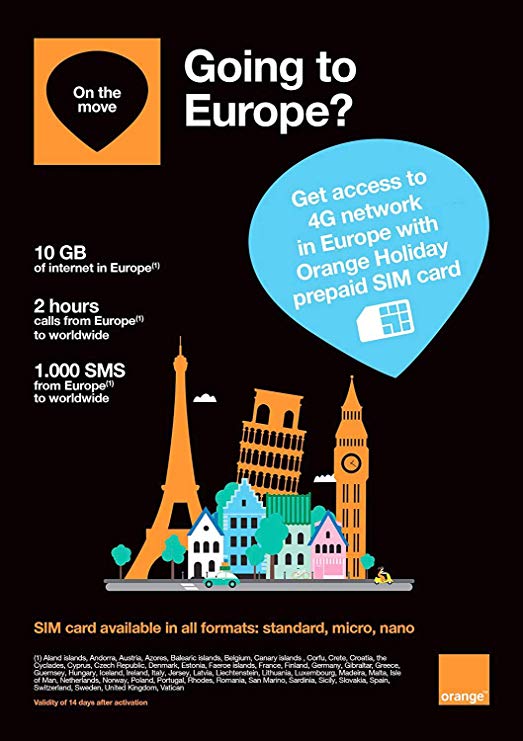 Orange is one of the well known carriers in Europe and functions primarily out of Paris, which makes it one of the favorites in the region. The carrier offers an exciting plan known as Holiday Europe which comes with a few good perks that justify the price tag. First and foremost, customers get access to 10GB of high-speed 4G data across Europe for a period of 14 days. However, you can extend the validity by simply topping up your Orange SIM card using the carrier's official website.
This package also includes 2 hours of voice and 1000 text messages, which is fairly decent on a data oriented plan. The SIM card allows use as a data tethering or hotspot device, so you're free to offer up your internet to your traveling group. This particular SIM card works in around 30 EU countries, so the SIM card will come in handy regardless of where you travel in the continent. The carrier is currently selling this exciting plan for $49.99. You can order this right now to make sure the SIM card is with you when you reach Paris, which can ultimately save you a lot of hassle.
Three UK is a prominent carrier in the European continent and operates in multiple countries in the region. This carrier also has a plan suitable for those traveling to Paris known simply as Prepaid Europe. This plan comes with a rather exciting data coverage totaling 12GB over a period of 30 days. Moreover, you can use this in over 71 destinations of the world, making it more versatile and flexible compared to conventional travel SIM cards. The SIM card comes with 3000 minutes which is only valid within Europe. Users also get 3,000 texts during the course of this plan, which is fairly decent.
One big caveat with this particular SIM card is that it doesn't support hotspot or tethering features, so you can't share the data with any of your family. This makes it ideal to be used as a personal SIM card meant only for one device, preferably a smartphone. However, Three mentions that activation doesn't require a lot of time, so you can start enjoying Three's services as soon as you insert the SIM into your smartphone. The SIM card is designed to accommodate smartphones of all generations, including those that use micro SIM and standard SIM card slots. If you're looking for a data and calling plan on the cheap, it makes a lot of sense to pick this particular offering.
This is a slightly unconventional choice on this list as it's not a full blown SIM card, but a host device suitable for portable hotspot. However, GlocalMe talks about something called cloud SIM technology which allows the device to access GlocalMe's high-speed data networks around the world. The device can also be used as a conventional hotspot using a SIM card from a compatible carrier. It promises a maximum download speed of 150 Mbps and upload speeds of 50 Mbps. Keeping this in mind, the GlocalMe G3 is an exciting option for those seeking a standalone device for internet while roaming.
It also makes sense to try out GlocalMe's data offerings, which start from as low as $1.5 per day known as Daypass. These have to be topped up daily, but still end up being cost effective compared to longer plans. This device also has a display of its own, which lets you control certain aspects of the internet connectivity and also manage active connections. One negative here is that it can only connect up to 5 devices at a time. But given the kind of versatility it offers, we're willing to look over this.
Since this is used to share Wi-Fi to nearby users, security remains a concern. However, the company claims that there are safeguards in place to protect your connection. The GlocalMe G3 is available in Gold and Black and is priced under $180 at the moment. Although this is a bigger investment, it's surely going to last longer than a standard prepaid SIM card with the added benefit of lifetime validity.
Mobal is an relatively new carrier in the American scene, but has been around for a while elsewhere. The company offers decent plans for customers traveling to Europe. We're picking out one such plan by the carrier, known simply as the Europe Plus SIM. This particular offering covers the entirety of Europe and several other countries bringing the total tally to around 100 countries. There aren't a lot of benefits out of the box, although the carrier is offering 1GB of high-speed LTE data with this. All incoming calls and texts are free, but you'll have to pay for outgoing calls to the U.S. or Canada. However, call rates for these countries are pretty cheap.
You can choose to extend your data coverage by paying $10 for 1GB of data. The SIM comes with a validity of 30 days which can be extended by topping up the account with the appropriate plan. This effectively means that the SIM card can be kept with you for a while. There's no contract here, so you're free to change your SIM if you'd like to. This is yet another affordable option for travelers. Be sure to check it out on Amazon.
This is perhaps the best option on this list and it's no surprise that it comes from O2. Although O2 is a UK based carrier, it has presence all over Europe, including in France. This plan offers 20GB of 4G data for a period of 30 days with the inclusion of 5000 minutes and 5000 texts within almost every country of Europe. While there's no mention of calls rates to the U.S., we're guessing the carrier has separate plans for those seeking this particular option.
You only have until the 3rd of August 2019 to activate this particular SIM, so it is advised to use this only if your trip to Paris is impending. The SIM doesn't require any strenuous activation process while all the data metrics are setup automatically, so you're good to go as soon as you insert the SIM on your device. However, in some cases, activation may take up to 24 hours, which can be quite frustrating if you're in a hurry. Interestingly, this is one of the most economical options on the list, so we recommend you to have a closer look.
This SIM card is ideal for travelers who are staying in Paris for more than a month. It's valid for a total of 90 days, giving you ample time to travel without having to recharge or top up your SIM. Moreover, the SIM doesn't require personal ID for activation, so you're good to go as soon as you have the SIM on your phone. All the data configurations are set automatically to ensure a hassle free experience for the customers. Speaking of data, this 90 day SIM card gives you only 6GB of 4G/3G data to use. However, it's valid in over 48 countries, so you can expect consistent data speeds at every major European location.
The best part about this SIM card is that it can be recharged by customers to add more data in the future or extend validity. You can also use this as a portable hotspot to those around you. With a price tag of $30 at the time of this writing, this is a decent option to consider.
This is a lifetime SIM card as the company's Amazon listing will tell you. This effectively means that the SIM can be used for as long as you want, although you need to remember to top up or increase validity each year. The SIM is supplied in an attractive package that comes with adapters for nano, micro, and standard SIM card slots.
The Keepgo global SIM comes with 1GB of data bundled, and more can be bought through Keepgo. The leaflet provided with the SIM card contains all the information for the APN settings, helping you get started in no time. The best part is that Keepgo is compatible in over 100 countries around the world. So regardless of where you're traveling, it's likely that this SIM card will work there. Check out the best prepaid SIM Card for traveling to Paris on Amazon.

* If you buy through links on our site, we may earn an affiliate commission. For more details, please visit our Privacy policy page.