The land of Portugal can be an excellent tourist destination. And whether you're headed out there on vacation, or simply are visiting friends and family, you'll want to make sure your time out there is stress-free. One of the ways to do that is to make sure that you're using an international SIM card for traveling to Portugal. This will save you tons of money when it comes to out of country roaming charges.
Editor's Choice
Traveling to Europe and looking for phone and data connections? We recommend the Orange Holiday Europe prepaid international Sim card. Works in 30 of the largest countries in Europe.
MORE INFORMATION
If you follow along with us below, we'll show you five of the best SIM cards that you can use abroad,
and
provide you with fast, 4G LTE speeds.
* If you buy through links on our site, we may earn an affiliate commission. For more details, please visit our Privacy policy page.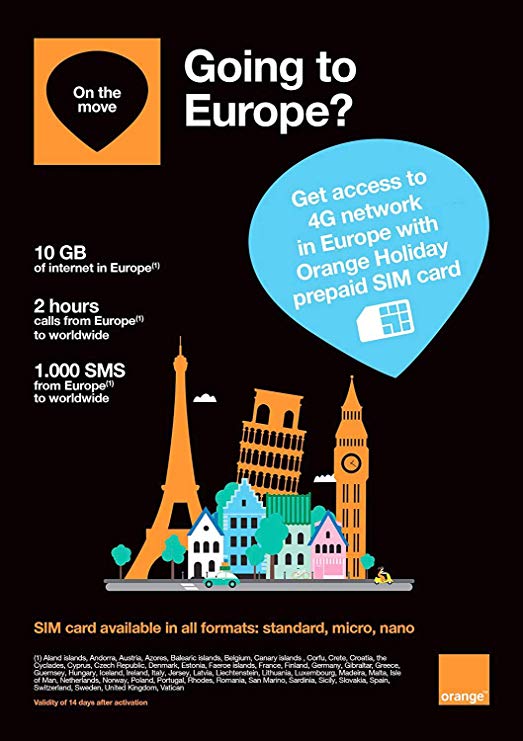 Coming up as our number one choice, we have the Orange Holiday SIM. If you're looking for reliability and fast 4G LTE data, that's exactly what the Orange Holiday SIM offers. Not just for Portugal, but for most of the EU.
There's a whole 10GB of data to use while in Portugal, and on top of that there's also two hours of talk time, and then another 1,000 SMS messages to use in addition to your data. That means you don't have to rely on Facebook Messenger or other social platforms for communication.

Next up, we have the ThreeUK SIM card. This one is the most similar to the option from Orange, since you get support for data, talk, and text. There's actually 12GB of data, 3000 minutes in talk time and 3000 messages. It has a ton of data, but on top of that, you actually get support for calling an texting features. That means you don't have to rely on social messaging apps for your communication. And worry not — when you're running low on data or talk or text, ThreeUK allows you to refill as needed.
This is another SIM card that can only be used with phones — other devices need not apply. Additionally, you can't video stream with the card, nor can you use it for tethering or mobile hotspot purposes.
Mobal Europe Plus SIM
Secondly, we have the Mobal Europe Plus SIM. There's 1GB of data included with your SIM card, but after that's used up, you'll have to pay for each 1GB used, which sits at a rate of $10 per gig. Talk and text rates are additional cost, and sit at 30¢ per minute rates in all countries, though rates are cheaper when calling to the US or Canada. However, incoming calls and text messages are free.
Payment isn't necessarily the best, requiring a credit or debit card to be attached to the SIM. Then, when the end of the period comes, you're automatically billed. That can end up being pretty expensive, but should still sit at cheaper than roaming.
Next up, we have the Internet with legs Trio SIM card. The previous ThreeUK card had calling and texting features, but unfortunately, this one does not. And that's because it's a data-only SIM card — so you have to use apps like Facebook Messenger and WhatsApp for text and call features. There is, however, 4G LTE data for your travels.
We should note that this SIM card only works with unlocked GSM phones. It comes with just 3GB of data to use while in the Czech Republic, and over 30 other European countries. Data can be refilled as needed, though.
Keepgo comes up as our last contender, but it certainly isn't the least on our list. If you only want to purchase 1GB at a time, this SIM card is an excellent choice. It comes with 1GB with your purchase, but can be refilled with additional data at $10 per 1GB. This is yet another data-only SIM card, and actually has a lot of similarities to the Mobal SIM card. It does, however, come with better payment and refill options.
One of the nice things about this card is that, in addition to working in the Czech Republic, it works in countries all over Europe, Asia, and the Americas, too.
As a data-only card, you'll have to use WhatsApp or Facebook Messenger (or another social app) to communicate with friends and family while on the go.
Verdict
As you can see, there are a lot of excellent SIM cards available for traveling to Portugal; however, we think the Orange Holiday SIM is probably your best bet, simply because it also comes with talk and text support, whereas many of the others do not. It's also quite versatile as well, providing you with cell reception in most European countries.
What's your favorite
international SIM card
?
* If you buy through links on our site, we may earn an affiliate commission. For more details, please visit our Privacy policy page.