Going to see the great country of Norway this year, you will need the best international SIM Card for traveling to Norway? It's an excellent place to visit, with beautiful sights to see and an amazing culture to experience. It's a Scandinavian country, so you'll get to see vast and beautiful green spaces when you're there, and so much more. But, being a vacation, you want to make sure that it's a stress-free time as much as possible. That said, you'll want to make sure that you have the proper international SIM card for traveling to Norway. After all, you don't want to come home to hundreds, possibly thousands in roaming charges.
* If you buy through links on our site, we may earn an affiliate commission. For more details, please visit our Privacy policy page.
Traveling to Europe and looking for phone and data connections? We recommend the Orange Holiday Europe prepaid international Sim card. Works in 30 of the largest countries in Europe. MORE INFORMATION Follow along with us below, and we'll show you five of the best choices available today.
Best International SIM Card For Traveling to Norway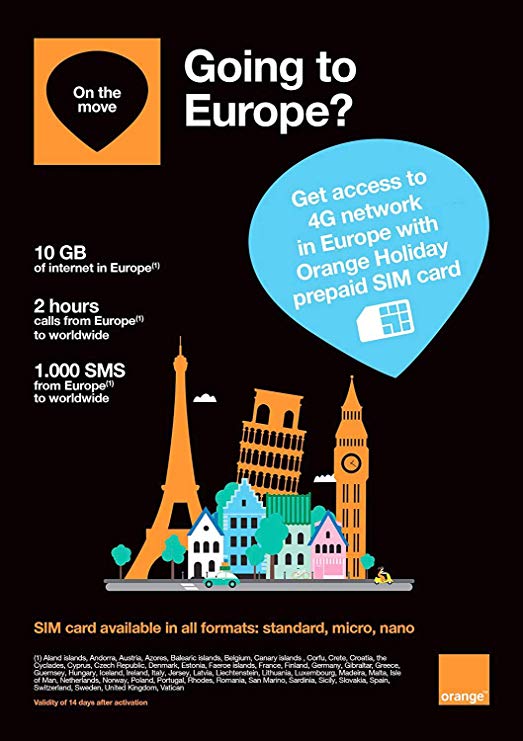 The first choice on our countdown is the Orange Holiday SIM. This is our first and favorite choice, providing you with some excellent value for money. Costing only a couple of bucks, the initial Orange Holiday SIM package gives you a ton of data and talk time, at rates a whole lot cheaper than in the US!
You get a whole 10GB of data to use while in Norway, and then there's also two hours of talk time, and then another 1,000 SMS messages to use in addition to your data. The SIM is supposed to last 14 days, but you can add additional days, buy more data, or more text and talk time as needed.

Of course, Orange's Holiday SIM is providing you with 4G LTE speeds, which means that your data will be extremely quick when uploading or moving around photos and video.
In third place, is ThreeUK's own UK-Europe SIM card. This one is actually one of our favorites, since ThreeUK actually stays pretty competitive with the Orange Holiday SIM here. They're similar in nature, but Orange does give you more overall features. However, just like Orange, you get plenty of data access, but also native talk and text support, too. ThreeUK gives you a whole 12GB of data, 3000 minutes in talk time and 3000 messages. Getting low? No problem! ThreeUK allows you to top off pretty easily.
ThreeUK, however, only lets you use this SIM card in phone There's no video streaming with this SIM card, nor can you use it for more demanding tasks like tethering or mobile hotspot.
3) Mobal Europe Plus SIM
Next, we're looking at the Mobal Europe Plus SIM. With your purchase, you're getting 1GB of data right out of the gate, but after that's used up, you'll have to pay for each 1GB used. In addition, you have to pay for talk and text, which sits at 30¢ per minute rates in all countries, though rates are cheaper when calling to the US or Canada.
It actually has a pretty unique payment method, which isn't ideal at all. Your credit or debit card is directly attached to your SIM card, and when the billing period ends, is automatically charged for your usage. That said, this can rack up to be really expensive if you're being heavy on this card. That's why we might suggest this option from ThreeUK if you're not a fan of the Orange Holiday SIM, and are planning on some heavy use first:
ThreeUK also has something that they call the Internet with legs Trio SIM card. It's a nice SIM card, but comes up as fourth on the countdown because of a lack of text and calling support. It's a data-only SIM, essentially. This one gives unlocked GSM phones a whole 3GB of data to use while in Norway, and over 30 other popular EU destinations. That's particularly nice because you won't lose data when moving around from country to country in the EU.
Talk and text are still possible, but it has to happen over services like Facebook Messenger or WhatsApp.
It comes up last on our countdown, but Keepgo is a decent last resort. It works fairly similarly to the Mobal SIM card, with Keepgo only giving you 1GB of data that you can use. You can pay for data per 1GB afterwards, but there is 24/7 customer support available for refilling your allotment as needed. The data is valid for one-year, and every refill that you do increases the SIM cards validity for another year.
Since there's no talk or text features, you'll have to use talk and text over a social platform like WhatsApp or Facebook Messenger. Not a bad choice, since data is cheap here.
Verdict on The Best International SIM Card For Traveling to Norway
There are a lot of great international SIM cards out there for travel, and we're confident that these five are some of the best. Taking the number one place is the Orange Holiday SIM, which will provide you with the most reliability as far as data, talk, and text goes. Not only that, but Orange allows you to refill your SIM card as needed, keeping you provided with the time and data that you need while venturing in Norway. What's your favorite SIM card for traveling to Norway?

* If you buy through links on our site, we may earn an affiliate commission. For more details, please visit our Privacy policy page.