Right up there with Germany, the Netherlands can be a fun place to visit. There are some excellent landmarks to see, and past history that everyone should experience. It has a thriving culture, and there is just so much to do within the country. That said, you'll want to record as much as you can while you're there through photos and video, and you'll want to share those with family members, right? For that, you need to make sure that you have a good data plan that isn't going to break the bank.
Editor's Choice
Traveling to Europe and looking for phone and data connections? We recommend the Orange Holiday Europe prepaid international Sim card. Works in 30 of the largest countries in Europe.
MORE INFORMATION
An international SIM card will do, which can save you a few hundred to possibly thousands in roaming charges. Follow along below, and we'll show you the best options you can use while in the Netherlands.
* If you buy through links on our site, we may earn an affiliate commission. For more details, please visit our Privacy policy page.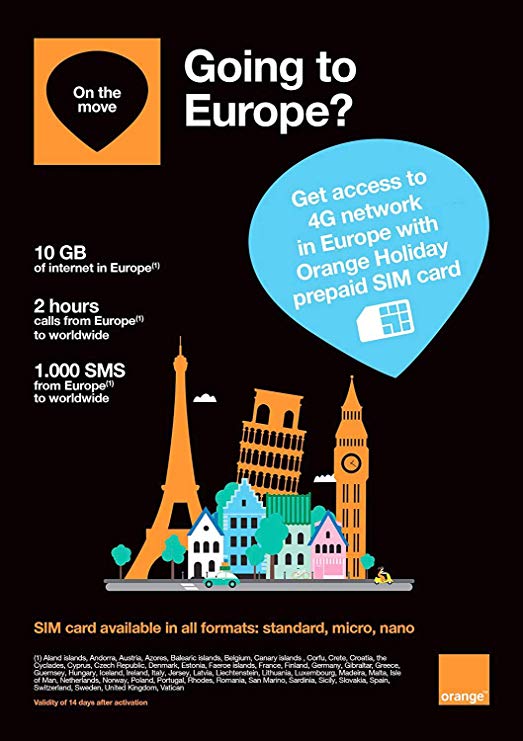 The Orange Holiday SIM comes up as our favorite choice, and is one of our favorites for traveling all across Europe. This one is premier brand when it comes to traveling the world, offering you reliable 4G LTE data almost anywhere you go in Europe. On top of that, it provides you with data much cheaper than you'd find in many areas of the world, including the US and Canada.
The Orange Holiday SIM will give you a whole 10GB of data to use while in the Netherlands, and on top of that there's also two hours of talk time, and then another 1,000 SMS messages to use in addition to your data. That means you don't have to use social platforms as the primary methods of contact. In addition, the SIM is supposed to last 14 days, but you can add additional days, buy more data, or more text and talk time as needed.

We're big fans of the ThreeUK UK-Europe SIM card as well. This one is the most similar to the Orange Holiday SIM, giving you a whopping 12GB of data, 3000 minutes in talk time and 3000 messages. With all of that talk and text time in addition to data, you won't have to rely on social platforms for calling and text features. Getting low? No problem! ThreeUK allows you to top off pretty easily.
ThreeUK, however, only lets you use this SIM card in phone. You can't video stream with the card, nor can you use it for tethering or mobile hotspot purposes.
Mobal Europe Plus SIM
In second place on our countdown, we're looking at the Mobal Europe Plus SIM. Included with your SIM card is a free 1GB of data right out of the gate, but after that's used up, you'll have to pay for each 1GB used. Talk and text rates are additional cost, and sit at 30¢ per minute rates in all countries, though rates are cheaper when calling to the US or Canada.
It actually has a pretty unique payment method, attached directly to your SIM card. When the billing period ends, all of your usage is added up and automatically charged to your credit card. That can add up to be pretty expensive, but is generally still cheaper than out of country roaming charges.
A little more on the unique side of things, we have ThreeUK's Internet with legs Trio SIM card. Unlike the previous ThreeUK card, there are no calling or text features here. That's because it's a data-only SIM, requiring you to rely on platforms like Facebook Messenger and WhatsApp for text and call features.
Additionally, this SIM card only works with unlocked GSM phones, and gives them a whole 3GB of data to use while in the Netherlands, and over 30 other popular EU destinations.
Keppgo might be last up on our countdown, but it's still a better option than out of country roaming charges. It's actually quite similar to the Mobal SIM card, but comes with better payment and refill options. The SIM card comes with 1GB of data right out of the gate, but then you pay per 1GB afterwards. Keepgo has 24/7 customer support available for refilling your allotment as needed.
Like some of the others, there are no calling or text features, which means you have to rely on WhatsApp, Facebook Messenger, or another platform for that.
Verdict
As you can see, there are a lot of excellent international SIM cards available for your travels to the Netherlands. You'll no doubt find the most reliability with the Orange Holiday SIM, which will bring you plenty of data, talk, and text time. Refilling is easy, and you can extend the duration for as long as you need to be there.
What's your favorite
SIM for international travel
?
* If you buy through links on our site, we may earn an affiliate commission. For more details, please visit our Privacy policy page.