Headed out on vacation to Montenegro this year? It's a fairly unique place within Europe within the Balkans area. However, before you go, you'll want to make sure that you have an international or local SIM in your phone. This can potentially save you hundreds of dollars, if not thousands in overage charges. Data is so much cheaper this way, and will actually provide you with faster cell speeds in this manner, too.
Editor's Choice
Traveling to Europe and looking for phone and data connections? We recommend the Orange Holiday Europe prepaid international Sim card. Works in 30 of the largest countries in Europe.
MORE INFORMATION
Not sure which one to pick up? Follow along with us below, and we'll show you five of our favorites options! And first up, we have one of our top picks:
* If you buy through links on our site, we may earn an affiliate commission. For more details, please visit our Privacy policy page.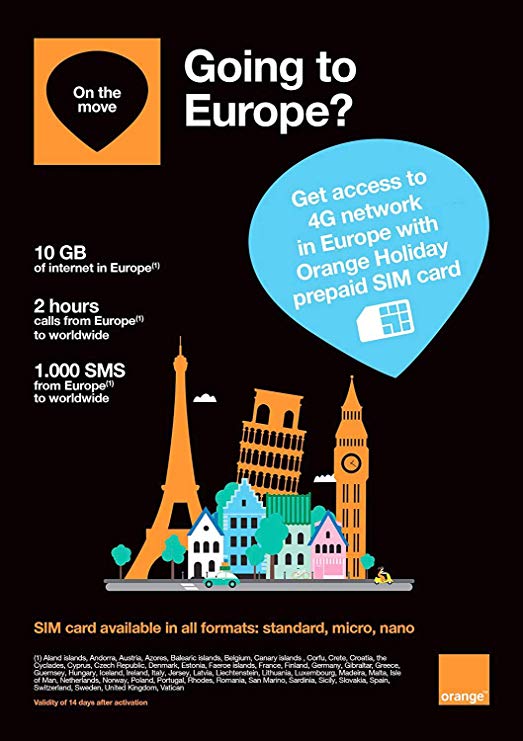 Coming in as our favorite and the most reliable choice, we have Orange's own Holiday SIM. Designed for international travelers, this is going to be the best SIM card that you can get your hands on. This one has some great value for money, actually getting you data cheaper than you would find it in most places in the world. The pricing is insane, actually being 50% less than what you would pay for data in America. You get fast 4G LTE data in around thirty countries across the EU, with Montenegro being included in that.
You get quite a bit of data — 10GB of 4G LTE data that you can use for 14 days. There's also two hours of talk time, and then another 1,000 SMS messages to use in addition to your data. Top off whenever you need more.

If you — for some reason — don't like the package that Orange is offering, the ThreeUK Europe SIM is one of the better choices for international travel to Europe. Just like Orange, this SIM card will give you data access, and then phone and text minutes.You actually get access to a whopping 12GB of data, 3000 minutes in talk time and 3000 messages. You can use it up as needed, and then refill whenever you'd like.
However, there are some restriction on the data. Yo can only use the SIM card in phones — no other devices. You also can't use the data for video streaming, nor can you use it for tethering or mobile hotspot use.
Mobal Europe Plus SIM
Coming in second, we're looking at Mobal's own Europe Plus SIM. This isn't a bad choice, but isn't anywhere near as good as the package offered with Orange. The way that Mobal sets this up makes it a little pricier. Talk and text rates are bundled together, and they actually charge you 30¢ per minute rates in all countries, though rates are cheaper when calling to the US or Canada.
Data is a little pricier as well. Your purchase gets you 1GB of free data, but you'll have to pay for every 1GB of data thereafter.
The SIM card does have a pretty odd payment setup, which can actually make it quite expensive, though likely nowhere near the price of roaming charges. That's because it's attached to your credit or debit card. The plus is that you can use as much or as little as you'd like, but that your card is automatically billed for your usage.
ThreeUK has a pretty unique choice that they're calling the Internet with Legs Trio. You get a whole 3GB of data for use all over Europe with this one. The big thing with this SIM card is that you don't have any sort of talk or text support here. You'll have to keep communication like that on platforms like Facebook Messenger or WhatsApp.
Keep in mind that this one is only used with unlocked GSM phones — it won't work in CDMA phones, which are becoming pretty rare these days.
Keepgo's very own Global Lifetime SIM card might be last up on our list, but it's still a better choice than eating the insane roaming charges that come with your carriers back home. Carriers just don't have great international plans, which is why options like Keepgo are much better. This one is fairly similar to what Mobal is doing, with Keepgo only giving you 1GB of data that you can use, but it can be refilled as needed. No talk or text features are present, so you'll have to keep that through Facebook Messenger, WhatsApp, and similar communication platforms.
Verdict
As you can see, there are a lot of excellent international SIM card for traveling to Montenegro. Any one of these will provide you with some pretty good data, as well as blazing fast 4G LTE speeds. The Orange Holiday SIM is our favorite, offering you the best value for money for on the go travel.
What's your favorite?
* If you buy through links on our site, we may earn an affiliate commission. For more details, please visit our Privacy policy page.