Headed out to visit friends and family in Hungary? Or, maybe you're just looking at visiting, exploring the sights, and seeing popular landmarks in the area. Either way, you've no doubt got a list of different to-do's to check off before you head out on your international journey. Before you go, you'll also want to make sure that you pick up an international SIM card for travel — they're so much cheaper than the roaming charges you would incur from a traditional carrier back home.
Editor's Choice
Traveling to Europe and looking for phone and data connections? We recommend the Orange Holiday Europe prepaid international Sim card. Works in 30 of the largest countries in Europe.
MORE INFORMATION
With a local or international SIM, you pay normal, if not discounted rates for talk, text, and data while abroad. You save yourself a few hundred dollars at least, if not thousands depending on the roaming charges incurred. That said, here are five of our favorite choices for traveling to Hungary:
* If you buy through links on our site, we may earn an affiliate commission. For more details, please visit our Privacy policy page.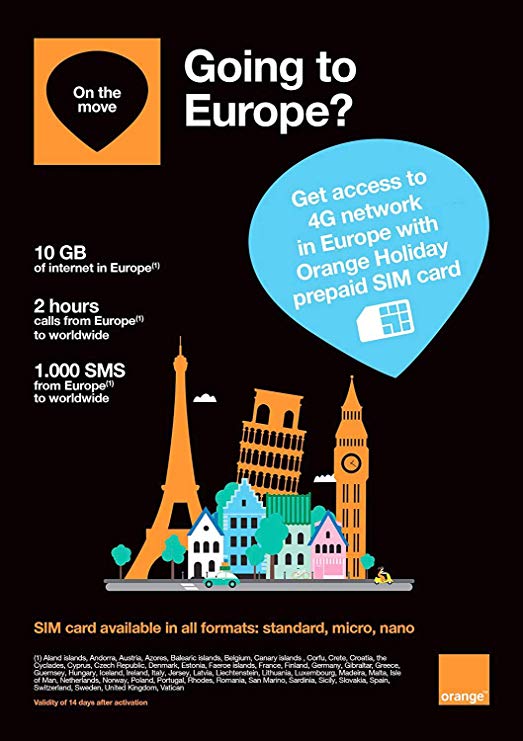 First up, we're looking at the Orange Holiday SIM. The value for money in the Orange Holiday SIM is hard to beat. You get fast 4G LTE data in around thirty countries across the EU, with Hungary being included in that.
It's definitely one of the better deals as far as international data goes. That's because your SIM purchase gets you a whopping 10GB of 4G LTE data that you can use for 14 days. Bundled in with that is two hours of talk time, and then another 1,000 SMS messages to use in addition to your data. When you top off, the duration of the SIM is extended, and you can load up whenever needed.

Sitting decidedly in third place on our countdown, we have the choice from ThreeUK. These folks offer one of the best international SIM options, largely because ThreeUK is trying to compete hard with Orange here. That said, most international SIM cards today are offering you data exclusively, with no talk or text time available, but ThreeUK — much like Orange — sets itself apart from the rest this way.
You actually get access to a whopping 12GB of data, 3000 minutes in talk time and 3000 messages, but can reload whenever you need to.
Mobal Europe Plus SIM
Second up, we have the Mobal Europe Plus SIM. They give you 1GB of free 4G data with your purchase of the SIM card, and charge per additional 1GB. That pits it as one of the pricier choices, yet still cheaper than traditional roaming charges.
Like we mentioned, Mobal is on the pricier side of things, and you even see that in talk and text rates. They actually charge you 30¢ per minute rates in all countries, though rates are cheaper when calling to the US or Canada.
This one might not be the cheapest choice out there, simply because the SIM card is attached to your credit or debit card. The plus is that you can use as much or as little as you'd like, but that your card is automatically billed for your usage.
Next up, we're looking at ThreeUK's "Internet with legs Trio" SIM card. This one gives unlocked GSM phones a whole 3GB of data for on the go use while traveling through the EU. It operates just fine in Hungary, as well as plenty of other countries within the EU. Data has to be used over 90 days, but can be refreshed whenever you reload.
ThreeUK designed this one with easy setup — there's no activation required, essentially acting as a plug and play SIM card. Setup is easy — just set the SIM card in your phone, and you're ready to start using the cellular data anywhere in the EU. There's no call or text features inside, but it does let you use data.
One of the nicer things about this SIM card is that you can try before you buy. In a way, at least. You have to buy the SIM card, but then ThreeUK actually gives you free roaming in the US to make sure it works with your phone before committing to it.
Coming up last on our countdown, we have Keepgo's very own Global Lifetime SIM card. This is another excellent option for saving yourself a few hundred, if not thousands in roaming charges. It's actually quite similar to the option from Mobal, with Keepgo only giving you 1GB of data that you can use, but it can be refilled as needed. There's no talk or text features here either, so you'll have to use data for making phone calls and texts over things like Facebook Messenger or WhatsApp.
Keepgo designed their SIM card to work with unlocked GSM phones, so CDMA phones need not apply here.
Verdict
As you can see, there are a lot of excellent SIM cards for traveling to Hungary. These all will provide you with some excellent data coverage and speeds in the nation; however, the Orange Holiday SIM is our favorite choice, since it offers you talk, text, and plenty of data.
Do you have a favorite
international SIM card that you use for travel
? Let us know what it is in the comments section below.
* If you buy through links on our site, we may earn an affiliate commission. For more details, please visit our Privacy policy page.