Greece is one of the most popular tourist destinations in Europe, and anyone visiting the country will need the best international SIM Card for traveling to Greece. Anyone will tell you that it has some excellent food, and on top of that, it has some amazing historical landmarks.
It's a place of history, but not only that, but there's an expansive culture to experience while over there. You can never spend enough time in Greece, as many of the cities and islands all have their own culture, history, and food to explore as well.
* If you buy through links on our site, we may earn an affiliate commission. For more details, please visit our Privacy policy page.
Traveling to Europe and looking for phone and data connections? We recommend the Orange Holiday Europe prepaid international Sim card. Works in 30 of the largest countries in Europe. MORE INFORMATION That said, there's a lot you're doing to prepare for your exciting trip abroad.
However, one thing that you'll want to make sure you keep on the top of your list is international data for your phone(s). You certainly don't want to come home to hundreds, if not thousands in roaming charges! But that's where an international or local SIM card comes in. Follow along with us below, and we'll show you five of our favorites.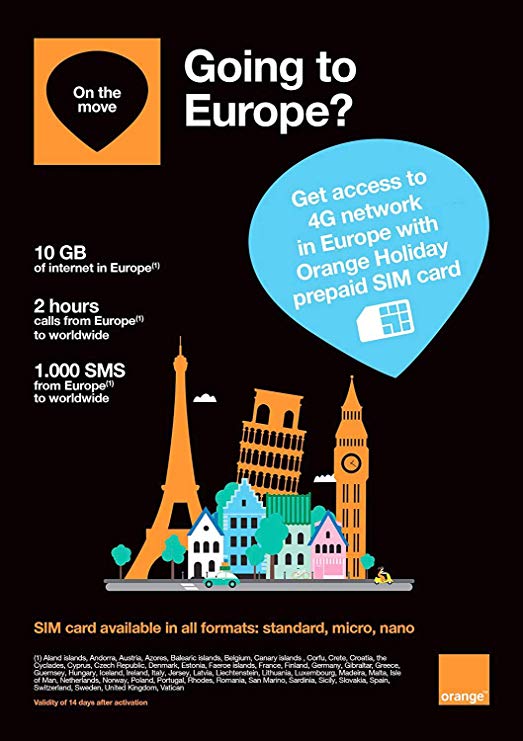 First up, we're looking at the Orange Holiday SIM. The value for money in the Orange Holiday SIM is hard to beat. You get fast 4G LTE data in around thirty countries across the EU. That includes most popular areas, including Greece. On top of that, Orange keeps its prices and what you get as fairly competitive.
It's definitely one of the better deals as far as international data goes. You actually get a whopping 10GB of 4G LTE data that you can use for 14 days. Bundled in with that is two hours of talk time, and then another 1,000 SMS messages to use in addition to your data. When you're running low, Orange allows you to top off whenever, which automatically extends that 14 days as well.
ThreeUK is up next, offering up one of their best international SIM options. While the company has a ton of different SIM packages that you can choose from, this one is easily the best that you can pick up for your unlocked GSM phone. This is because not only do they offer you data with this phone, but talk and text abilities to. Most international SIM cards today are offering you data exclusively, with no talk or text time available.
Competing with Orange, you actually get access to a whopping 12GB of data, 3000 minutes in talk time and 3000 messages. Prices are competitive with Orange, and you can top off or refill whenever you're running low on talk, text, and data.
Next up, we have the Mobal Europe Plus SIM. They give you 1GB of free 4G data with your purchase of the SIM card and charge per additional 1GB. Naturally, you get free incoming calls and text messages from people in over 130 different countries. However, if you're responding or making outgoing calls yourself, Mobal does charge you for that,
They are on the pricier side of things, charging you 30¢ per minute rates in all countries. However, it is on the competitive side, and it's way cheaper than roaming charges. You can get even lower cost calls to the United States and Canada.
It's not the most ideal situation, as the SIM card is attached to your credit card. That means that you can use as much or as little as you'd like, but that your credit card is automatically billed for your usage. It appears that Mobal also bundles text messages into "minutes", which means sending texts might be pricier than normal.
ThreeUK is up again, this time with their "Internet with legs Trio" SIM card. This one gives unlocked GSM phones a whole 3GB of data for on the go use in Greece. This one is a limited time SIM card, allowing you to use that data over 90 days. 3GB is usually the average amount of data that someone would use in a month, so ThreeUK does allow you to refill when you're running low.
This one is easy to setup, requiring no activation. Set the SIM card in your phone, and you're ready to start using the cellular data. The one unique thing about this SIM card setup is that it doesn't have talk or text with it.
One of the nicer things about this SIM Card For Traveling To Greece is that you can try before you buy. In a way, at least. You have to buy the SIM card, but then ThreeUK actually gives you free roaming in the US to make sure it works with your phone before committing to it.
There are actually 42 destinations where you can use this card. While this card is data only, it really isn't hindrance, since many messages and calls today are made over data.
Up last on our countdown, we're looking at Keepgo's Global Lifetime SIM card. It's an excellent SIM card, still saving you tons of money in roaming fees. Keepgo only gives you 1GB of data that you can use, but it can be refilled as needed. It's most similar to the Mobal card this way, but the biggest difference is that there are no call or text features — it's data only.
Keep in mind that this one will only work with phones that are SIM unlocked, and are of the GSM variant. This one is also considered to be a throwaway SIM, expiring after one year of use. You can keep this SIM Card For Traveling To Greece from expiring by refilling the data at least once every year; if not, you have to order a new Keepgo SIM.
Verdict on the Best International SIM Card For Traveling To Greece
As you can see, there are tons of excellent SIM cards for international travel. These all specifically work in Greece, but most will work in up to 30 other popular European countries as well. The Orange Holiday SIM probably has the most value for money here, bringing you tons of data and fast, 4G LTE speeds. Do you have a favorite international SIM Card For Traveling To Greece? Let us know in the comments section below, and you may just see it added to our list!
* If you buy through links on our site, we may earn an affiliate commission. For more details, please visit our Privacy policy page.