Welcome to another #GalaxyNote4 post for this week. We continue to welcome new problems from our community so you can expect that more articles like this one will be published in the coming weeks. Hopefully, you'll find this post informative.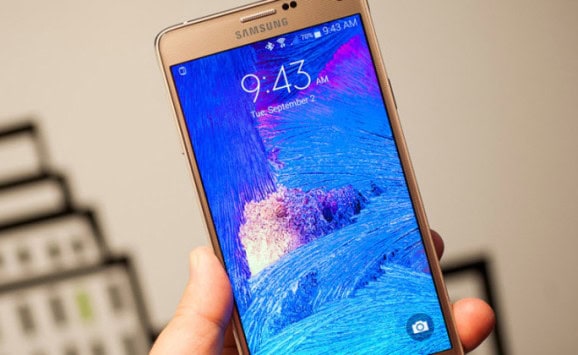 If you are looking for solutions to your own #Android issue, you can contact us by using the link provided at the bottom of this page.
When describing your issue, please be as detailed as possible so we can easily pinpoint a relevant solution. If you can, kindly include the exact error messages you are getting to give us an idea where to start. If you have already tried some troubleshooting steps before emailing us, make sure to mention them so we can skip them in our answers.
Below are specific topics we're bringing for you today:
Problem 1: Galaxy Note 4 keeps turning off sound after an update
After updating recently, my phone keeps silencing by itself until I restart the phone. The sound stays on for just a littLe bit and goes back to silent mode and I'm unable to raise the volume for "media", "notifications" and "systems" unless I restart. I downloaded the advanced task killer app before using this firm but no luck to fix that bug. — Grace
Solution: Hi Grace. If you're positive that the issue started to occur after updating, make sure to do the following:
wipe the cache partition
install app updates
do a factory reset
The cache partition wipe is an important troubleshooting step to allow you to check if the bug is due to a bad system cache. Updates can sometimes mess up with the system cache so it's good if you take care of it right away. Here's how to do that:
Turn off the Galaxy Note 4 completely.
Press and hold the Volume Up and the Home keys together, then press and hold the Power key.
When the Note 4 vibrates, release both the Home and Power keys but continue holding the Volume Up key.
When the Android System Recovery shows on the screen, release the Vol Up key.
Using the Volume Down key, highlight the option wipe cache partition and press the Power key to select it.
When the wiping of the cache partition is finished, highlight 'Reboot system now' and hit the power key.
Once you've cleared the cache partition, make sure that you check that all apps are updated. Some apps may become incompatible with newer Android updates so you want to ensure that you only install fully updated and compatible apps. Check each of the apps individually and uninstall some that are not compatible, or problematic. Stick to official apps as much as possible. Remember, not all apps are built with same resources and expertise so not everything in the app store can be trusted to work fine.
If nothing works after wiping the cache partition and installing the updates, do a factory reset. Be sure to create a backup.
From the Home screen, tap the Apps icon.
Launch Settings and scroll to 'User and Backup' section.
Tap Backup and reset.
If you want, you can tick the checkboxes next to Automatic restore and Back up my data.
Tap Factory data reset.
Touch Reset device.
You may be asked to enter your PIN or Password.
Tap Continue and then Delete all.
Be sure to check how sound in your phone works after the factory reset. Let it run for 24 hours without installing anything. If it works normally, that may mean you have eliminated the bug. However, if the issue returns after installing your apps, it's possible that one of the apps is to blame.
Problem 2: Galaxy Note 4 messaging app lost video chat feature
My husband and I both have Samsung Galaxy Note 4s. After doing the last update our messaging doesn't look the same anymore. I have a video feature for chatting and his doesn't. Why if the versions are the same they don't both have video chat available? — Dawn
Solution: Hi Dawn. We need more information than the ones you provide here so kindly get back to us and provide the name of the app. We can't help you specifically if you don't tell us the product you're having trouble with.
In the event that this is just a case of an outdated app, make sure that you have both apps updated to the same version. If the operating system in both devices are already the same, then you simply have to make sure that both apps in question are also running the most recent version available. Simply visit Google Play Store and update them.
Problem 3: How to set a default launcher in Note 4
Hi. i go to dialysis twice a week and need my Note 4. I am in the UK. My Note 4 has now started, since moving to Marshmallow, to choose easy or home touch whiz. It's annoying. is it at all possible to stop this every time I press the home button? Thanks. — Mike
Solution: Hi Mike. Make sure that you set the default launcher under Settings>Applications/Apps>Default applications. If you have at least two launchers (like Touchwiz), make sure that you pick only one to make it as the default.
Problem 4: Galaxy Note 4 S View cover won't display time and date
I have a Galaxy Note 4 with the flip cover S-View window. Recently I have had the media controls take over my s-view screen. I have disabled and media/music player applications and i have tried resetting my phone several times. Do you have any ideas how to get rid of the media controls so that I can see the time and date and such again. — Ashley
Solution: Hi Ashley. If you used an app to modify the default behavior of your S View cover, simply uninstall it and you should be good. If you want, you can also factory reset your device to return everything back to stock. Here's how:
Create a backup of your important files such as photos, videos, contacts etc. You can use Smart Switch for this task.
Turn off the Galaxy Note 4 completely.
Press and hold the Volume Up and the Home keys together, then press and hold the Power key.
When the Note 4 vibrates, release both the Home and Power keys but continue holding the Volume Up key.
When the Android System Recovery shows on the screen, release the Vol Up key.
Using the Volume Down key, highlight 'wipe data / factory reset' and press the Power key to select it.
Now highlight 'Yes — delete all user data' using the Vol Down key and press the Power key to begin the reset.
When the master reset is complete, highlight 'Reboot system now' and hit the Power key.
The Note 4 will restart but it will be longer than usual. When it reaches the Home screen, then begin your setup.
Problem 5: Galaxy Note 4 freezing, reboots randomly, won't detect SIM card
I have a Samsung Galaxy Note 4. When i call someone, the device freezes, screen turns off and restarts automatically. After restarting, the phone won't detect SIM card keeps showing NO SIM CARD Inserted.
I turned off the phonem reinserted SIM and turned on then again … same issue. Even when i use data i suffer with network problem and also device overheating during this. Sorry for my bad English. — Bgovind073
Solution: Hi Bgovind073. Taken altogether, these issues may have one main reason — bad hardware. We suggest that you perform a factory reset first so you'll know if the issues can be fixed in your end or not. If the issues won't go away after a factory reset, that's clear confirmation that you have a hardware issue. You should send the phone in so it can by physically examined by a competent technician.
Problem 6: Galaxy Note 4 voice calls are muffled
Samsung Galaxy Note 4 call issues. Whatsapp and Facebook calls are crystal clear, however, regular calls are very muffled. I've experienced this with 3 different phone companies, some in different countries, it's not the network. I've restarted tons of times. Calls on my Galaxy Fame (older phone) are so much clearer. — Daniel
Solution: Hi Daniel. Since you've already pretty much narrowed down the possible causes, you only have one more thing to do here — clearing the cache and data of of the dialer or Phone app, and factory reset.
To clear an app's cache and data, follow these steps:
Open the Settings menu either through your notification shade (drop-down) or through the Settings app in your app drawer.
Navigate down to "Apps". This may be renamed to something like Applications or Application Manager in OEM skinned versions of Android 6 or 7.
Once in there, click on an application.
You'll now see a list of stuff that gives you information about the app, including Storage, Permissions, Memory Use, and more. These are all clickable items. You'll want to click on Storage.
You should now clearly see the Clear Cache and Clear Data buttons for the application.
Instead of doing the steps above, you can also try to use a different dialing or calling app like Facebook Messenger or Google Hangouts (make sure not to use video or voice calling via internet). Both apps support regular calls, which are the ones routed through your carrier's network.
You can also try a factory reset (steps provided above). If the problem persists after that (and when there are no apps installed), that means you have a bad hardware. Have the phone replaced.
Problem 7: Galaxy Note 4 won't register new fingerprint, won't remember wifi password
I purchased a used Samsung Note 4. T-mobile. Overall looks very good but I had several issues:
Fingerprint reader does not register – could be hardware
It will not retain WIFi passwords – I have to enter password every time I reconnect. I saw your posting about this but as I'm on Android 6.01 there is no auto-connect option in setup – probably default.
I tried full reset and then flashed the factory firmware with Odin. On completing, it complains about missing DRK please flash ENG binary
It still reboots okay and works fine apart from those problems above ( all I've found so far)
 I assume the wifi passwords are kept somewhere that has has been corrupted and not replaced by reflashing the firmware. Maybe this is also the fingerprint issue as well as it would have to save these somewhere.
Someone has rooted the phone at some stage at the knox checker reports the warranty is invalid. — Mike
Solution: Hi Mike. Fingerprint data and wifi passwords get deleted when a new firmware is flashed. We don't have a full history of your device though so we can't say for sure what's happening with it. Try to remove the root software and flash everything back to stock, preferably to the original firmware that shipped with the phone when it was unboxed. If doing so won't fix the issue, you may be right, bad hardware may be to blame.
Problem 8: Galaxy Note 4 not charging, not turning on
Hi there. I just got a gift from a friend which was a Note 4 and for some reason soon as i get it, it started freezing and restarting on its own.
And after research i tried the sim card method and it worked ok but now phone died and it doesn't turn on neither it charges. i tried a method of removing battery and pressing home button which boots the phone but at 2% and doesn't charge. it just keeps dying and not running since its plugged in but not charging
What could it be?? I know it's not my charger because all my other Androids charge thru it. I appreciate it. — Lynn
Solution: Hi Lynn. There's nothing much that you can do if your phone won't turn on. The only thing that we can suggest is you try to see if you can make it to power back on to other modes. Only then can you attempt some troubleshooting. If they phone remains dead though, you need to have it repaired.
Below are the steps that you can try:
Boot in Recovery mode:
Charge the phone for at least 30 minutes.
Press and then hold the Home and Volume UP keys, then press and hold the Power key.
When the Samsung Galaxy logo shows on the screen, release the Power key but continue holding the Home and Volume Up keys.
When the Android logo shows, you may release both keys and leave the phone be for about 30 to 60 seconds.
Using the Volume Down key, navigate through the options and highlight 'wipe cache partition.'
You can either wipe the cache partition or do a factory reset when in this mode.
Boot in Download Mode:
Charge the phone for at least 30 minutes.
Press and then hold the Home and Volume DOWN keys, then press and hold the Power key.
When the Samsung Galaxy logo shows on the screen, release the Power key but continue holding the Home and Volume DOWN keys.
Wait until the Download screen appears.
If you can boot the phone in download mode but not in other modes, that means that your only way out may be to flash a stock or custom firmware.
Use Google to look for a guide on how to do it.
Boot in safe mode:
Charge the phone for at least 30 minutes.
Press and hold the Power button.
Once the Samsung Galaxy logo appears, release the Power key and immediately press and hold the Volume Down button.
Continue holding the button until the phone finishes rebooting.
Once you see the text "Safe mode" at the bottom left corner of the screen, release the Volume Down button.
The only difference of safe mode from normal mode is that the former prevents third party apps from running. If you can boot the phone in safe mode but not in normal mode, uninstall all apps until the issue (that prevents you from booting normally) is eliminated.
Problem 9: Galaxy Note 4 won't charge and keeps saying to use the original charger
Hey the droid guy. So I have a sudden issue that I've had with my Samsung Galaxy Note 4 within the past week where my phone would get hot really fast when I use it and none of my compatible chargers will keep it charged. what it does is if I move the cord a tiny bit, it messes with the connection.
I did purchase a new battery as I thought it was that but it is doing the same thing. It does tell me all the time that I need to have the original charger on hand but ive used the same chargers since I bought it. I'm hoping that you can help me out. I really don't  have money for a new phone right now. Thank you so much. — Vhing
Solution: Hi Vhing. If a new battery did not make any difference, then the problem must be the charging port. This is often one of the most common reasons why a Note 4 fails to charge, or charges erratically. Have the phone examined by a professional so you'll get an accurate assessment.
Problem 10: Galaxy Note 4 stuck in T-Mobile logo screen
Hi. Hopefully this email still works & reaches someone.  I have a Note 4 and it suddenly only boots up to the white "T-Mobile" screen.
It started when my phone battery died. But for a few weeks T-Mobile was trying to install an update but I didn't have enough available memory to do it (it was a large amount, like 3GB, but i have so many photos & couldn't get them off).
I've tried everything.
– Fully charging battery.
– Switching out battery for another one.
– Taking the battery out, waiting at least 1 min, replacing & booting up.
– Taking the battery out, the sim card out, waiting at least 1min, replacing the battery only, booting up.
– Taking the battery out, the sim card out, waiting at least 1 min, replacing both, booting up.
– connecting to chromebook to try to move files from phone (chrome book wouldnt recognize usb cord)
– connecting to a PC to try to move files from phone. It connected, but wanted to choose "media storage" over power on the actual phone – but since i cant get past white T-Mobile screen, i couldnt do that.
– taking battery & sim out, holding power for 1 and a half minutes, replacing battery & rebooting
– holding Volume up+bottom button+power button then clearing cache
– " then rebooting
– " then the 3 recovery options separately
– contacting T-Mobile
T-Mobile recommended going into the store to see if they could take the data off of the phone. The only thing I haven't tried is the factory reset because i don't want to lose my calendar (my son has a lot of medical appointments) & 3 years of photos.
Is there any way you can help? Or is that my only option at this point? Thank you. —
  Jonette
Solution: Hi Jonette. You can't transfer files from your phone to another device until the phone loads the operating system normally or in safe mode. At this time, you really don't have any workable option that can let you get to your calendar or allow you to recover files. We doubt there's anything people from your local T-Mobile store can do. Even Samsung can't help you with this one. If you want to know if you can still use the phone (after sacrificing your data), you can try doing a factory reset first via Recovery Mode, then flashing the bootloader and firmware next.
Below are the sample steps on how to flash a bootloader. It's very similar on how to flash a firmware but the exact steps may be a little different for your phone model. If you want to try flashing, be sure to do some research. The steps we provide below are only for general guidance.
Look for the correct firmware for your phone model and download it. Make sure that you select the right one. It should be the same exact firmware that ran previously on your device. We assume that you list down the firmware version somewhere. If you did not take note of it before, there's a chance that you may pick the wrong one. As you may know now, using an incorrect firmware can cause complications so good luck with that.
Let's now say that you have identified the correct firmware. You then want to download it to your computer. The firmware file should have a bunch of files in it like AP_, BL_, CSC_, etc.
Look for the file that starts with a label BL; this should be the corresponding bootloader file for this firmware. Once you've identified the bootloader file, copy it to your computer's desktop or to any other folder that you can easily access.
Proceed with the rest of the flashing procedure using the Odin program.
In Odin, click on the BL tab and make sure to use the bootloader file you've identified earlier.
Now, make sure that the "Device Added" status and its "ID:COM box" has turned blue before hitting the START button. This will initiate the flashing of your phone's bootloader.
Restart the phone once the procedure is finished.
Problem 11: Can't root a Galaxy Note 4
Hi. I am trying to upgrade a newer Android version onto my Samsung Note 4. To keep it short, I have rooted the device and done everything. I had wiped the system cache. However, when I tried to wipe the dalvic cache, I couldn't find the advance tab. I am in recovery mode though. The device has been rooted. Please assist! Thanks. — Don
Solution: Hi Don. Errors and issues related to rooting can be very specific and may only be interpreted by developers of the rooting software. We suggest that you contact the developer of the software you're using, or visit the website where you got it from for support. We don't know anything about the said software and the necessary steps to make it to work so we hope that someone who uses the same root can guide you on what to do.
---
Engage with us
If you are one of the users who encounters a problem with your device, let us know. We offer solutions for Android-related problems for free so if you have an issue with your Android device, simply fill in the short questionnaire in this link and we will try to publish our answers in the next posts. We cannot guarantee a quick response so if your issue is time sensitive, please find another way to resolve your problem.
If you find this post helpful, please help us by spreading the word to your friends. TheDroidGuy has social network presence as well so you may want to interact with our community in our Facebook and Google+ pages.