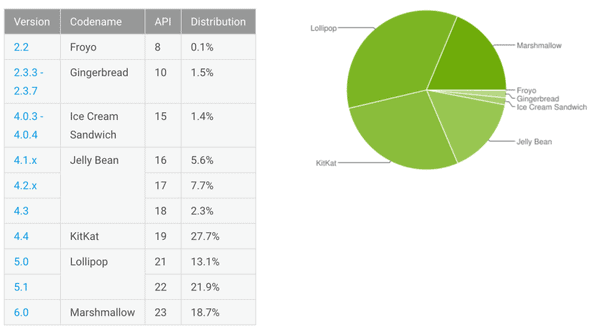 It's been a year since #Android 6.0 was released to the public. However, the Android distribution figures published earlier this month don't paint a very positive picture. According to Google's figures, Android 6.0 can only be found on about 18.7% of all Android devices that are currently in operation. That is a very small figure and paints a very dark picture of what has been a long term issue for Google.
The yet to be released Android 7.0 Nougat operating system is found on less than 0.1% of all devices out there. This is to be expected since it's only in use on some Nexus devices (pre-release software). But would things be different after Nougat is made available on a larger scale? Well, we aren't fairly optimistic.
The good news for Google is that older versions of Android are shrinking in market share, which means that more people are switching over to Android 5.0, 5.1 and Android 6.0. But barring this, these figures are nothing to write home about.
Source: Google
Via: 9to5Google