Your #Samsung Galaxy S7 Edge (#GalaxyS7Edge, #S7Edge) has a microSD card for storage expansion and while it's a good and useful feature, it seems to have brought new problems that weren't found in the previous galaxy devices. The notification "SD Card, For transferring photos and media" keeps popping up. Notifications aren't supposed to pop up again when you swipe them off but this one's very persistent.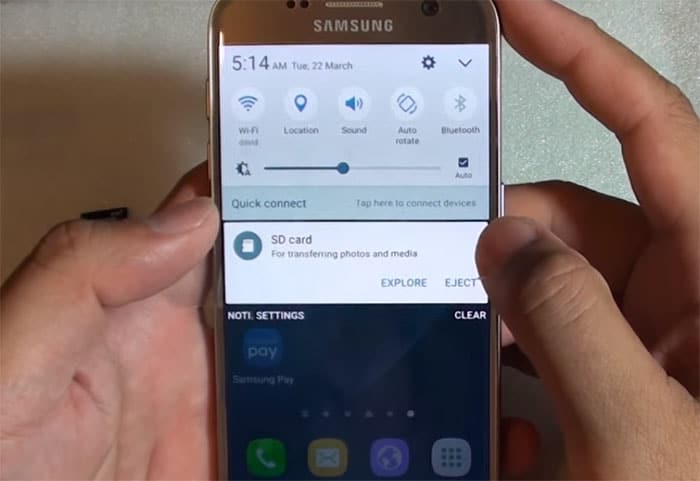 Samsung is yet to make an official statement about this considering it's a widespread issue and it hasn't been confirmed if it's an accessory, hardware or firmware problem. Since hundreds, if not thousands, of owners encountered this issue, there are already a few workarounds you can use to remedy this problem and I will guide you on how to do each of them.
We received a few messages from our readers who happened to have encountered this problem. Here's a couple of messages just to show you how it occurs:
"Hello. My Galaxy S7 Edge is just one week old and I love its new features. I upgraded my S5 so the new features really made an impact. I have, however, one problem that I don't know how to fix and it's the notification about the SD card. It says, "For transferring photos and media." It goes away when I swipe off the notification but a few minutes later, it comes back up. It's very annoying and I want to know how to get rid of it. Please help me. Thanks."
"I am already sick and tired of the SD card notification in my Galaxy S7 Edge that keeps popping up every single time. I understand the importance of notifications like this but it seems Samsung has overdone it. If not, then it must be an issue with this phone and I just don't know how to fix it. Can you guys look into this matter and see if you can find something useful to fix it if ever it needs fixing? Thanks a lot."
Before going any further, if you have other issues with your phone, browse through our troubleshooting page for we have already addressed several issues with the S7 Edge. We might have already provided solutions to your problem. Feel free to use our troubleshooting guides and/or solutions. If they don't work or if you need further assistance, you may contact us directly by completing this questionnaire. Please provide all relevant information about the problem so we can help you better.
Troubleshooting Galaxy S7 Edge SD Card Notification
Some of the procedures here are based on the workarounds other owners said worked for them and the rest are based on our standard troubleshooting procedures.
Step 1: Reboot the phone to see if it makes a difference
The SD card notification pops up every time you reboot your phone and that's normal. Glitches, however, happens all the time and there were reports from owner who already encountered this kind of problem that a reboot fixed the issues with their devices.
This must be the first procedure you should try if you haven't already; it's easy and safe to do. You won't lose anything by doing this.
Step 2: Reformat your microSD card
This procedure, of course, will rule out the possibility that your microSD card is corrupt or your device is having a difficult time reading it. There are owners that don't bother formatting the new SD card and this kind of problem may occur.
At this point, we're looking at this problem like it's a general microSD card problem and ever since, reformatting the card will often fix the issue, so it's worth a try. However, before you actually do that, make sure you backed up all your important files and data as they'll all be deleted.
Just go to Settings > Storage > SD card. Then, select SD Card and hit Format.
Step 3: Try deleting the system cache (optional)
There were a couple of cases wherein wiping the cache partition did the trick provided that the issue occurred after an update. So, if you recently received a firmware update, regardless whether it's minor or big, you need to do this.
However, if your phone hasn't received any update since you bought it, you need to proceed to the next step immediately.
Step 4: De-optimize System UI (provided by our reader)
One of our readers suggested a procedure that he said worked for him. Honestly, we don't know for sure if it has an impact on the issue or the firmware but just for the sake of providing you all possible solutions and/or workaround, I'll included this on the list.
From the Home screen, tap the Apps icon.
Find and touch Settings.
Tap on Battery.
On the upper-right corner, tap More and choose Optimize Battery Usage.
View All apps tab.
Scroll to System UI and deselect it.
Now take a new photo or record a video that goes straight to your SD card.
I hope this helps.
Step 5: Do the Master Reset procedure
Now, this procedure is said to be the most effective of all I mentioned here, however, it should be your last resort especially if you have a lot of things stored in your phone. This procedure will delete everything and brings back the device to its factory defaults so before you do this, backup your data and files, remove your microSD card, remove you Google account and disable screen locks.
Turn off your Samsung Galaxy S7 Edge.
Press and then hold the Home and Volume UP keys, then press and hold the Power key.
NOTE: It doesn't matter how long you press and hold the Home and Volume Up keys, it won't affect the phone but by the time you press and hold the Power key, that's when the phone starts to respond.
When the Samsung Galaxy S7 Edge shows on the screen, release the Power key but continue holding the Home and Volume Up keys.
When the Android logo shows, you may release both keys and leave the phone be for about 30 to 60 seconds.
NOTE: The "Installing system update" message may show on the screen for several seconds before displaying the Android system recovery menu. This is just the first phase of the entire process.
Using the Volume Down key, navigate through the options and highlight 'wipe data / factory reset.'
Once highlighted, you may press the Power key to select it.
Now highlight the option 'Yes — delete all user data' using the Volume Down key and press the Power button to select it.
Wait until your phone is finished doing the Master Reset. Once completed, highlight 'Reboot system now' and press the Power key.
The phone will now reboot longer than usual.
If the reset won't work, then it's time you tried using a different SD card and/or send the phone for checkup or repair.
Good luck troubleshooting!
We are always willing to help you so if you have any more questions or concerns, make sure you fill up this form and hit submit to contact us. Provide us with relevant information and we'll help you find a solution.