In this post, I will tackle a few app related issues with the Samsung Galaxy S6 Edge (#Samsung #GalaxyS6Edge) including the "updating contact list" error that may occur after a firmware update. Another issue raised by one of our readers is the pop up that says there's some sort of a virus in the phone. It's basically, an ad wanting you to download an antivirus or any "performance boosting" apps.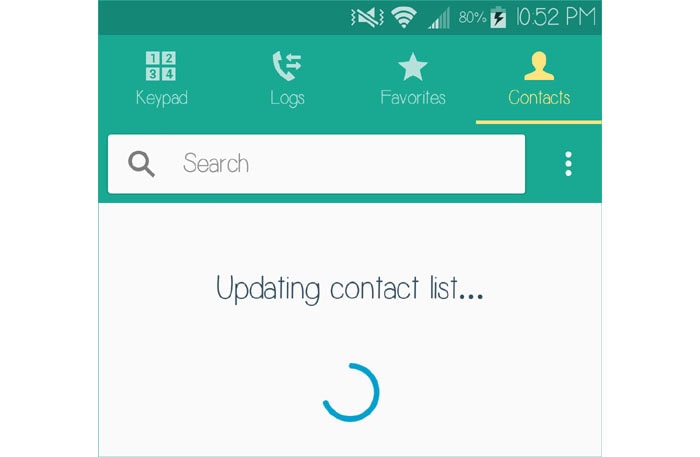 Read on to learn of other problems and how to tackle them in case you'll encounter them in the future. If, however, you were trying to find a solution to a totally different problem, then visit the troubleshooting page we've setup for the Galaxy S6 Edge. Find issues related to yours and use the solutions we provided. If they don't work for you, then you may contact us by filling up this form.
Here's the list of the problem cited here…
---
Galaxy S6 Edge showing "updating contacts" error after firmware update
Problem: After doing the software update,  my contacts app keeps saying "updating contacts " .. the contacts do show on the call app at the contacts tab.
Solution from our reader: Hi, thought I'd drop you a line re: "updating contacts" on an S6 Edge. After the latest update – 27 Oct 2015, my contact list would never show. Always "updating contacts" I have none stored on the device. They are all Google contacts.
Nevertheless, tried almost everything you suggest, but nothing worked. Didn't do a factory reset. Didn't want to , if it could be avoided.
So, I removed the "direct contact" widgets I had on my home screen. Problem solved. Then I just put back the contact widget and all is fine. Hope this can help others. Regards.
Galaxy S6 Edge keeps showing a pop up about a virus
Problem: I am always getting a pop up that says my phone has a virus and I don't respond to it I try 2 exit out of it I will have to hit the back key several times to get rid of it. It keeps redirecting me to different sites. It even comes up when I'm trying to answer my phone sometimes or anytime I'm just using my phone. Sometimes it will take me to a page from facebook that says I won a prize claim now. I can't seem to get rid of it. It even happens when I'm not touching the phone it pops up out of no where notifying that my phone is infected. Sometimes it has the android green guy on there. It comes from different websites. How do I get it to stop.
Troubleshooting: Well, it is clearly an ad that wants you to download an app and the other one that says to claim the prize you've won maybe some sort of phishing scam. More often, these pages will be shown on a web page and closing the page will also get rid of these pop ups. However, there are times when these ads are already embedded in an app, which means, you need to find that app and uninstall it. If you have a lot of apps, then it's difficult to pinpoint which one comes with ads.
You may try looking at the battery usage when the ad pops up. One of those apps is the culprit but if it's really annoying and you don't have a clue which app is causing the problem, then I suggest you backup all your data, files, music, videos, etc. and do the master reset. And after that, try to download and install your apps one by one to know which one has ads embedded in.
Master Reset
Turn off your Samsung Galaxy S6 Edge.
Press and hold the Volume Up, Home and Power keys together.
When the device powers on and displays 'Power on logo', release all keys and the Android icon will appear on the screen.
Wait until the Android Recovery Screen appears after about 30 seconds.
Using the Volume Down key, highlight the option, 'wipe data/factory reset' and press the Power key to select it.
Press the Vol Down button again until the option 'Yes — delete all user data' is highlighted and then press the Power key to select it.
After the reset is complete, highlight 'Reboot system now' and hit the Power key to restart the phone.
Galaxy S6 Edge shows "Theme Store failed to download content"
Problem: Theme Store failed to download content (4). When I go into the Theme Store, it says that "an unexpected error has occurred and try again later." I have cleared all the relevant caches but apart from that have no idea what to do. Please help!
Troubleshooting: First of all, check to see if you have an active internet connection. It happens so often that you have a good connection while trying to browse some themes but by the time you decided to downloaded, the connection is interrupted for some reason. Such case will also lead to this problem. Always remember that when trying to download from anywhere on the internet, you need to have a good connection for it to be successful.
Secondly, try again later if the problem persists after a few download attempts. Servers go down from time to time as part of the maintenance. During this time, any content will not be accessible or your download request be prevented by the servers.
Lastly, if all else failed, reset your phone.
Can't reinstall uninstalled apps on Galaxy S6 Edge
Problem: None of my apps will download when I purchase them in Play Store. Like Pandora, I've had it recently and then start lagging so I uninstalled it then try to install it back and just keeps saying installing but won't install to the device. I try another app does the same problem.
Troubleshooting: Reboot your phone. This must be the first thing you should do. Caches often get left behind after uninstallation and the system may still be using some services that is associated with the uninstalled app. A reboot will get everything back in place.
If the reboot failed, however, boot your phone in safe mode that try to reinstall the app from there. The procedure will temporarily disable all third-party apps leaving the Play Store and other pre-installed apps running. If the problem was somehow caused by any third-parties, then you should be able to download and install the apps in safe mode. But if all else fails, a master reset will often fix this kind of issue.
Apps crashing after a firmware update on Galaxy S6 Edge
Problem: I don't know if I did something wrong with my phone but shortly after an update, a lot pop up showed up saying and this and that stopped working, which is very annoying as I can no long use my phone. For example, if I view some pictures on my phone, an error message "Unfortunately, Gallery has stopped" and what I can do is tap OK. When I open it again, the same thing happens. It also happens to contacts, phones, email, etc. What can I do to stop all these errors? Help me.
Troubleshooting: There are two thing you can try to see if these app crashes will stop. The first one is wiping the cache partition. Based on your description, it seems like the problem is caused by some corrupt caches. These files are stored in the cache directory. Wiping the folder off will delete those caches and forces the system to create new ones during the first boot up. At this point, there's no need to backup your files and data as they will remain intact. Here's how you do it:
Turn off the device.
Press and hold the following three buttons at the same time: Volume Up key, Home key, and Power key.
When the phone vibrates, release the Power key but continue to press and hold the Volume Up key and the Home key.
When the Android System Recovery screen appears, release the Volume Up and Home keys.
Press the Volume Down key to highlight 'wipe cache partition.'
Press the Power key to select.
When the wipe cache partition is complete, 'Reboot system now' is highlighted.
Press the Power key to restart the device.
However, if wiping the cache partition won't fix the problem, then you are obliged to perform a master reset to, this time, get rid of possible corrupt data, which are stored in the data partition. The procedure will delete everything in your phone including your files, pictures, videos, music, apps, settings, etc., so be sure to back everything up. Once you're ready, follow the steps in the second problem above.
Connect with us
We are always open to your problems, questions and suggestions, so feel free to contact us by filling up this form. We support every Android device available and we are serious in what we do. This is a free service we offer and we won't charge you a penny for it. But please note that we receive hundreds of emails every day and it's impossible for us to respond to every single one of them. But rest assured we read every message we receive. For those whom we've helped, please spread the word by sharing our posts to your friends or by simply liking our Facebook and Google+ page or follow us on Twitter.