#Amazon has released the new crop of Fire range of tablets known as Fire HD, Fire and the Fire Kids Edition. The Kids Edition is nothing but the Fire with a protective covering and the promise of a "no questions asked" replacement in the event of damage or any other issues for two years. Amazon is using its custom Fire OS Bellini on all three tablets which is based on #Android 5.0 Lollipop.
The Fire HD comes in 8 and 10.1 inch configurations with the larger variant available in 16 or 32GB variants while the smaller model selling in 8 and 16GB models.
Both devices are available with a display resolution of 1280 x 800, so the pixel density is not that great, but that's not much of a concern given that the most expensive model is priced at $259.99. Despite the storage options available, Amazon has been kind enough to offer a microSD card slot with the devices, so you can expand storage according to your liking. There's a 1.5 GHz quad core processor (of unknown make) underneath here along with a 5-megapixel rear camera and a HD front camera.
The Kindle Fire HD 8 has been priced at $149.99 for the base model while the Fire HD 10.1 will be priced starting at $229.99. Available colors include black, magenta, blue as well as tangerine. It is said that both models will have 8 hours of battery life.
The standard Fire tablet comes in a solitary 7 inch model and has a resolution of 1024 x 600, a 1.3 GHz quad core processor, a 2-megapixel rear camera, a VGA front camera and a 7 hour battery life. The highlight here however is the ultra low price tag of $49.99 which is quite remarkable for the hardware.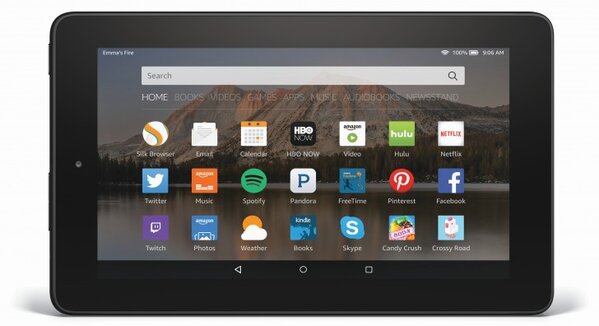 The Fire Kids Edition is priced at $99.99 and features exactly the same hardware as the standard model of the Fire tablet. Amazon will also give away one year's worth of Amazon FreeTime Unlimited subscription, which gives you access to a variety of books and other content targeted towards children between 3-10 years of age.
Head over to the links below to get the Fire tablet of your choice.